The Most Inappropriate Outfits Zara Tindall Has Ever Worn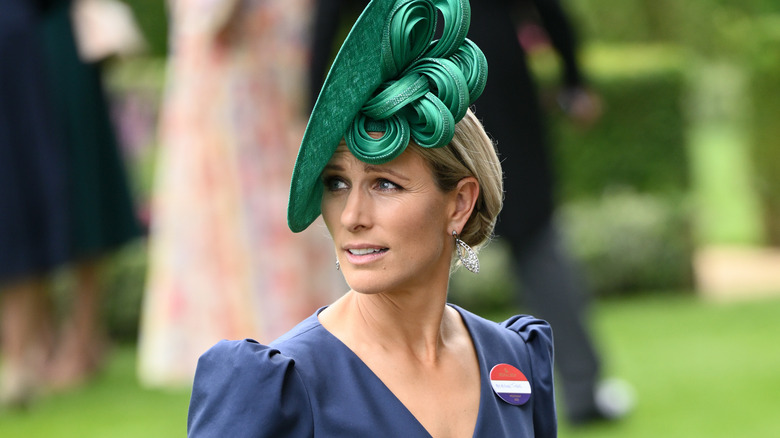 Karwai Tang/Getty Images
Zara Tindall is a rare royal, holding a slightly different position compared to others in the House of Windsor. While she is part of the inner sanctum as one of King Charles III's nieces, Tindall does not hold a title. Her mother, Queen Elizabeth II's only daughter, Princess Anne, opted not to give her children royal titles, even though she was given the choice. The decision essentially gives Tindall and her brother, Peter Phillips, free rein. No titles means no need to live like a working royal. 
As a result, Tindall has been able to enjoy life with much more flexibility than some of her relatives when it comes to things like career paths and relationship matters. What's more, she is exempt from a lot of rules that bind the likes of Princess Catherine or Prince Eugenie, meaning she's a royal who can dress however she likes.
Perhaps unsurprisingly, Princess Anne's daughter isn't afraid to take a big fashion swing. While many of her choices certainly pay off, every now and again, those swings miss. "According to Zara's stylist Laura Green, Zara is very confident in her own style and I think this shines through in terms of what she wears," fashion expert Miranda Holder told Express. "Her inner confidence shines though which helps her outfits to look great even when they aren't necessarily the most flattering." From getups that feel out of place to ensembles that would make her granny blush, here are some of Zara Tindall's most inappropriate outfits.
Zara Tindall's shoulder is as cold as ice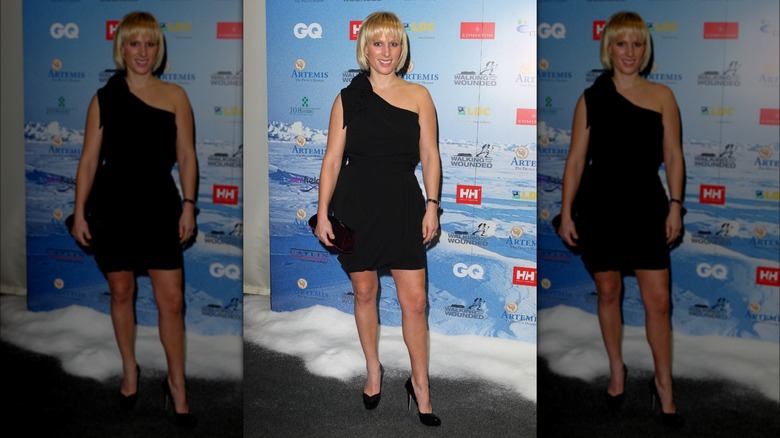 Mike Marsland/Getty Images
When Zara Tindall made an appearance at the Ice and Diamonds Send-Off Ball in London in 2011, her look caused quite a stir. It wasn't just the fact that she chose to wear a short, one-shoulder LBD, but the fact that she had chopped off her golden tresses into an of-the-moment bob style. It was a departure from how we were used to seeing Queen Elizabeth II's granddaughter, but the entire look certainly made a statement. 
Other royals like Princess Eugenie, Princess Beatrice, and Princess Catherine would never dare to wear such a leggy dress with an exposed shoulder. Royal outfits to big events are usually chic, sophisticated, and most importantly, modest. Tindall totally bucked the trend, using her no-title clause to her own advantage as she proudly walked the carpet. 
While it was a simple and classic look by "normal" standards, it wouldn't have cut the mustard if Elizabeth had any choice in the matter. An inch or two above the knee might be acceptable to other senior royals, it would end there. Anything higher than that would be frowned upon, but Tindall tore up the rule book with this aesthetic that screams "night on the tiles" instead of "night on the throne." 
The equestrian gets bold in blue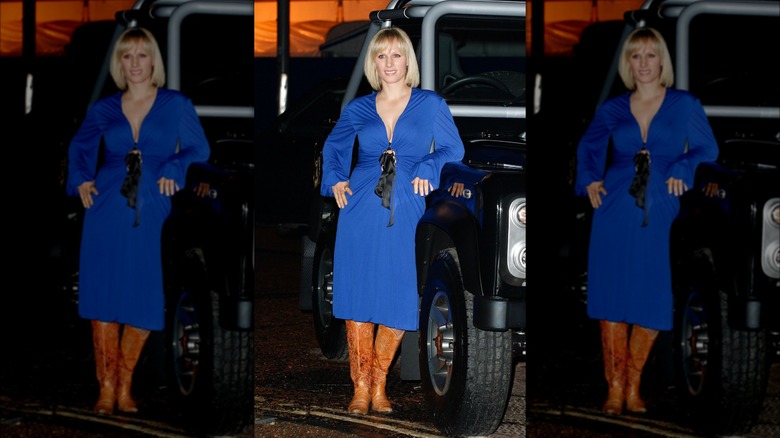 Mike Marsland/Getty Images
Unlike some of the other members of her family, Zara Tindall has been able to enter into partnerships with brands to make a tidy sum. Back in 2007, she was unveiled as the new face of Land Rover, appearing in a TV commercial that saw her champion the car manufacturer's latest offering. As part of the deal, Tindall helped to hype up the 60th-anniversary celebrations by revealing the new Land Rover Defender SVX at the British Red Cross Ball.  
Tindall, who was named the Sports Personality of the Year the year prior, did not pull any punches when it came time to figure out what she would wear to the Red Cross Ball. A prestigious car calls for an outfit that no one would forget, and the royal certainly delivered on her end of the bargain. 
She wore a bold, bright blue dress with flared '70s style sleeves and a low-cut neckline held together by ribbon. The revealing dress certainly gave onlookers something to talk about, since no other royal would get away with wearing such an ensemble. There's no doubt that Tindall's look stole the show, regardless of how daring it was given her station. 
At Royal Ascot, Zara Tindall goes for broke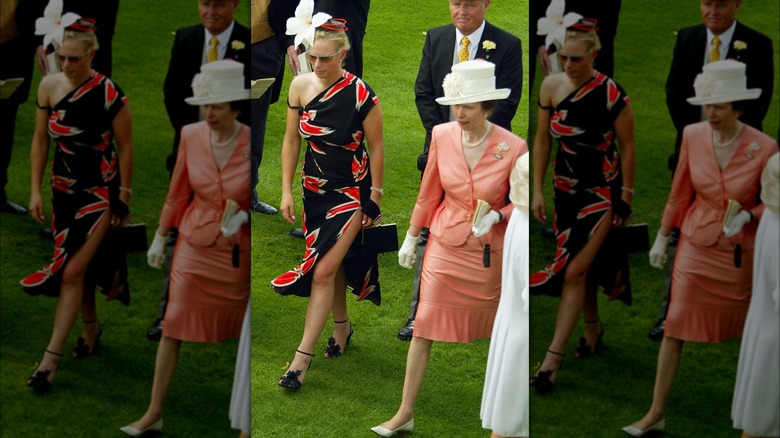 Scott Barbour/Getty Images
Royal Ascot is one of the most important days in the British sporting calendar, with horserace fans coming from all over to enjoy the festivities. The royal family has long since been a staple at the event, with Queen Elizabeth II attending every year from her coronation in 1953 up until 2020. Other royals are often spotted enjoying the festivities too, including Zara Tindall. While her outfits have progressed over the years, this dress from 2003 certainly stood out at the event — and not necessarily for the right reasons. 
Any fashion enthusiast will remember noughties fashion with a slight cringe. It was an era full of thin eyebrows, over-the-top makeup, and asymmetrical clothing. Tindall went all in on the trends of the time, wearing a dress with a dangerously high slit and an off-the-shoulder strap, a giant white flower hat, and amber-tinted wrap-around sunglasses. According to a report from The Northern Echo, Tindall's dress was originally more revealing, but adjusted ahead of the prim event.
Royal Ascot fashion has become somewhat of an unofficial competition over the years, with many publications reporting on who looked the best and who looked the worst. At the very least, Tindall's look had tongues wagging.
An especially casual royal ensemble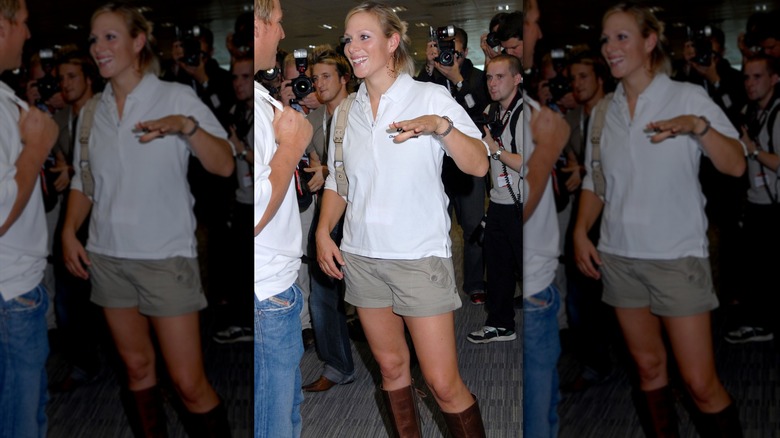 Simon James/Getty Images
Back in 2006, Zara Tindall popped along to a fundraiser in London's Canary Wharf with then-boyfriend Mike Tindall and her mother, Princess Anne. Although it was a daytime fundraiser and not a formal occasion, Zara's outfit was still very casual and just a teeny bit confusing. The equestrian wore brown leather knee-high boots, coupled with khaki shorts and a white BGC shirt. Of course, no noughties outfit was complete without a small purse hanging on one's shoulder. 
It was summer in the city, which might explain Zara's choice of hot pants, but the rest can only be put down to personal preference. Even though the outfit was questionable, Zara's intentions weren't as she helped man the phones and facilitate donations for those that died in the September 11 attacks. It definitely wasn't a day to worry about fashion choices, but to instead get to work and make a difference. 
That being said, while Zara's fashion foible may have been a little off-beat (we won't even talk about the khaki sweater vest she had on at one point), she does not lack substance or integrity. Isn't that what we really want from a royal, title or no? 
Zara Tindall's breezy pre-wedding gown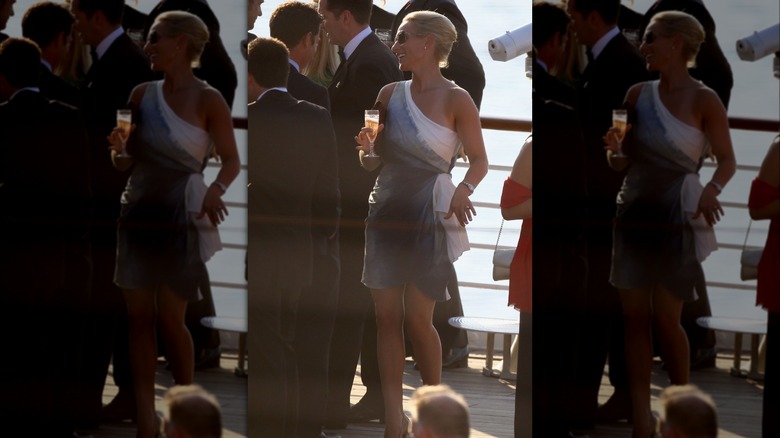 Jeff J Mitchell/Getty Images
Without question, Zara Tindall is a fan of the one-shoulder dress look. Ahead of her wedding to Mike Tindall in 2011, the couple threw a party on the Royal Yacht Britannia for their nearest and dearest. The glam event required a glam dress, and Zara opted for this white and blue number. While arguably a pretty gown, it hit mid thigh and the asymmetrical neckline showed her bikini tan lines — not exactly what one might expect from a member of the royal household. 
A pre-wedding shindig is always an excuse to get decked out (pun intended), so Zara could have pushed the boat out (pun intended again) and used this moment to really shine. A more structured and embellished dress or a stunning designer suit would have all gone down a storm, but this dress seemed more fitting for a casual Friday night on the town than for a once-in-a-lifetime party. Zara also finished off the look with a brown crocodile skin effect bag. One could argue it clashed with the blue and white of the dress. 
Luckily for Zara, she wasn't the only royal wearing a slightly questionable outfit that evening. Princess Beatrice also wore a one-shoulder purple dress with a giant butterfly belt, which took a little of the heat from Zara. Others in attendance included Prince Harry, Princess Eugenie, and the newlywed Prince William and Princess Catherine.
Was this neckline a sheer mistake?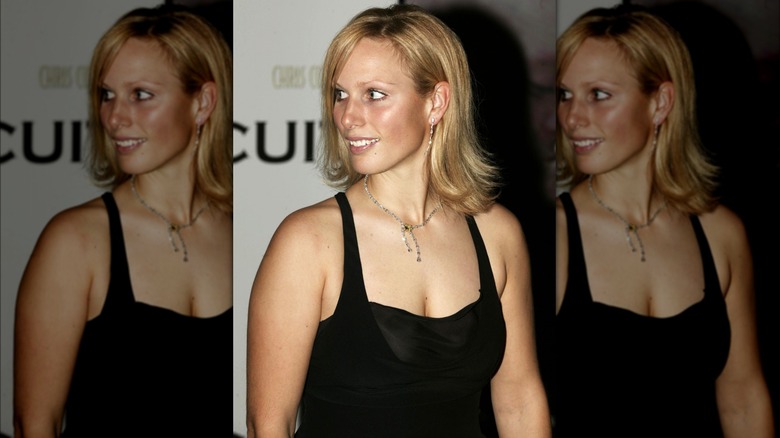 Dave Hogan/Getty Images
In 2003, future Olympian Zara Tindall cantered on over to the "Seabiscuit" premiere. Then just 22 years old, the talented equestrian was accompanied to the swanky event in London's Leicester Square by her brother, Peter Phillips, as her boyfriend at the time couldn't make it. 
Tindall arrived in a black silk Moschino dress with semi-sheer paneling on the chest area, exposing a little more cleavage than royal watchers are used to. The low-cut number was accentuated by a loaned necklace worth around £250,000. The simple diamond piece was dainty enough to be understated, while still adding some much-needed magic to the otherwise simple look. She flicked out her blond bob, giving a chic twist to a simple hairdo. 
Now, if she wasn't a member of the royal family, we probably would not bat an eye at that low neckline or the gauzy paneling. However, this is one of Queen Elizabeth II's grandkids we're talking about; it's impossible not to think about the royal dress guidelines. 
Zara Tindall goes West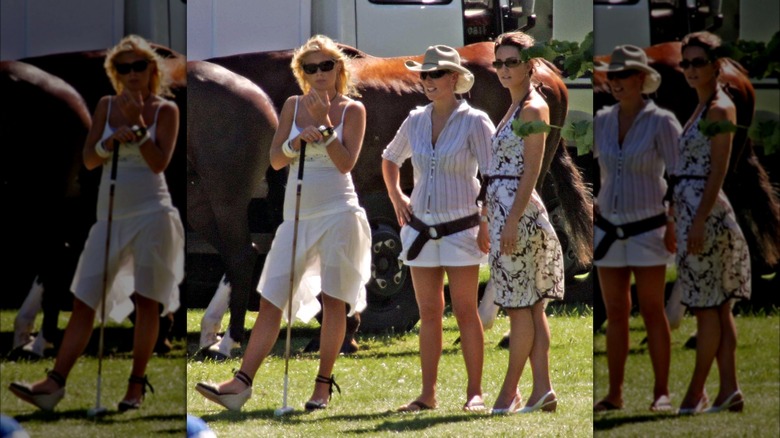 Antony Jones/Getty Images
You don't have to be a member of high society to know that polo is the sport of choice for aristocrats. A good horseback match of whacking balls with a stick makes for a cracking day out that royals love. Back in 2006, Zara Tindall was spotted chatting with Prince Harry's then-girlfriend, Chelsy Davy, and future Princess Catherine at a charity polo event in Tidworth. Harry and his brother, Prince William, were busy participating in the game, while the royal ladies cheered on from the sidelines. Their outfits were interesting, to say the least. 
Catherine wore a halter summer dress with a floral pattern, while Davy donned a semi-sheer white top and skirt that left little to the imagination. As for Tindall, she didn't exactly boost royal morale in an ill-fitting shirt and white shorts combo. Princess Anne's daughter topped the outfit off with an oversized brown belt, a cowboy hat, and black sunglasses. It was the great British summertime, so allowances can be made for certain parts of the look, but the cowboy hat paired with that belt gave more of a hoedown vibe than was totally necessary. 
Thankfully, Tindall did get changed out of this ill-advised outfit later in the day as she participated in a game of bicycle polo.
There's a lot going on with this Zara Tindall look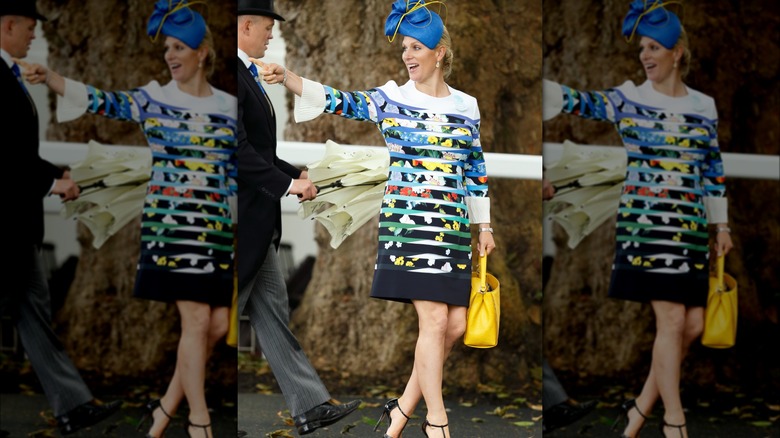 Max Mumby/indigo
As we've already established, Royal Ascot is a big deal. Royals love to push the boat out with their outfits and hats, just like many other attendees. However, the best royal looks have typically been chic, understated, and stunning. Think Princess Catherine or Sophie, Duchess of Edinburgh. Evidently, Zara Tindall didn't get the "understated" memo in 2016. 
The former Sports Personality of the Year obviously decided that the more color and pattern, the better. She picked an above-the-knee, multicolor, dress that featured florals, stripes, and flared, ruffled sleeves. Oh, but we're not done: There was also a bright blue hat with yellow detailing, plus a canary yellow handbag that was more of an overnight bag than a delicate addition. If bold and eye-catching was what Zara was aiming for, she nailed her goal. 
While the outfit isn't necessarily inappropriate in the traditional sense, one could argue that it's a tad too loud for the affair. Royal Ascot may be a fun-filled folly, but it's also a serious sporting event that many go above and beyond for. Her husband, Mike Tindall, donned a top hat for the day — it's just a shame Zara couldn't meet him halfway with a slightly more demure, more appropriate ensemble. 
A royal hits a reality TV wrap party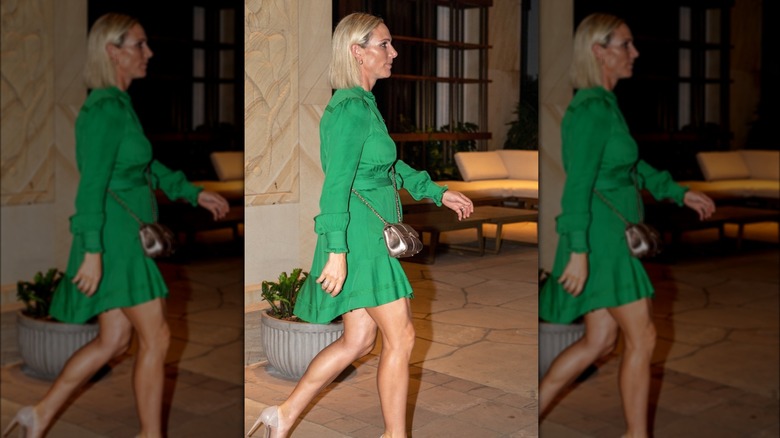 Backgrid
In 2022, Zara Tindall's husband, Mike Tindall, appeared on the reality TV show "I'm A Celebrity ... Get Me Out Of Here!" — proving once again that when it comes to royal rules, the Tindalls are exempt. When the show came to an end, Zara attended the wrap party to support her partner, wearing this relatively short green dress. It wasn't a nightclub shindig, but a dinner at a fancy restaurant, presumably so the former campmates could make up for lost time and get a decent meal. 
The striking emerald dress was enough to turn heads, not least because it showed off Zara's tanned legs. The former Olympian completed the outfit with a pair of nude shoes and a metallic crossbody handbag — but was she a little overdressed for the party? In contrast, her husband wore a Hawaiian shirt and baggy white trousers complete with trainers. Other attendees went with casual pieces like sneakers, jeans, shorts, jumpsuits, flat slip-on sandals. 
All in all, Zara's outfit seemed more suited for an evening on a nightclub dance floor than a seafood dinner with friends. Regardless, it was a hit with fans: According to Hello!, the ME+EM dress was a big seller after Zara Tindall strutted her way into the wrap party.
Zara Tindall's 'racy' shoes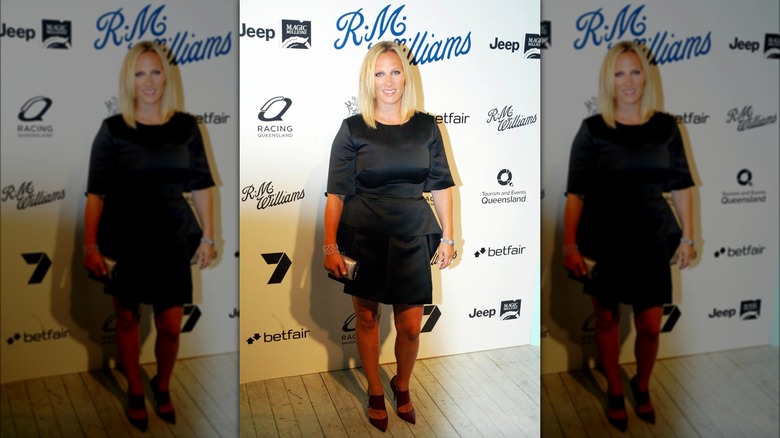 Backgrid
In 2015, Zara Tindall attended the Magic Millions event on Australia's Gold Coast, but it wasn't just a fun night out. Tindall partnered with the company, which specializes in horse racing, acting as their patron. For the event, she donned a short black dress featuring an asymmetrical hemline and an interesting wrap-like design. She also sported a pair of reddish-purple heels with a pointy toe and wide band across the top of the foot. As for her other accessories, she went for a silver clutch bag, a dainty watch, and a bracelet. Her blond hair was straight in a chic bob.
Daily Mail dubbed her $1,000 Jimmy Choo high heels "racy." We'd call them "a statement piece." Neither the shoes nor the dress were necessarily unfavorable, but the outfit did not feel totally in line with what other guests wore; a number of attendees pictured with Tindall went with longer, more formal dresses. But hey, if there's one thing we know about this royal, it is that she will always dance to the beat of her own sartorial drum.