The Worst Types Of People On HGTV's House Hunters
AhmadDanialZulhilmi/Shutterstock
Reality TV wouldn't be the same without a popularly unpopular antagonist, and lucky for us, "House Hunters" has a handful of the best anti-heroes around. In fact, would it be an episode of "House Hunters" if we didn't yell at our screens from time to time? 
Still, whether or not we tune in to the seven best or seven worst shows of HGTV, "House Hunters" is a reemerging favorite because of the drama. We love to see a Cinderella story, even for the stepsisters. In fact, some notorious contestants have told all about their experiences on the show, like the first couple who had a lot to say about their time on the show. We all want to root for those looking for a forever home, especially if you opt to watch "House Hunters International," where the contestants are slightly more well-off and the landscapes are anything but vanilla. With such high-profile homes to hunt, it's no wonder that the show would host personalities of equal exuberance, even if they make us want to pull out our hair. Still, no matter what version of "House Hunters" you enjoy watching, it's almost a given that there will be at least one deliciously dramatized character in the episode to take in. The drama, after all, is what we live for!  
It's all relative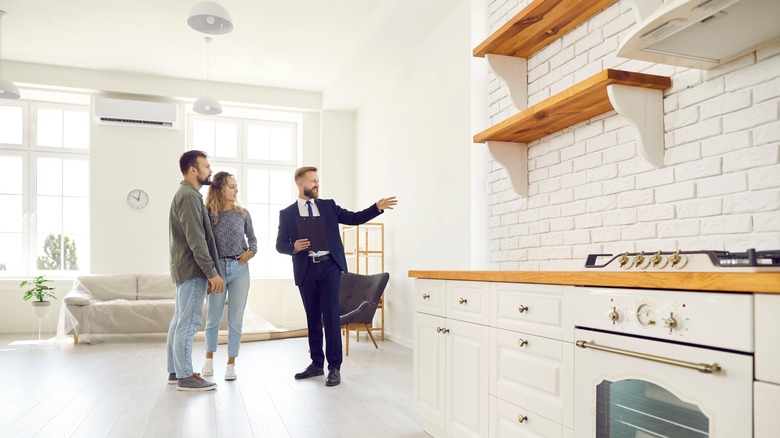 Studio Romantic/Shutterstock
Nothing is worse than watching an episode unfold at the demise of a nosy in-law or sibling. It's the same pattern as many "Say Yes To The Dress" episodes, where a family member's opinion is bluntly shoved down the viewer's throats at the expense of the home (or dress) buyer. Where's the empathy, people? Many home buyers have taken families along for the ride, only to receive a plethora of unwanted thoughts on the home's future. It gets even worse when the family brings up "the future kids," especially when the home buyers are a newly married couple, or worse, a single business exec.
To add to the mayhem, some family members have somewhat of a right to intervene, especially for those young couples who may have their heads in the clouds. You know the ones; the especially young but somehow financially advantaged duo that gleefully seeks an open concept floor plan with a view, a large master bedroom, backyard, fully refurbished living space, and a newly renovated kitchen (with backsplash!). And it all costs them (in their wildest fantasy) under $300,000. Even worse are their ridiculous demands and the constant arguing for compromises. Exhibit A: Season 169, Episode 11 of HGTV "House Hunters," where a young couple has to see eye to eye on the most unusual of desires. One wants specific trees planted, the other wants to match their new home to an even more specific birdhouse creation.
The little things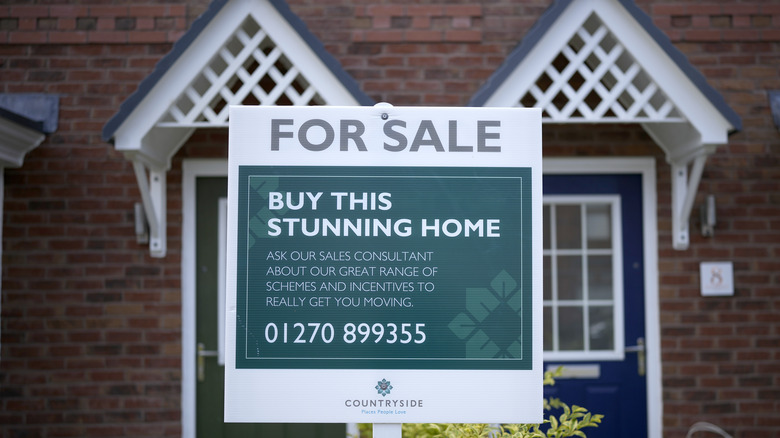 Christopher Furlong/Getty Images
Another popular, painful persona on "House Hunters" is the couples that have ludicrous remodel demands, specifically with fixes they can do themselves. Buzzfeed agrees that this chaotic archetype is popular amongst viewers for being one of the worst on the show. Forget about those boxes they wanted to be checked off at the start of the episode. By the time we even get halfway through, that list has multiplied with numbers upon numbers of extraneous revamp requests to perhaps the most practical, if not perfect home offered to them. 
It's usually simple fixes that get the most heat, too. Do we really need to see an argument unfold over paint color? Or granite countertops? Granted, perhaps the seller could have opted to re-paint the houses with neutral colors to appeal to more buyers, but when it's a constant sore spot for home buyers on the show, (specifically ones who make a bigger stink than they need to,) they instantly become favorites amongst "House Hunters" love-to-hate personalities.
Other popular and mundane fixes that some of the worst "House Hunter" personalities can't stomach are floorings and light fixtures. Money Manifesto even states that fans and light fixtures are frequently inexpensive to replace, some even less than $1,000. And when it comes to flooring, you can bet on these hair-pulling personalities to absolutely hate anything to do with carpet. Certainly, they can budget the cost of replacing the floor plan with hardwood, right?