How Barack And Michelle Obama Feel About Their Daughters Dating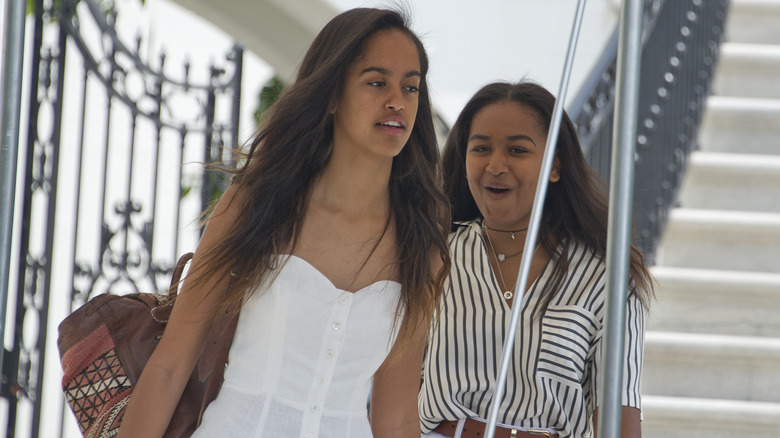 Pool/Getty Images
Raising teens is a lesson in patience and humility no matter who you are, even if you're the president. President Barack Obama and his wife, Michelle, have often shared their personal challenges and struggles. Every aspect of their lives has been scrutinized, including their parenting. Their daughters, Malia and Sasha, also have had to live in the spotlight during pivotal moments like dating.
Mailia was 10 years old and Sasha was only 7 when they moved into the White House (via PBS). Yet even by the time their dad was re-elected, they had grown immensely and weren't the little girls they were when they first got a glimpse of the Oval Office. The girls grew up before our eyes and blossomed into the stunning young ladies they are today. Of course, it couldn't have been easy hitting puberty and dating before the eyes of the world.
All the while, Barack and Michelle tried their best to give them as normal a life as possible. They made school a priority, took them to after-school sports and activities, and kept their lives as private as they could as they maneuvered through significant periods in the girls' lives.
Malia and Sasha have a new life on the West Coast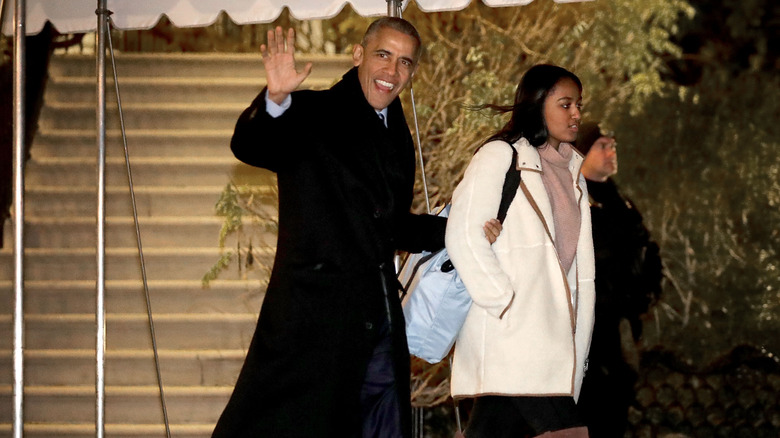 Chip Somodevilla/Getty Images
Now fully grown, Malia and Sasha Obama have moved to Los Angeles and share an apartment, while their parents live in Chicago. In an interview from "Michelle Obama: The Light We Carry, A Conversation with Robin Roberts," the former First Lady spoke about how she and Barack feel about their girls dating (via ABC News).
Roberts mentioned how the girls are now dating around out in California, and asked Michelle how she felt about it. "I think it's wonderful," Michelle responded. "I want them to know what they want and who they are in a relationship, and that takes trying on some people."
When Roberts asked, "How does your husband feel about that?" Michelle said he has also grown to learn how to accept and deal with his daughters' dating and leading independent lives. "He's good with it, too," she laughed. "He's learned how to be a concerned Black father, but not crazy."
People Malia and Sasha have dated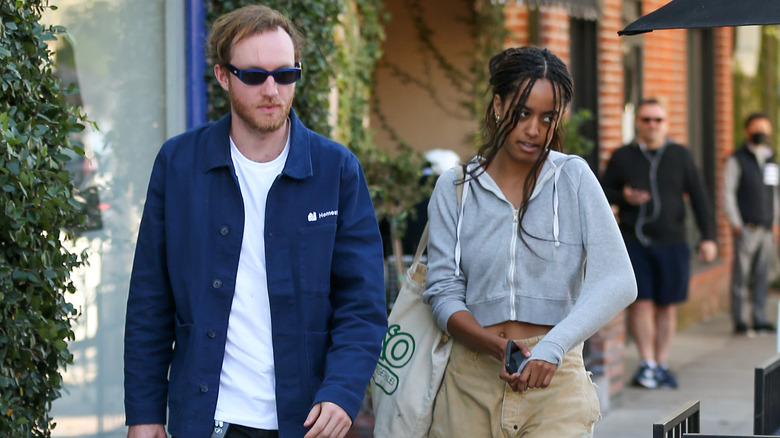 Bellocqimages/bauer-griffin/Getty Images
Believe it or not, both girls are now in their early twenties. Malia Obama was reported as having a long relationship with her college boyfriend Rory Farquharson after meeting him at Harvard University. However, she was also seen spending time with music producer Dawit Eklund in Los Angeles, per Stylecaster.
Meanwhile, Sasha has been linked to Clifton Powell Jr., who is a writer and a director (via Us Weekly). He is also the son of Clifton Powell Sr., who has had a supporting role in the hit movies, "Ray" and "Rush Hour."
Michelle Obama told Robin Roberts that she is entirely proud of her girls, as per ABC News. "They're doing great. Proud of them. They survived eight years growing up in one of the harshest spotlights there is," she said. "They are good, decent, normal young women who are trying to be impactful in the world, and they are the best of friends. Couldn't ask for anything else."