Who Is Katie Lowes' Husband, Adam Shapiro?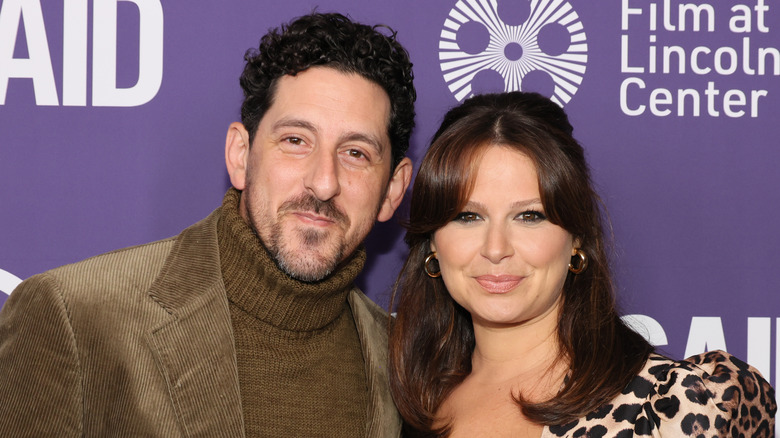 Dia Dipasupil/Getty Images
Katie Lowes is best known for her role as the feisty Quinn Perkins in ABC's political thriller series "Scandal." The actor also reemphasized her veteran acting status by taking on the role of Rachel DeLoache Williams, a former friend of the controversial con artist Anna Delvey, in Netflix's miniseries "Inventing Anna."
With over 50 acting appearances under her belt, including voiceovers, Lowes also dabbled in producing with the short "No She Wasn't," in which she also starred. Other than her impressive career, Lowes is a devoted mother to two children, son Albee and daughter Vera, whom she shares with her husband, Adam Shapiro.
Lowes and Shapiro have been together for quite some time and ultimately tied the knot in a sleepaway camp-themed wedding in 2012. As Shapiro is also in the acting industry, the spouses have worked together before, but Lowes' husband has an interesting side job involving soft pretzels.
Adam Shapiro owns a soft pretzel company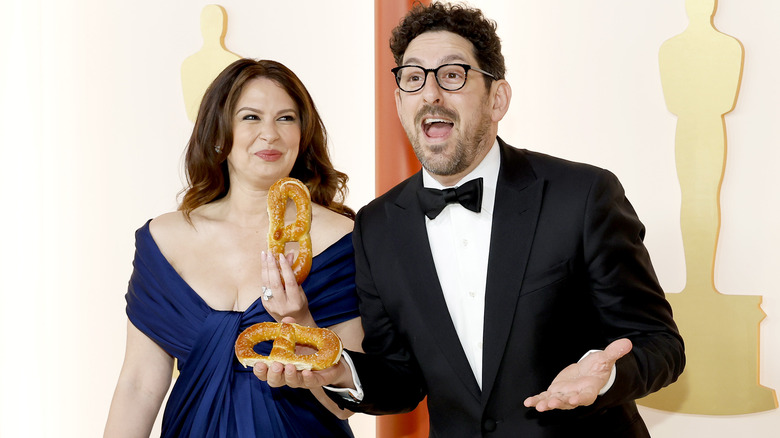 Mike Coppola/Getty Images
Adam Shapiro has made his mark in Hollywood with his work on over 90 projects, most notably as software engineer Avie Tevanian in "Steve Jobs," as well as Lyle Shapiro, a History teacher in Mindy Kaling's "Never Have I Ever." Other than his on-screen achievements, Shapiro has an equally impressive career in theater. According to Broadway Buzz, he is one of the co-founders of IAMA Theatre Company, which creates and produces theater pieces and supports artists. Shapiro made his Broadway acting debut in 2018 alongside his wife, Katie Lowes, in the musical "Waitress," Playbill reports.
Other than living the Hollywood dream, Shapiro went into the soft pretzel industry. According to The Hollywood Reporter, during the COVID-19 pandemic, Adam got the idea to produce soft pretzels, which later turned into a company by the name of Shappy Pretzel Co. He revealed the whole thing started when he got into baking during lockdown, as he wanted to feel the comfort of the foods he was eating as a kid. Shapiro admitted he craved his native Philadelphia pretzels and couldn't find anything similar in Los Angeles, where he resides. "I haven't lost any money, that's for sure," the actor said when asked how successful the pretzel business was.
It wasn't love at first sight with Shapiro and Lowes
Katie Lowes and Adam Shapiro met at a mutual friend's party and have been together for over 15 years, as they've shared on "Live with Kelly and Ryan." Lowes admitted Shapiro is "the star" of their relationship, while she's the reserved one between them. While it wasn't love at first sight — Lowes stood Shapiro up twice, and Shapiro dumped Lowes a month into their relationship — the pair clicked in the end.
According to The Knot, they married in a sleepover camp-themed wedding in 2012, as Lowes shared in another appearance on Kelly Ripa's talk show. "He and I were both camp counselors for a long time. We were both big sleepaway camp people," Lowes revealed, adding that the couple rented an entire camp in the Berkshires for the occasion. "It was the most fun weekend of my life," she stated. Maybe a bit too fun, as the police were called at one point and had to shut down their drumming bonfire circle. After their lively nuptials, the spouses welcomed their first child in 2017 and another in 2020.
Shapiro was in the delivery room when Lowes was giving birth to son Albee, and it was quite the experience. According to Lowes' podcast, "Katie's Crib," the actor caught a glimpse of his wife giving birth and was amazed by what the female body could do, comparing Lowes to Transformers' Optimus Prime.