Erin Krakow Promises 'Jaw Dropping' Moments In When Calls The Heart Season 10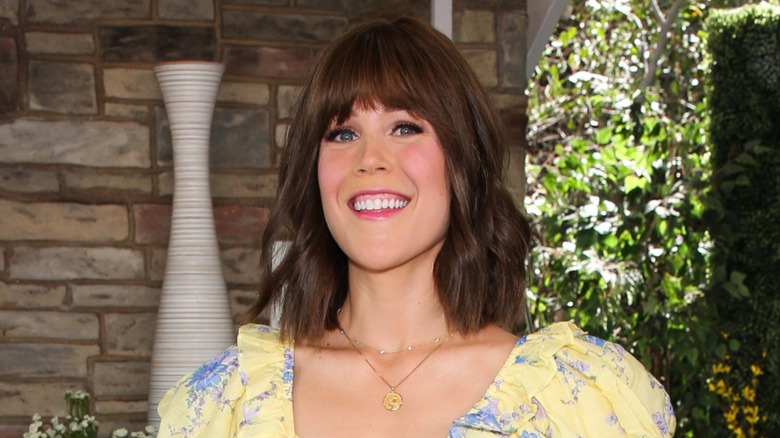 Paul Archuleta/Getty
Erin Krakow promises that "When Calls the Heart" Season 10 will have music, babies, and romance. The new season premieres on July 30, 2023, on the Hallmark Channel, and Krakow sat down with Deidre Behar from Entertainment Tonight to talk all about it.
Behar joked that Krakow was glowing because she was so excited for Season 10, and Krakow expressed how surreal it was that their show made it so far and how grateful she is. She said, "We're truly leveling up the 'When Calls the Heart' experience," and referenced a season with family, music, and new guest stars. Krakow added, "There's a lot of romance. There's a new baby. I mean, it's a momentous season, as it should be in Season 10."
After discussing which characters would be struggling this season — and learning that Elizabeth and Lucas, despite their exciting engagement, will have new problems to overcome — Behar asked Krakow if there would be a moment "we're going to have to pick our jaws up off the floor." Krakow laughed and said, "There will be some jaw-dropping. There will probably be a few dropped jaws." She hinted at a thrilling life-or-death situation but told Behar and the viewers that no one would actually die.
'When Calls the Heart' has already been renewed for Season 11
Lead-actor-slash-executive producer of "When Calls the Heart" Erin Krakow never gets bored with the show. When it was first announced that the series had been renewed for Season 10 in June 2022, Krakow expressed her excitement. She said, "I am thrilled that 'When Calls the Heart' is coming back for a 10th season. With our amazing cast, crew, and talented writers, we can look forward to more adventures, laughs, tears, and stories of romance throughout the community of Hope Valley. We are so excited for all the viewers, especially the Hearties, to continue this journey with us!"
Hearties are the official name for the "When Calls the Heart" superfans, and the show's Instagram bio reads, "The Official Home of the #Hearties!" The account has been posting photos of the cast and video sneak peeks to prepare for the new season.
The jaw-dropping excitement and romance will continue in Hope Valley for a while longer. "When Calls the Heart" was already renewed for Season 11 in February 2023, so Hearties have plenty to look forward to.