Meghan & Harry's Reported Air Force One Debacle Suggests Biden May Be More Loyal To Charles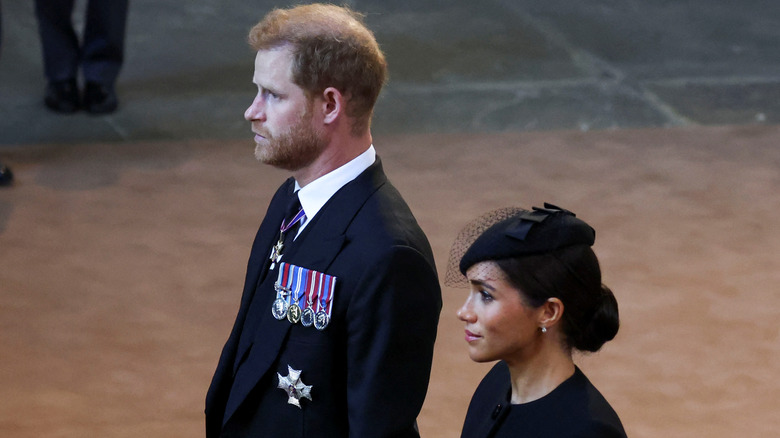 Wpa Pool/Getty Images
On September 19, 2022, dignitaries, including President Joe Biden and First Lady Jill Biden, joined the royal family at Queen Elizabeth II's funeral in Westminster Abbey. Despite forfeiting their roles as working royals and moving to the United States in 2020, Prince Harry and Meghan Markle were also in attendance. However, not everything went smoothly at the solemn event for The Duke and Duchess of Sussex. Their seating arrangement at the funeral raised eyebrows, and the couple's invite to a reception scheduled the night before the funeral was reportedly rescinded.
In addition, the Daily Mail reported that Harry and Meghan were hoping to return home on board Air Force One with the Bidens, but their request was rejected. The United States and The United Kingdom are known to have a close diplomatic relationship, and according to the Daily Mail, it appears that The White House did not want to add any fuel to the fire surrounding Megxit. A source told the publication, "It would have caused such a commotion. It would have strained relations with the Palace and the new King."
Moreover, the outlet notes that it was unclear who would pay for Harry and Meghan's flight if they had been allowed on Air Force One. While it might seem odd the Duke and Duchess asked this favor in the first place, Harry and Jill have a well-documented friendship thanks to Harry's Invictus Games.
Prince Harry and Jill Biden bonded at the Invictus Games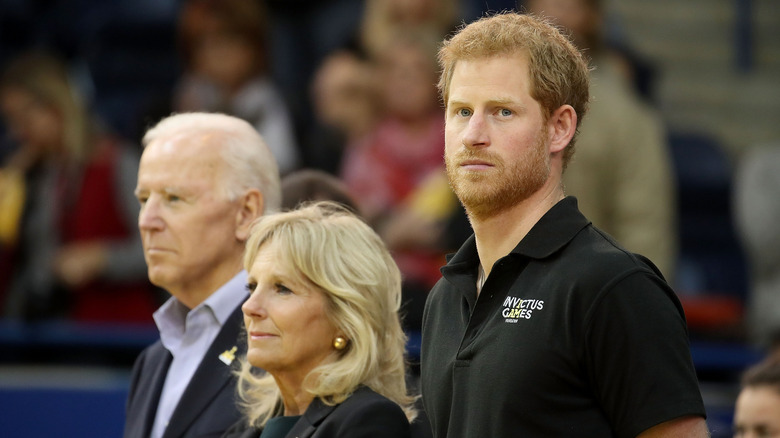 Chris Jackson/Getty Images
In 2014, Prince Harry started the Invictus Games for veterans and individuals in the military with disabilities. The first Invictus Games took place in London, and First Lady Jill Biden, then Second Lady of the United States, attended the event. Harry and Jill, who People reported first met in 2013, became fast friends. The two watched the games together and took pictures, per the United States Special Operations Command.
In 2016, Jill, accompanied by then-Vice President Joe Biden, attended the Invictus Games in Florida and went to the 2017 games in Toronto, Canada. When Harry and Meghan Markle did their infamous Oprah interview in 2021, the internet thought that a lemon-patterned dress worn by Jill was a show of support for Meghan because Meghan had previously worn a similar dress.
In light of the COVID-19 Pandemic, the Invictus Games had a virtual event in 2021. Jill spoke at the event and had nothing but good things to say about Harry. She said, via People, "You live by a simple principle: Serve together, recover together." She added, "It's a philosophy not limited by the flag you wave ... you've dedicated your time, talents, and heart to lifting up service members from around the globe."
Despite her history with Harry and the Invictus Games, the Daily Mail wrote that Jill declined to attend the 2022 event for fear that she would offend Buckingham Palace.