Why The Internet Thinks Jill Biden's Dress Was A Show Of Support For Meghan Markle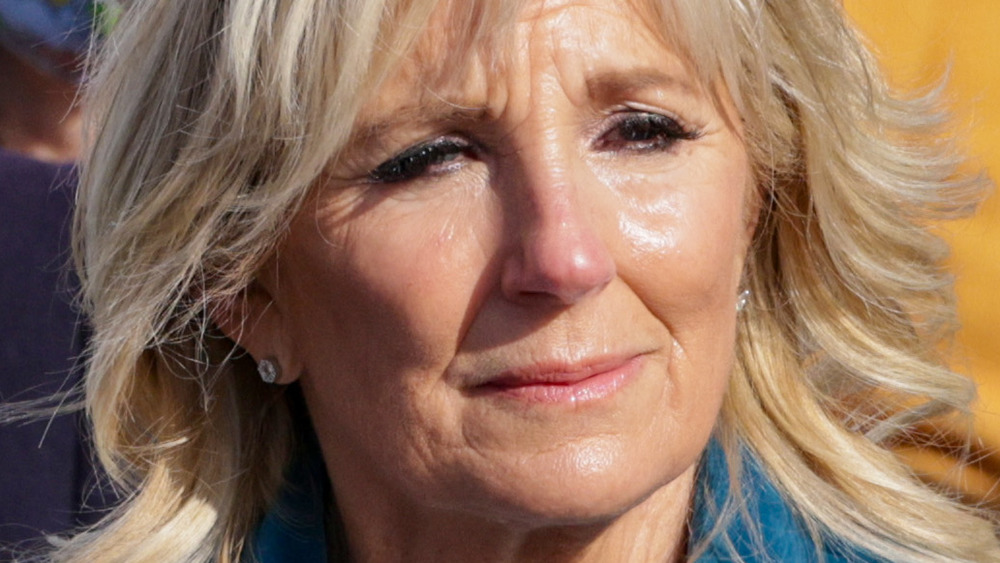 Alex Wong/Getty Images
It's been barely two days since the momentous Oprah with Meghan and Harry interview, and the dust has yet to settle. While the senior members of Buckingham Palace are still staying silent for now (via CNBC), other public figures have had no such qualms about expressing their opinions. Supporters like Meghan McCain applauded the Sussexes for their courage to leave royal life and to expose alleged racism within the palace walls. Hillary Clinton called out the British press for their "cruelty" toward the duchess (via Daily Mail). Dissenters like Donald Trump Jr. and Bethenny Frankel called Meghan an attention-seeking phony who likes playing the victim card. Piers Morgan has also heaped scorn on Markle, as per usual, according to Forbes.
No current members of the White House have officially weighed in yet, which is to be expected, given the close diplomatic relations between the US and Britain. Applauding Prince Harry and Meghan Markle could be seen as a slap in the face to the Queen. But some sharp-eyed Jill Biden watchers think that she may have found a way to send a subtle message.
Jill Biden and Meghan Markle have both worn lemon-print dresses
To mark International Women's Day on March 8, First Lady Dr. Jill Biden gave a speech at the presentation of the International Women of Courage Awards ceremony (via People). The annual State Department event honors women worldwide who have advocated for peace, justice, and equality — even risking their own lives. "These women made an extraordinary choice to persist, to demand justice, to believe that despite the obstacles and fear that they faced, that there is a future worth fighting for," she said in her seven-minute speech.
But what she wore may have been more telling than what she said. The First Lady wore an Oscar de la Renta dress with a distinct pattern of lemon tree branches — almost identical to one that Meghan Markle wore a few weeks earlier when she and Harry appeared on Spotify to announce their Archewell Audio podcast. And social media users weighed in on what they viewed as support from Dr. Biden. One Twitter user writes, "I'm choosing to believe flotus Jill Biden wore this Oscar de la Renta in solidarity with [Meghan Markle]," with a second social media user agreeing. "Coincidence? I think NOT! And they both looked lovely," they tweeted. Another user tweeted, "Nice to see our @FLOTUS give a nod to [Meghan Markle] by wearing a dress like what she wore in the Spotify trailer."