A Look At Malia And Sasha Obama's Childhood In The White House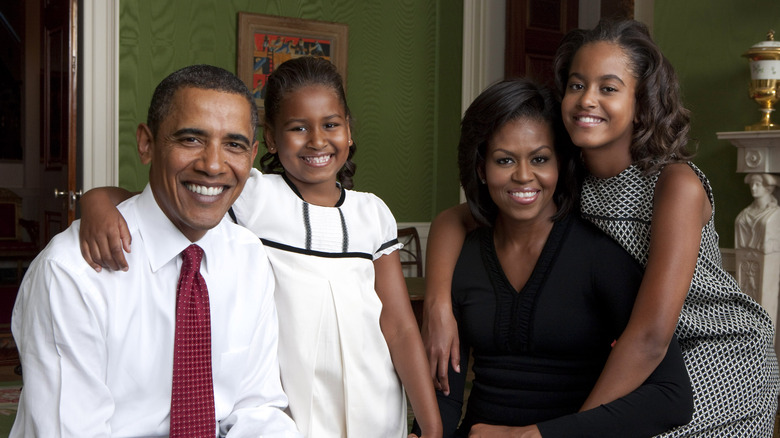 Handout/Getty Images
When Barack Obama was elected president in 2008, his daughters Malia and Sasha became two of the world's most famous kids. Along with their mother and father, the girls moved out of their home in Chicago and took up residence in The White House. At the time, Malia was 10 years old, and Sasha was only seven, making her one of the youngest first children ever. During President Obama's two terms, Malia and Sasha grew from elementary school-aged kids to teenagers, attending Sidwell Friends, an elite D.C. private school, and even walking Bo, their Portuguese Waterdog, on The White House lawn. 
Fortunately, the Obama girls had the support of former first daughters like the Bush twins and Chelsea Clinton. In a 2020 Instagram post, Jenna Bush Hager remembered passing down the baton to Malia and Sasha. "Twelve years ago (!!!) today — I drove from my job teaching in Baltimore to meet my mom and sister in D.C. to show the next residents of this house their new home," she wrote, posting pictures of 10-year-old Malia and 7-year-old Sasha exploring the grounds. "Barbara and I taught the girls how to slide down the banister and all the secrets of the White House we loved as little girls — the best hiding spots, the movie theatre, and bowling alley." Given all the amenities, it sounds like a pretty fun place to grow up. As long as you befriend the Secret Service, that is.
Barack and Michelle Obama tried to give their daughters a normal upbringing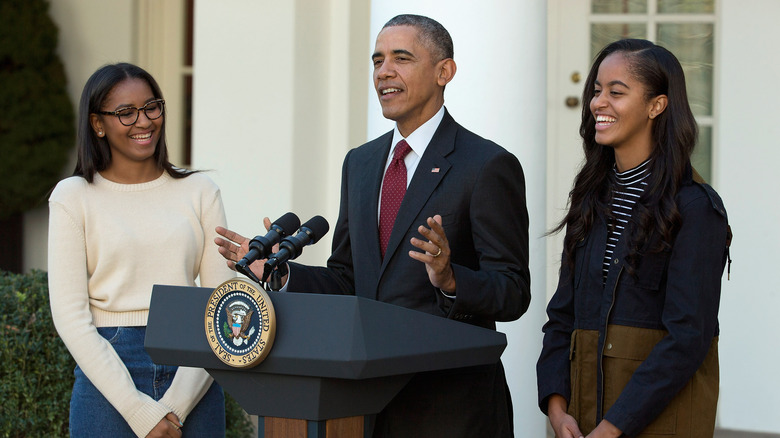 Chip Somodevilla/Getty Images
Despite the public scrutiny and constant security presence, Barack and Michelle Obama did their best to give their daughters a typical childhood. "We tried to normalize their lives as much as possible," Michelle told Entertainment Tonight in a 2016 interview, adding, "A lot of the stuff we do, they're like regular kids — they're running in the opposite direction of what we do. They are not here now, they are running. They're trying to hang with their friends." The friends in question? Sasha Obama and Maisy Biden, Joe Biden's granddaughter, bonded on their high school's basketball team. "[Maisy's] best friend is Sasha Obama," Biden told The Hill after attending the girl's Sidwell Friends graduation in 2019. "Barack [Obama] and Jill [Biden] and the whole family, we had a whole get-together," he added. That's a party we'd like to see.
It wasn't until 2016 that the sisters, then aged 17 and 14, attended their first — and final — State Dinner alongside their parents. "It's touching to meet Malia and Sasha, who are here at their first State Dinner," Canadian Prime Minister Justin Trudeau said in a toast. "I admire you very much, both of you, for your extraordinary strength and your grace." he continued, adding that their time at The White House would give them "wisdom beyond [their] years." He had a point. Malia went on to attend Harvard University, graduating in 2021, and Sasha attended the University of Michigan before transferring to, and later graduating from, the University of Southern California.
Malia and Sasha Obama probably aren't going into politics anytime soon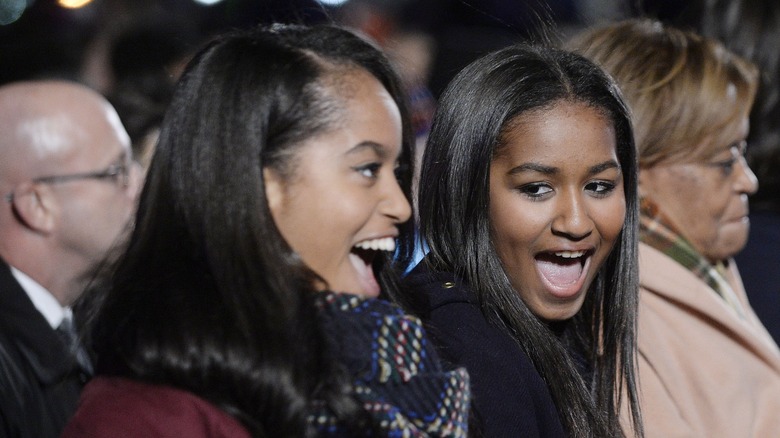 Pool/Getty Images
Malia and Sasha Obama are sisters, best friends, and even roommates. They split a place in Los Angeles where Malia is making a splash as a screenwriter. The Harvard grad collaborated with Donald Glover on the Amazon series "Swarm" and is working to direct her own short film. "She's an incredible writer," the show's co-creator, Janine Nabers, explained to Entertainment Tonight, adding, "She brought a lot to the table... She's really, really dedicated to her craft." As former POTUS Barack Obama admitted to comedian Hasan Minhaj, he found some of the raunchier moments in "Swarm" pretty uncomfortable. "But that's the nature of art these days," he said.
Meanwhile, Sasha graduated from the University of Southern California in Spring 2023 with a degree in sociology. Both Obama daughters have become known for their enviable California street style. As for their dating lives? Malia Obama started seeing Rory Farquharson, a Harvard classmate, in 2017, although it appears the two have since split. Sasha Obama was linked to basketball star Clifton Powell Jr. in 2022.
Although being a first daughter can be taxing, living as a former first daughter presents its own challenges. "Now you are about to join another rarified club, one of former First Children — a position you didn't seek and one with no guidelines," Jenna and Barbara Bush wrote to Malia and Sasha in 2016 (via Time). Adding, "You will be writing the story of your lives, beyond the shadow of your famous parents."