Who Are Tony Bennett's 4 Children?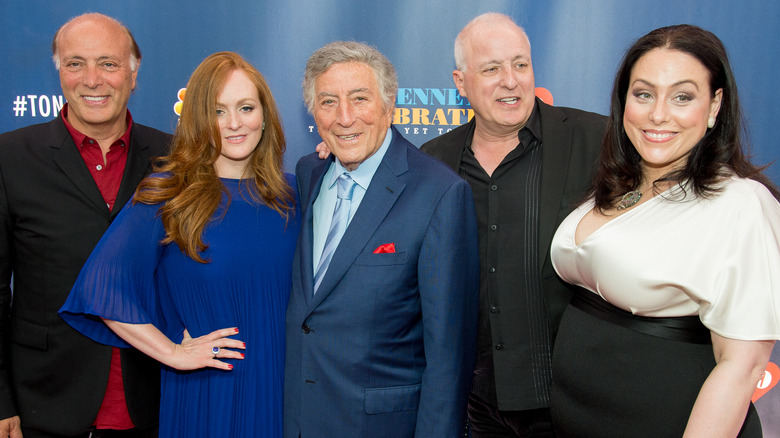 Roy Rochlin/Getty Images
While the world mourns the loss of iconic vocalist Tony Bennett, four people are mourning their father's death. A statement posted on the singer's Instagram page on Friday confirmed that he passed away with music still on his mind. "Tony left us today, but he was still singing the other day at his piano, and his last song was, 'Because of You,' his first #1 hit. Tony, because of you, we have your songs in our hearts forever."
Bennett left behind his current wife, Susan, and two ex-wives, each of whom he had two children. When Forbes asked him about his greatest achievements, the crooner's first response was about his family. "Personally, my four children and seven grandchildren are what make[s] me proud," he declared. The singer had nine grandchildren total upon his death. Bennett himself admired his own father, writing on Facebook, "My father inspired my love for music. He derived tremendous pleasure from singing to anyone who would listen. He had a beautiful voice." 
One of Bennett's children followed in his singing footsteps, one chose a private life, one helped manage his career, and one helped produce and engineer his songs. All were devoted to their father. 
Bennett's sons came first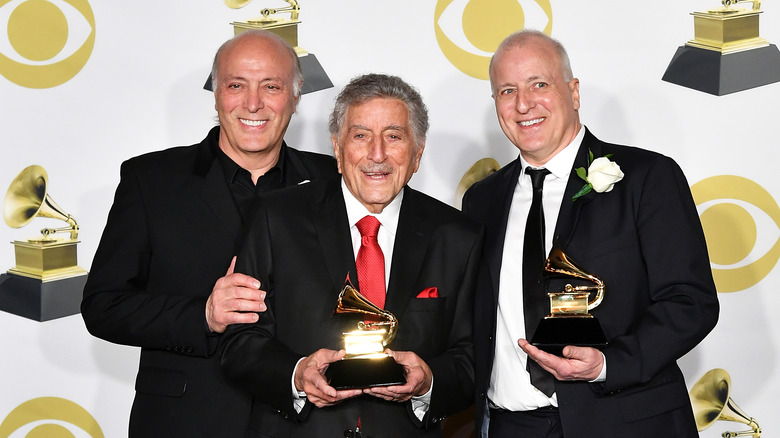 Slaven Vlasic/Getty Images
When Tony Bennett married his first wife, Patricia Beech, in 1952, women around the world mourned the loss of his bachelorhood. The couple were separated in 1965 and officially divorced in 1971, with two children born during their relationship. D'Andrea, aka Danny, was introduced in 1954, followed by his brother Daegal, aka Dae, in 1955. 
Danny Bennett worked with his father on a day-to-day basis, starting in 1979, when he became Tony's financial advisor. Danny helped Tony reorganize and budget his way out of debt, then started the singer on his way back up the ladder of success. In fact, Danny's influence helped bring his dad's voice to a new generation; when he took over as his manager in the late '80s, he booked Tony to perform on a series of shows, including the MTV Music Awards. He was also instrumental in bringing the singer into the limelight with his now-famous MTV's "Unplugged" episode in 1994. "I don't just handle a career," Danny told Billboard. "I manage a legacy." 
Tony's second son Dae was also involved in his father's career. A sound engineer and producer with 10 Grammy Awards under his belt, Dae took home several of the statues for albums featuring his father, including "Duets," "Duets II," and "Cheek to Cheek" with Tony's friend and collaborator Lady Gaga. Tony was proud of his son's accomplishments and even took to Twitter in 2018 to offer his congratulations, "So thrilled that my son Dae just won a Grammy for 'Tony Bennett Celebrates 90.'"
Bennett also has two daughters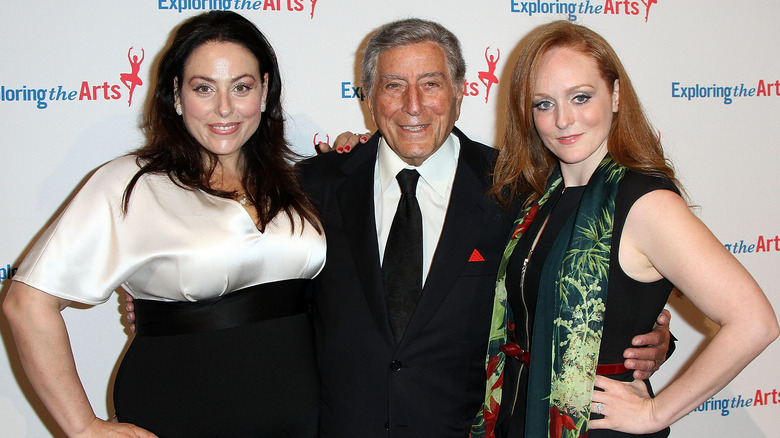 Monica Schipper/Getty Images
After dating for several years, Tony Bennett married his second wife, Sandra Grant, in 1971. Before tying the knot, they had a daughter Joanna, born in 1969. Daughter Antonia joined the family in 1974 before the couple separated in 1979 — though their divorce wasn't finalized until 2007. Both girls grew up together in Beverly Hills.
Tony named his oldest daughter Joanna after his 1964 song, "When Joanna Loved Me." Although you won't often see her in the spotlight, she did appear in the movie "Goodfellas," as Marie #1. Choosing a more private life than acting, Joanna has nevertheless been very supportive of her father in public and was often seen on his arm on milestone occasions, like her father's 80th birthday party event in NYC. 
The youngest of Tony's four children, Antonia Bennett, has taken after her father as a professional singer. Antonia also likes to croon the classics, and Tony himself is quoted on his daughter's official website confirming, "Antonia's got the gift." She graduated from the Berklee College of Music in Boston, but her musical education began long before that, stepping up on stage alongside her father when she was a child. She released an album called "Embrace Me" in 2014. "I absolutely love to sing and perform," Antonia shared with Enjoy the Music. She also confessed to the outlet that her favorite celebrity of all time is her father, the great Tony Bennett. "Because of how much I respect, love, and admire him."