Why Kody Brown Didn't Want To Date Robyn When They First Met
We may receive a commission on purchases made from links.
It seems like Kody Brown just can't keep himself from revealing his innermost thoughts, many of which should have never been uttered. This may be why the polygamist has found three of his four marriages disintegrating. He now has only one wife, Robyn, after Christine and Janelle left him, and he and Meri agreed to part ways. The wives and even some of his children feel that he had essentially made Robyn his favorite wife for years on end, which was clear based on where he chose to spend most of his time (via Today).
However, he wasn't always smitten with Robyn. In fact, he initially didn't even want to date her. When the show first began in 2010, his first wife, Meri, encouraged him to court Robyn after they met her at a party. The first season revolved around him and Robyn dating, which occurred at the same time when his third wife, Christine, was pregnant with Kody's daughter Truely. That season Robyn and Kody eventually married.
Though Kody believed back then that polygamy was the way to enter heaven and wanted another wife, he wasn't sure that Robyn was the right one in the beginning.
Robyn was more than he wanted to take on
When Kody Brown first met his would-be bride Robyn, she had a lot of baggage. She was newly divorced from her husband, David Jessop, and was in a lot of debt. She also had three children and had just emerged from an abusive relationship.
"She looked like a soccer mom," Kody said about Robyn on the show (via In Touch Weekly). "She had a van, three kids, and was divorced. I thought, 'I didn't need a van, a divorced woman, and three kids in my life — that's just trouble.'"
Before dating Robyn Sullivan, Kody Brown said besides taking on her children, he also questioned whether Robyn would be fully committed (via TLC). "She's divorced from another man, and so the question in my mind at that point is, will you be committed to this marriage?" he said. "I mean, were you justified in that divorce? If I treat you right, if I'm kind to you, will you stay with me?" He says that was his biggest concern when thinking about dating Robyn. "As I learned how kind and forgiving she was, in my mind and heart, I knew that she had done all that she could in that marriage and that all aside, I think it was destiny that we were together."
Janelle was also divorced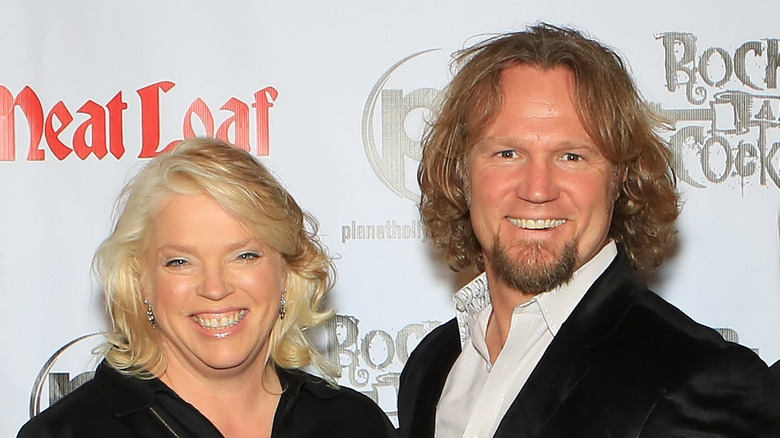 Gabe Ginsberg/Getty Images
Ironically Robyn wasn't the first wife that Kody married, who was previously divorced. Janelle was first married to Adam Barber, her sister wife Meri's brother (via Yahoo). Janelle and Adam were married from 1988 to 1990.
"Adam was not completely committed to his fundamentalist faith, and I was happy to welcome him to the LDS church," Janelle said in the 2013 book "Becoming Sister Wives: The Story of an Unconventional Marriage." "Not long after he converted, we began courting. Soon we were married in the temple, but my husband wasn't really interested in either his new faith or the branch of fundamentalism he had been raised in. In fact, he had very little spiritual conviction." Though they were officially married for two years, Adam moved out of their home after being married for just six short months.
For now, Kody Brown remains in a traditional marriage with Robyn and has seemingly abandoned a plural lifestyle, according to a Cameo video posted on TikTok. This revelation comes after rumors that Kody and Robyn tried and failed to court a new wife (via The U.S. Sun). Christine Brown is currently engaged to her new fiance David Woolley and both Janelle and Meri have moved on with their lives and are enjoying being single and free.