Harry And Meghan's Social Life In Montecito Reportedly Takes Hit From Continued Media Attention
Chris Jackson/Getty Images
Another day, another rumor about Meghan Markle and Prince Harry. The couple, who stepped down as senior members of the royal family and moved out of the UK in search of a more private life that they could live on their own terms, is making headlines after a report that they've been banned for a club in their current hometown of Montecito. According to Express, the Duke and Duchess of Sussex were members of a swanky, members-only club, but the paparazzi attention they attracted reportedly caused them to get banned.
The news came from Lady Victoria Hervey, a socialite who often comments on royal happenings, during an interview on GB News. "I heard from people in LA that they actually got barred," Hervey said. She explained that the other members at the club "don't like paparazzi," which ultimately — and allegedly — caused the club owners to give Meghan and Harry the boot.
The claims come after Meghan was photographed at a local farmer's market not too far from the home she shares with her husband. In photos supplied by the Daily Mail, Meghan was seen carrying a large bag on her shoulder and a bouquet of flowers in her hand as she walked with her beagle — even though dogs aren't allowed there. The casual photos prompted reports that Meghan called paparazzi herself in an attempt to stage some pictures — and one paparazzo spoke out about the claim in an attempt to set the record straight.
Prince Harry and Meghan Markle have attracted a lot of paparazzi attention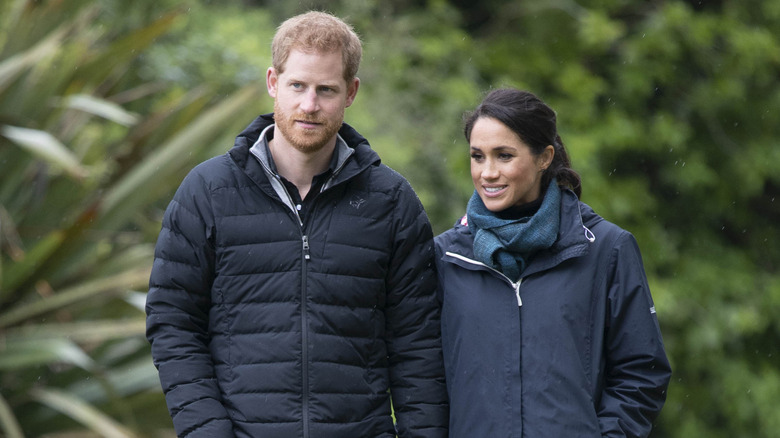 Pool/Getty Images
During a chat with Newsweek, Jill Ishkanian, the photographer behind those farmer's market photos, said that she was not tipped off by Meghan Markle, despite what you might read on the internet. "No one calls me, trust me. I have absolutely no support, I do everything by myself. It's a total pain in the butt when you get their picture to be totally honest," she explained. And while Ishkanian's photos of the duchess may have been innocent enough, paparazzi has been a problem for both Prince Harry and his wife, even after they made the decision to move to California. 
Back in March, the Duke and Duchess of Sussex said they were involved in a paparazzi car chase in New York, according to NBC News. "This relentless pursuit, lasting over two hours, resulted in multiple near collisions involving other drivers on the road, pedestrians, and two NYPD officers," a spokesperson for Harry and Meghan claimed.
And while things may be a bit more laid back in Montecito, it's clear that Harry and Meghan draw attention whenever they step out in public. One might be able to understand how their presence at an exclusive club with other A-listers may ruffle some feathers due to the unwanted attention of the ever-present camera lens, which could really start limiting the couple's hang-out spots — that is, if the rumor is true.