Why Does Khloé Kardashian Call Kim 'Joge'?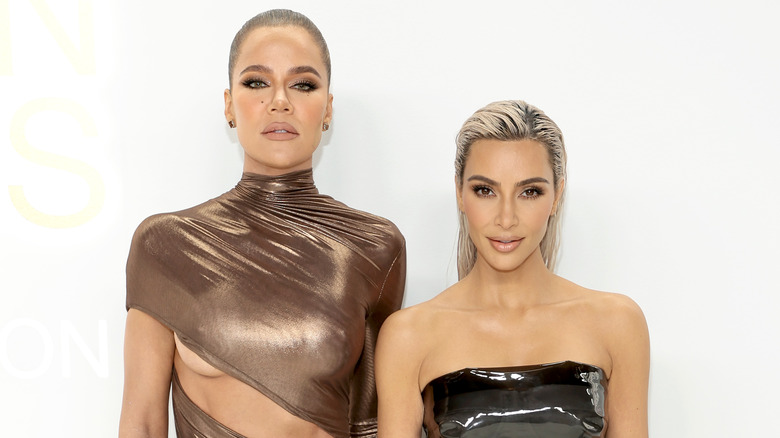 Dimitrios Kambouris/Getty Images
With over a billion combined Instagram followers, dozens of business ventures, and highly-anticipated televised weddings, the Kardashians are pretty much the American equivalent of the British royal family. The only thing left for them to do is replace George Washington on the U.S. dollar.
Since "Keeping Up with the Kardashians" began airing in 2007, we've been granted insight into the sisters' day-to-day lives, whether that means watching Kendall cut a cucumber or Kim lose a diamond earring in the ocean. America has also been treated to a variety of Kardashian-Jenner nicknames throughout the years. Kim, for instance, is called Kiki, Keeks, Kimmi, and Kimbo by her close family members. Pete Davison allegedly called her "Jasmine," referencing their "Saturday Night Live" skit, and Khloé, for some reason, also calls her "Joge." According to the Skims founder, that particular nickname can be traced back to their father, Robert Kardashian Sr. "My dad called me that, we have no clue why!" Kim Tweeted back in 2011. 
Rob Sr., who was born to Armenian-American parents, likely derived the nickname "Joge" from the Armenian language — it can be translated to "imagine," according to The Mirror. Khloé, it seems, wanted to keep his memory alive. 
The Kardashian sisters are a big fan of nicknames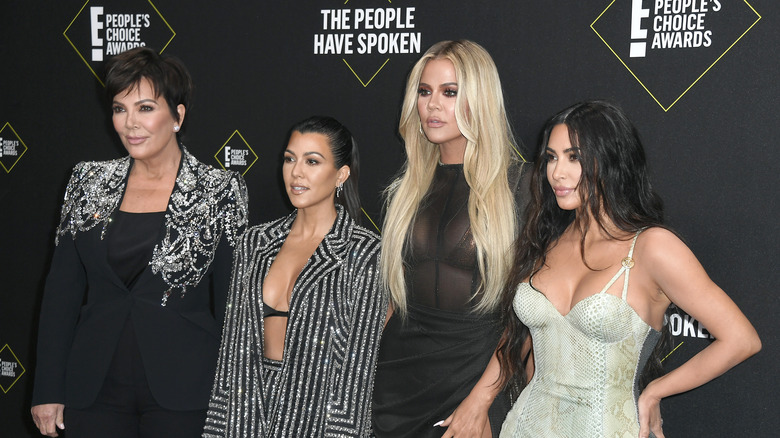 Frazer Harrison/Getty Images
Kim isn't the only Kar-Jenner sister that's been granted a nickname (or five). As Kylie Jenner shared on Season 3 of "The Kardashians," both Khloé and Kourtney called her "Dopey" growing up, riffing on the size of her ears, per ET. However, the beauty mogul learned to get past her insecurities, especially after she had her daughter, Stormi. "Even my ears, I always felt like they stuck out too far, and she [Stormi] has the same ears as me and so now I love my ears," Kylie told Vogue Australia. Now, she's usually referred to as "Ky" on the show — it seems her "Dopey" days are behind her.
The Hadid sisters even got in on the nicknaming fun, coming up with their own nicknames for Kendall Jenner. "Happiest bday Kagey," Bella Hadid wrote on her Instagram story when Kendall turned 24, per Elle. Gigi also honored her friend on social media, referring to Kendall as "Kenny." As for Khloé? "Shortened Koko to kokes...she calls me Keeks now, short for Kiki..." Kim tweeted in 2013, describing the evolution of her nickname for the "Good American" founder.
Meanwhile, even Kourtney Kardashian's company, "Poosh," was inspired by the moniker she gives her daughter, Penelope. The Kardashian-Jenner multi-verse gets more complicated by the minute, it seems.
Kardashian K names are a multi-generational tradition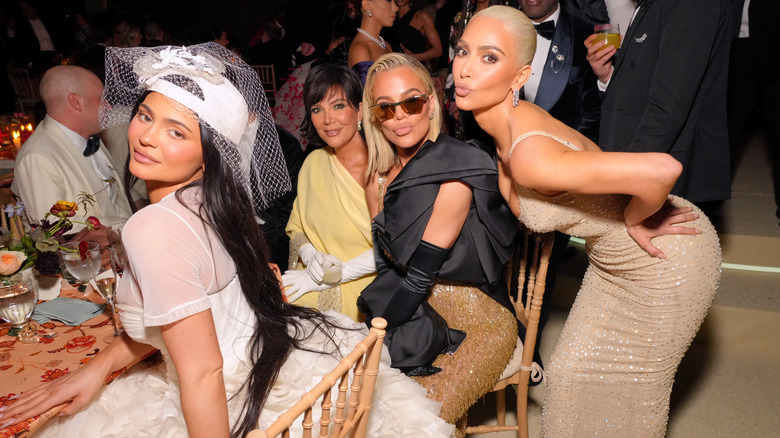 Kevin Mazur/mg22/Getty Images
With the exception of Rob Jr., who was named after his father, all the Kardashian-Jenner kids were given "K" names. According to Marie Claire, it's a tradition passed down by Kris Jenner's mother, Mary Joe Campbell. Kris's sister, Karen, also continued the "K" tradition, naming her daughters Kourtni, Kara, and Krista. That's a lot of K-themed Kousins.
When it came time for Kourtney, Kim, Kloé, and Kylie to name their own kids, they decided to break the trend. That's not to say they haven't honored their roots, however. In a 2010 interview with Life & Style (via MTV), Kourtney spoke about how she and Scott Disick decided on "Mason." "Right before he was born, I told my aunt [we] were thinking about going with [Mason] for a name," the reality star reported, adding, "She told me that Mason means the same thing in English that Kardashian means in Armenian — stone worker."
The Kardashians aren't the only famous family with a favorite letter. The Duggar kids' names, for instance, all start with a "J." According to Michelle Duggar, it was something that happened mostly by accident, per Bustle.