What Barbara Walters And Bill Geddie's Relationship Was Like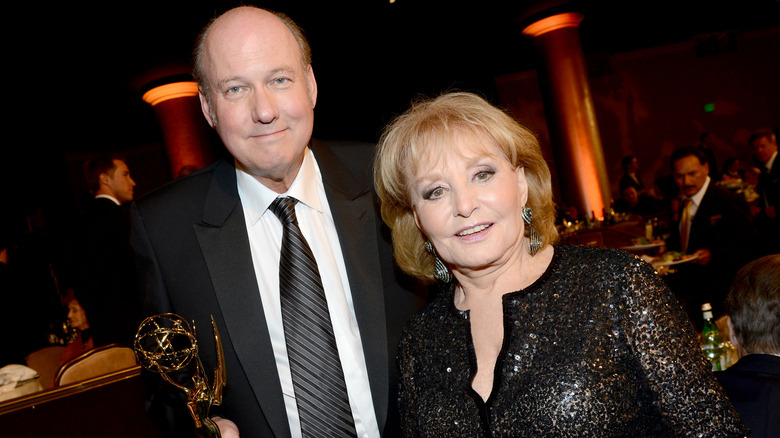 Michael Buckner/Getty Images
Barbara Walters rose to prominence in the world of journalism at a time when few women were on and off screen in the newsroom. In the 1950s, she was a writer for CBS, and then NBC's "Today" in the 1960s. At first, she was stuck in a rather surface level news role with "Today," but quickly proved to be a force behind the scenes and on the air. This allowed her to become the co-host of "Today" in 1974. Two years later, she moved to ABC and became the first female co-anchor for an evening news show. It was at ABC that she met producer Bill Geddie.
In 1988, Geddie became Walters' executive producer for her specials, which eventually included her annual "The 10 Most Fascinating People," a program Geddie also wrote and directed. He and Walters created "The View" together in 1997. Their relationship was one of deep respect. Geddie admired Walters for her impact on women in the workplace. In turn, Walters saw Geddie as an important leader.
Bill Geddie called Barbara Walters 'the best in the business'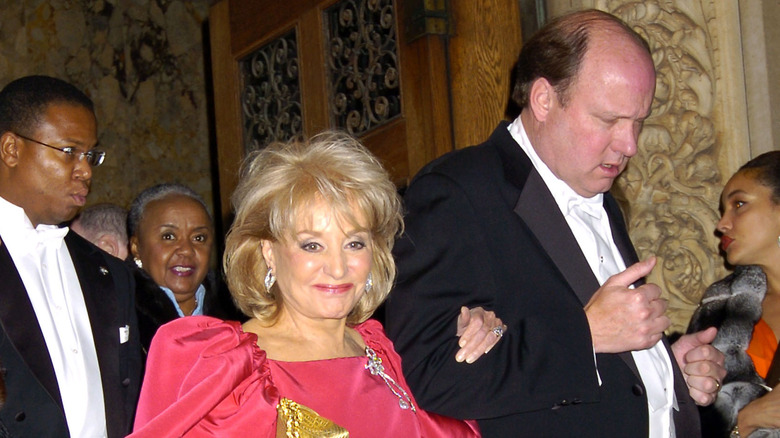 Robin Platzer/Getty Images
In 2022, Bill Geddie opened up about his 27 years of working with Barbara Walters, which aside from launching "The View" together also included a 25-year partnership in BarWall Productions for ABC News. "Barbara's total impact on broadcasting is hard to quantify, but this much is clear — she kicked sexism and ageism squarely in the ass," he told People. When he began producing her "Barbara Walters Specials" on ABC, she defied the odds of both sexism and ageism. "I was told by several male TV execs not to get too comfortable. 'You'll only have the job a few years,' one of them said. 'No one wants to see a woman over age 60 on TV,'" Geddie explained.
Barbara Walters died in December 2022 at the age of 93. She still made television appearances even in her 80s before retiring in 2015. Upon her retirement, Geddie told KESQ News Channel 3 that his time with Walters was "absolutely amazing." He went on to call Walters "the best in the business."
Barbara Walters presented Bill Geddie with a lifetime achievement award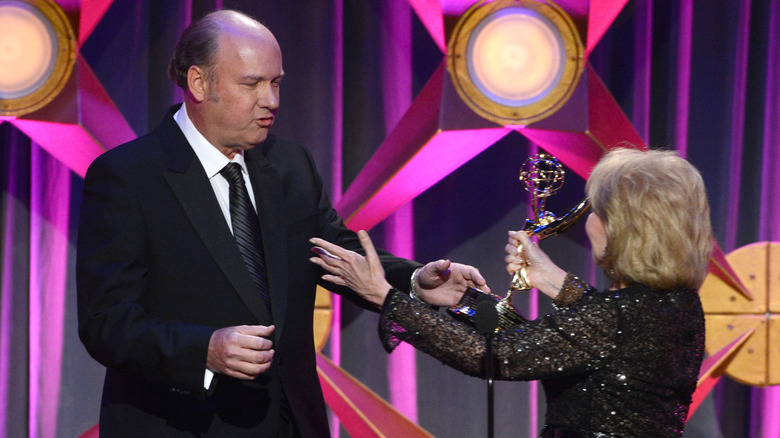 Michael Buckner/Getty Images
The partnership between Bill Geddie and Barbara Walters was successful not only in longevity but also in recognition. Both Geddie and Walters received lifetime achievement Emmy awards from the Television Academy. When Walters presented Geddie with his lifetime achievement award in 2012 (posted on YouTube), she credited his "leadership" for getting the show through "dark days" and referred to him as "the best." In Geddie's acceptance speech, he revealed the lighthearted side of their relationship when he described the first time he saw her on television. "I thought at that time, 'Someday, I'm going to be a thorn in that woman's side.'" However, Geddie then thanked Walters for "this wonderful career."
Geddie died in July 2023. Though he left his job as producer of "The View" in 2014, the show's hosts sang his praises in tributes to him. "I'm forever grateful to him and Barbara for the opportunity to be on the View," Joy Behar posted on Twitter. Sunny Hostin called him "my friend and mentor" in her own heartfelt Twitter post.