Who Is Country Singer Hardy Married To?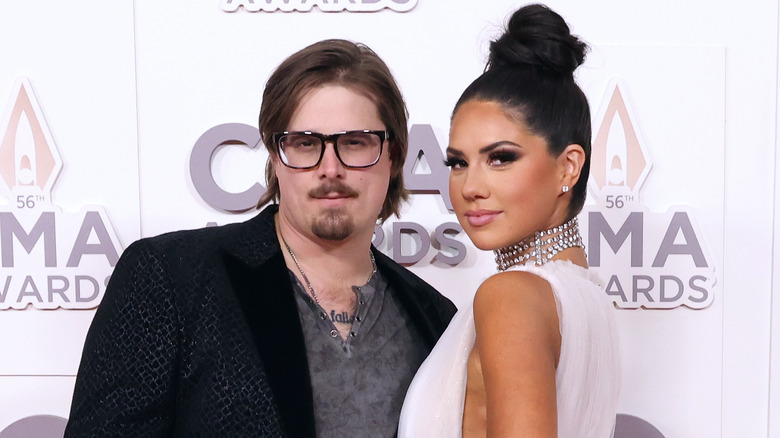 Taylor Hill/Getty Images
Michael Wilson Hardy, better known simply as HARDY, may have started out writing best-selling songs for artists like Morgan Wallen, but he quickly made his way to the stage performing his own singles, such as "One Beer." However, HARDY isn't your run-of-the-mill country crooner. His look is much less cowboy hat, big belt buckle, and a pair of well-fitting, worn blue jeans, but more of a grungy-rocker persona with just a dash of the heartland. This is something his wife, Caleigh Ryan Hardy, must have been attracted to.
HARDY and Ryan tied the knot on October 29, 2022 in Nashville, Tennessee, in front of an audience more star-studded than that at the CMA Awards. Amongst the 350 guests were top grossing artists like Dierks Bentley and Wallen. While they were just peers to HARDY, the celebs were likely a big deal to his now-wife, who spends more time in front of a computer screen as a marketing coordinator than she does in front of country music superstars and adoring fans. Nevertheless, Ryan and the singer-songwriter had a beautiful affair that was the perfect farm-esque fairytale wedding for their nearly four-year relationship, which officially began in April 2018. 
A not-so-country courtship
Listen to almost any country song, and you would think the only way for a couple to meet one another is at the local bar. However, HARDY took a much more 21st century approach, sliding into Caleigh Ryan's DMs on Instagram.
The "Give Heaven Some Hell" singer told People, "We just started talking about San Diego and how she goes to Ole Miss and my family's Mississippi State thing," At the time, Ryan was studying marketing and corporate relations at the university. He continued, "We kept in contact until I had a show nearby her school and told her I'd love to meet her there." His show was at the Lyric Theater in Oxford, Mississippi, where Ryan reportedly "dragged" her two roommates for moral support. However, once the headliner and the girl who popped up on his "For You" page met in person, it was love at first sight. Or, maybe third sight, according to HARDY, "I loved her after the third time that we ever hung out," he later gushed. 
Nearly three years later, the venue of their first meeting would serve as the couple's proposal site. After Ryan graduated school and landed her first adult job, two goals she wanted to accomplish before she said "yes," HARDY popped the question in the exact same spot he first laid eyes on the woman of his dreams.
'I don't wanna be your boyfriend anymore'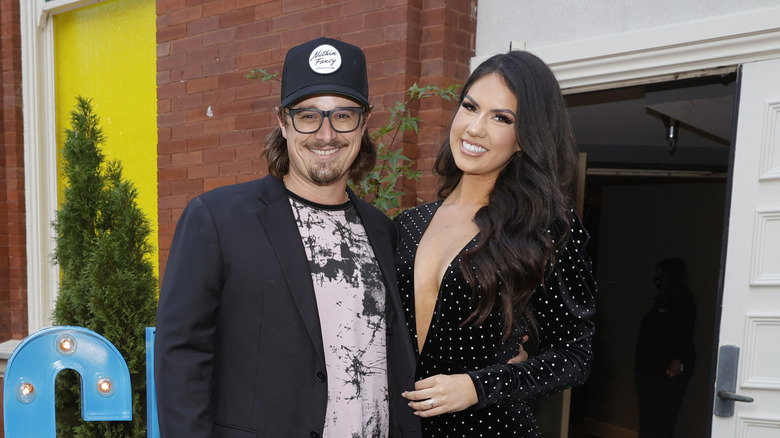 Jason Kempin/Getty Images
Carleigh Ryan is one of her husband's biggest supporters as well as his muse, inspiring him to write the song "Boyfriend" after they were picking on one another in the pool. Now that the two are married and HARDY is no longer just her boyfriend, he doesn't have to go far to find inspiration. Reportedly, the pair live in Nashville, Tennessee. A Cali-girl at heart, Ryan seemed more than happy to make the move for her man. According to her LinkedIn, she even put down career roots in her husband's homebase, working at Graduate Hotels in "Music City, USA."
Whether she inspired the singer's recent move from exclusively country to a mix of country and rock-and-roll is unknown, but whatever is fueling HARDY's latest album, "the mockingbird & THE CROW," is definitely working for him. The 17-track masterpiece found massive success, rising to the number one spot in both Billboard's Top Country and Top Rock Albums.
He told Forbes regarding his continuing achievements, "And a lot of it has to do with a good wife, good parents, a really good crew on the road, and my record label." We want to raise "One Beer" in acknowledgment of Carleigh Ryan, who is also clearly killing it in the wife game.