Meet Wilmer Valderrama's Fiancée, Amanda Pacheco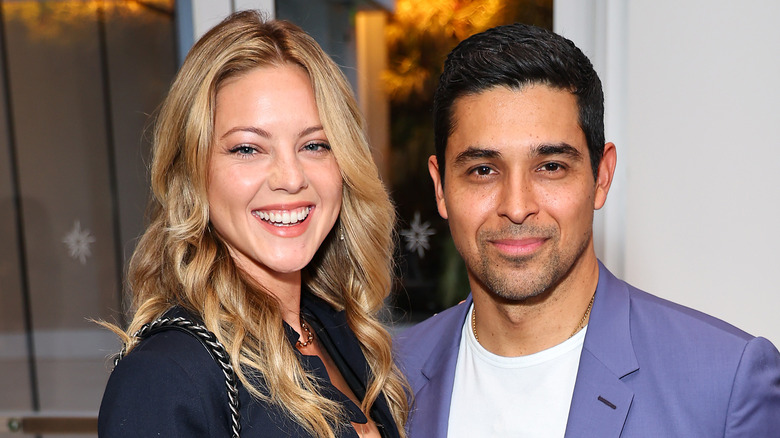 Leon Bennett/Getty Images
Wilmer Valderrama — also known as Fez on "That '70s Show" and Nick on "NCIS" — has been romantically linked to some of Hollywood's biggest A-listers, including Demi Lovato, Lindsay Lohan, and Mandy Moore. These days, however, the actor is gearing up to get married, and his bride-to-be isn't a household name like many of his exes.
On January 2, 2020, Valderrama announced on Instagram that he was engaged to girlfriend Amanda Pacheco with a seaside pic of him on one knee. "'It's just us now' 01-01-2020," read the photo's caption. It wasn't the first time Valderrama's followers were introduced to the "NCIS" star's current squeeze. The actor had posted several other snaps of him cozying up with Pacheco on his Instagram profile in the months leading up to his proposal, including one September 2019 post captioned "una dedicación para la nena de mi vida.. porque la vida es mas sabrosa con Chimichurri" (translated to English as, "a dedication to the girl of my life... because life is tastier with chimichurri"). The two were also spotted together in Los Angeles as early as April 2019, per Us Weekly.
When the pair first met through a mutual friend, they were both busy and not looking for a relationship, according to Parents. But thanks to the "gravitational pull" Valderrama felt toward Pacheco, the couple has been inseparable ever since. And while she isn't in the public eye, she has an amazing career all of her own.
Amanda Pacheco became a mom in 2021
In December 2020, less than a year after Wilmer Valderrama announced his engagement to Amanda Pacheco, the two posed for an Instagram photo showing off Pacheco's pregnant belly. "It's just us 3 now," Valderrama cleverly captioned the picture, referencing his earlier proposal pic. One month later, Valderrama and Pacheco confirmed in a gender reveal video that they would be welcoming a daughter.
On February 15, 2021, Pacheco gave birth and celebrated a few days later on Instagram with a series of sweet hospital snaps. A statement (also shared on Valderrama's account) accompanied the photos: "The world is an ever-evolving journey, and for all those times when our path needs a light.. often angels are sent to show us we can be more.. straight out of heaven we welcome our first daughter..."
Pacheco's daughter's birth date turned out to be extra special for the new mom, who lost her own mother to ovarian cancer. In a post honoring her baby's first birthday, Pacheco wrote, "2/15/21 you were brought to us by God from a very special angel in heaven and I call her my momma. I was devastated at the thought of my mom not being with me as I entered motherhood. So what did she do!? She sent me you! On her birthday! Happy birthday to my mom in heaven and our perfect healthy beautiful baby girl."
She spends her time traveling and scuba diving
While many of Wilmer Valderrama's former flames may have been known for their über-successful acting and singing careers, his fiancée Amanda Pacheco tends to spend her time away from the spotlight. According to Pacheco's Instagram bio, she's a model and PADI divemaster who feels most comfortable "deep in the sea or high in the trees where things are wild&free." Her passion for the water and adventurous spirit even helped influence her baby's middle name. As Valderrama told People, the couple's daughter's first name, Nakano, was inspired by a trip they took together to Japan, and her middle name, Oceana, was borrowed from Pacheco's love for scuba diving. "[Amanda's] incredibly passionate about the ocean and diving and ocean life, so that was another tribute to her mom," the actor revealed.
Besides bonding with her famous beau in Japan, Pacheco has traveled all around the world. An older Instagram account reveals that the model-turned-mom was once based in Manila in the Philippines. On her main account, she frequently shares pics from her travels in Paris, Puerto Rico, and other picturesque spots, and globe-hopping was even part of what brought her and Valderrama closer. In his interview with People, the former "That '70s Show" cast member shared, "Amanda and I traveled the world on our first year of our relationship. We decided to just throw ourselves in the deep end, so we traveled the planet."