What To Know About Hallmark Stars Andrew Walker And Nikki DeLoach's Longtime Friendship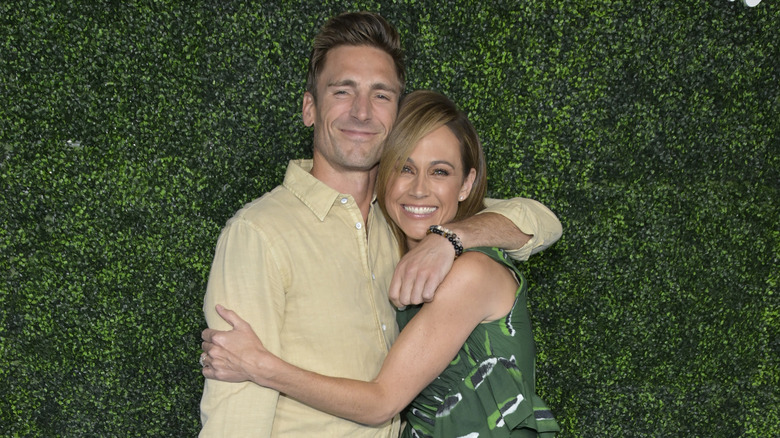 Michael Tullberg/Getty Images
Genuine friendship in show business is hard to come by. After all, the entertainment industry is often associated with glitz, glamor, and competition, but amidst the spotlight and fame, real friendships can flourish. Thankfully, Hallmark Channel's Andrew Walker and Nikki DeLoach have found that.
The two actors are frequent collaborators who first acted together in the holiday film "A Dream of Christmas" in 2016. Through the years, the pair worked on several more projects together including "The Perfect Catch," "Sweet Autumn," "Curious Caterer: Dying for Chocolate," and "Curious Caterer: Grilling Season." Since their first meeting, they have maintained their closeness and developed great rapport on-screen.
In an interview with ET in February 2023, Walker talked about working with DeLoach on multiple occasions and building a friendship over the years. He said, "I feel really fortunate to know her and continue to just build this relationship with her on- and off-camera. And she's not too hard on the eyes either. So it's pretty easy to be on set with her and build a relationship with her in that way." For DeLoach, it was effortless to forge a connection with Walker because he is just different from the people she's worked with before. Talking about her co-star, she revealed, "Theoretically say we all come from stardust. And there's some people that you meet where you just came from the same star . . . like you've known them your whole life. For me, that's what it was with Andrew when we worked together the first time." 
A friendship that helps them come out better on-screen
Nikki DeLoach has expressed her gratitude for having the opportunity to continuously work with her "Sweet Autumn" co-star Andrew Walker. In an exclusive interview with ET, DeLoach said, "It always feels like, 'I can't believe we get to do this again.' I don't know, Andrew, if you feel the same way, but I never take one for granted. So every single time we get to do another movie together, it just feels like we were handed this incredible gift yet again." Working with him is probably one of the things DeLoach loves about being a Hallmark star. 
The Montreal native agreed with DeLoach and further added that they are comfortable sharing ideas to enhance the project they are working on. He thought they make each other better on-screen and by working together, they come out with better narratives and improved characters, also telling ET, "I could do it a hundred times with her and it's still fresh because she has this work ethic and this excitement and this passion for what she does that we both are very similar."
They found a common ground as first-time parents
Nikki DeLoach and Andrew Walker instantly bonded as soon as they worked together. Their immediate connection was formed, at least in part, because they were first-time parents when their first project began. They got comfortable real quick and went out for drinks right away. In a chat with People, Walker recalled, "We went and we had some chicken wings and beer, and just talked and talked about being new parents, and talked about being in Winnipeg, and talked about all the things that you go through as a parent, leaving your kids as well. And balancing work and life."
DeLoach had seniority in terms of parenting since her son was already a year old when Walker welcomed his firstborn. Still, they were both lost parents, she noted that even though her son was older when they worked together for the first time, she still felt she was in the "How do I do this phase." 
The Georgia native also confessed she has this feeling that they've been friends their whole lives. She further explained to People, "There's just such an ease with Andrew. I do think that there is something that happens, and it doesn't happen for everyone." Their friendship was even extended to their spouses, Walker became buddies with DeLoach's husband and their relationship also turned professional as he now represents Walker as his entertainment lawyer. On the other hand, DeLoach said she talks to Walker's wife regularly.