Ivanka Trump Learns To Fly Helicopter In New Video (See Her Dolce & Gabbana Pilot Look)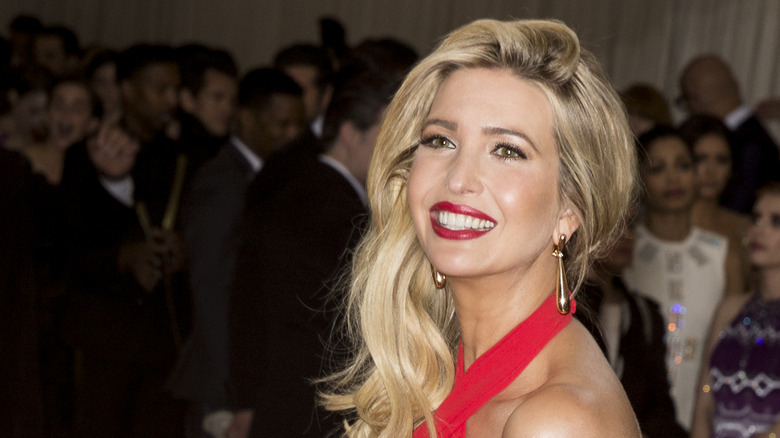 Ovidiu Hrubaru/Shutterstock
Former first daughter Ivanka Trump has had a number of jobs throughout her life. She's worked as a model, head of her own fashion and jewelry line, and White House adviser (although she nearly got fired from that White House job). But now, Ivanka seems to be living a life of leisure in Florida, spending time with her family, pursuing her passions, and pretty much living her best life. And just in the summer of 2023, she's been seen vacationing around the world, from Greece to Ibiza to Egypt.
But her summer hasn't been just relaxing by the beach and going to clubs; it looks like she's also been learning a new skill. Ivanka recently posted a video on Instagram of herself in the pilot's seat of a helicopter with the caption "learning to fly." And unsurprisingly, Ivanka, who's known for her elegant and expensive outfits, has a very stylish pilot look with a Dolce & Gabbana dress.
Ivanka Trump seemed comfortable flying the helicopter
Ivanka Trump shared a video of learning to fly a helicopter while wearing black sunglasses and a Majolica print Dolce & Gabbana sleeveless dress with tie straps. Dresses from Dolce & Gabanna's Majolica collection retail for around $2500. She looks relaxed and in control as a helicopter pilot, and in the comments, people noted how impressed they were, not just by her flying but doing so with such style. One wrote, "I love how you are learning in a dress!!!" Another said, "The most beautiful pilot ever !!!" Whether she's learning to fly to get a license, we don't know, but she definitely looks like a natural.
As calm as Ivanka looks as she learns to fly a helicopter, she's had a scary time in them before. In 2018, she and Jared Kushner boarded a Trump Organization-owned helicopter to fly from Washington D.C. to New York when one of the plane's two engines failed, forcing them to go back to a D.C. airport. Thankfully, no one was hurt, and Ivanka clearly didn't let the incident rattle her for too long since she's now in the pilot seat.