How Ryan Gosling's Kids Felt About Him Playing Ken In The Barbie Movie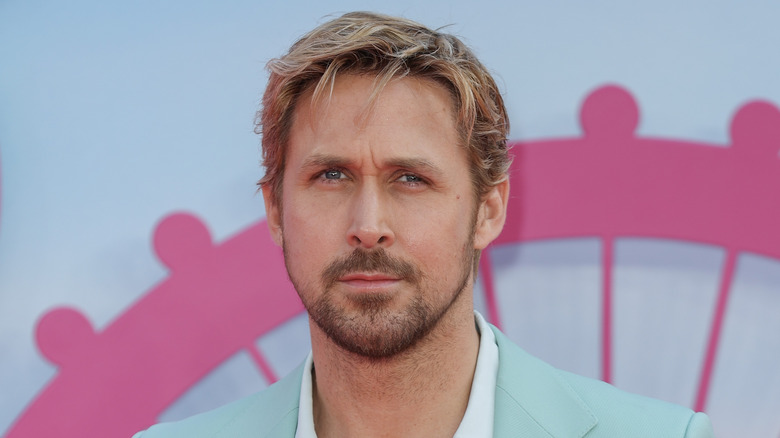 Mike Marsland/Getty Images
Even during the early days of writing the movie's script, "Barbie" director Greta Gerwig had a clear vision of Ryan Gosling as the character Ken. For Gosling, however, finding his "Kenergy" wasn't an intuitive process. For starters, the actor didn't have any experience playing with the doll when he was a child. Then when Gosling shared the news of his role with his two daughters, Amada and Esmeralda, they were baffled by his decision. "He's such a nonpresence in their world, they were like 'What is there to play? Is there meat on that bone?'" Gosling informed The New York Times.
Gosling's kids aren't the only ones who look at Ken as a subsidiary character. When Ken became available two years after Barbie, the new doll was considered "an accessory to Barbie's life," Kim Culmone, Mattel's head of design, told CNN. At Gosling's home, his two daughters, who he shares with partner Eva Mendes, had even less interest in Ken. "I kept finding their Ken dolls discarded, so the whole idea that nobody plays with Ken is true," Gosling described to People.
Ultimately, it was his daughters' apathy for Ken that convinced the actor to take the role. He committed to the part after encountering one of his kids' castoff Kens. "I did see him, like, face down in the mud outside one day, next to a squished lemon," Gosling recalled to GQ. "It was like, 'This guy's story does need to be told.'"
Ryan Gosling's kids helped him develop his Ken performance
Even though they were skeptical at first, Ryan Gosling's daughters Amada and Esmeralda were integral to the actor's development of his Ken character. "They've seen a lot pieces of [the film], and helped me a lot with it," Gosling told ET. "They were [a] huge inspiration for me." Gosling's kids helped him make sure Ken's humor showed through in his performance. His daughters also went to work with their dad to watch him in one of the dance scenes. "When they came to set, they were behind the camera, like my coaches. It was pretty cool," Gosling informed People.
The actor's seven and eight-year-old children have experience developing their own plots and characters for the denizens of their personal Barbie universe. Among the various stories his daughters created, Gym Class, a Barbie, takes center stage, while Darrell, a renamed Ken, is more of a background character. "Gym Class met Darrell at the grocery store, but Gym Class, she's focusing on herself right now," Gosling remarked to The New York Times.
In addition to his daughters, Gosling took inspiration for Ken from his own childhood experiences performing at malls and weddings. "There's something about this Ken that really, I think, relates to that version of myself," Gosling reminisced to GQ. "The guy that was putting on Hammer pants and dancing at the mall and smelling like Drakkar Noir and Aqua Net-ing bangs. I owe that kid a lot."
Ryan Gosling is championing the Ken character
During his time portraying Ken in the "Barbie" movie, Ryan Gosling has come to empathize with his character. "I care about this dude now. I'm like his representative," the actor proclaimed to GQ. Gosling also felt confident challenging naysayers who thought the 42-year-old actor was too old for the role. "It is funny," he commented to GQ, "this kind of clutching-your-pearls idea of, like, #notmyken. Like you ever thought about Ken before this?" Margot Robbie, the movie's main Barbie, also dismissed this attitude, telling The New York Times, "Barbie and Ken are technically in their 60s. So whatever."
Simu Liu, who plays one of the movie's additional Kens, has also spoken out about the diversity of this character in the film. "You don't have to be blonde, white, or X, Y, Z in order to embody what it means to be a Barbie or a Ken," Liu said at the Unforgettable Gala, per Vanity Fair. "It's really about finding your inner beauty and owning that part of yourself and being the best possible version of you."
To discover his "Kenergy," Gosling relied on Robbie and director Greta Gerwig. The actor was also inspired by Mandi Gosling, his older sister. Unlike Gosling's two daughters, Mandi was confident from the start about her brother playing Ken. "Of course he's Ken!" Mandi explained to ET Canada.  She then told Gosling, "You had to look for the Kenergy, but I always knew it was there."