How Jonathan Scott's Fellow HGTV Stars Feel About His Zooey Deschanel Romance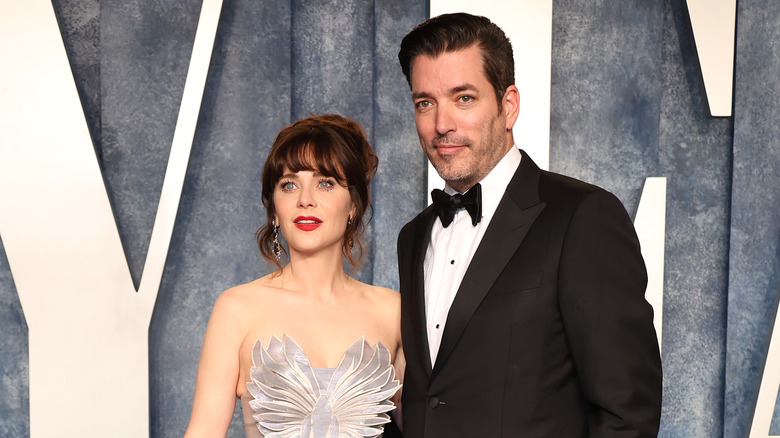 Amy Sussman/Getty Images
"Property Brothers" star Jonathan Scott and "New Girl's" Zooey Deschanel famously met while filming an episode of James Corden's "Carpool Karaoke" in August 2019. They appeared on the show together with Jonathan's twin brother, Drew Scott, and Zooey's sister, Emily Deschanel. At the time, the actor was still married to Jacob Pechenik but it was reported that they were already separated months before they announced their split in September 2019. The former couple released a joint statement through People confirming they "are better off as friends."
A month after the demise of their marriage was publicized, Zooey and Jonathan then went public with their relationship via Instagram. Since they were both famous and the actor had just revealed her split from Pechenik, there were issues surrounding their newfound relationship. Navigating fame and love can be quite challenging, and only your colleagues can really understand how tough it is dating in the spotlight. Offering words of support does mean a lot, and luckily for Jonathan, his fellow stars from the HGTV network gave him some encouraging words.
To show support for Jonathan, his fellow cast members from "Rock The Block" expressed their excitement and admiration for the couple. In a 2019 interview with People, Alison Victoria, Jasmine Roth, Leanne Ford, and Mina Starsiak Hawk concurred unanimously that the pair are a great match for each other. 
Rock The Block stars gushed over their relationship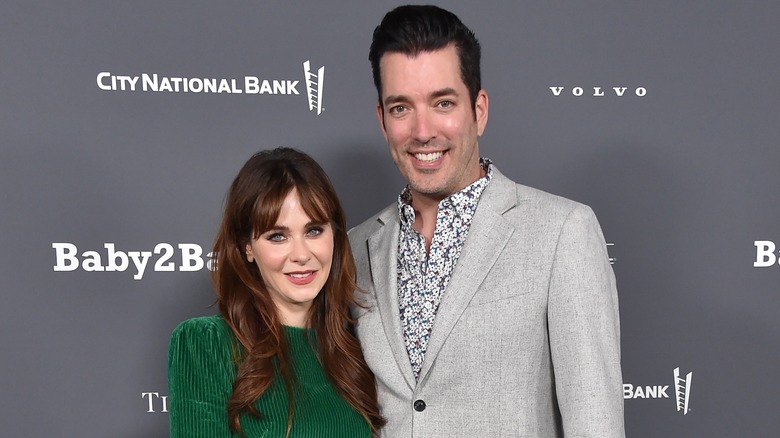 DFree/Shutterstock
Jasmine Roth, Leanne Ford, and Mina Starsiak Hawk, who also had the chance to work with Jonathan Scott on the show "A Very Brady Renovation," had some genuine compliments for the couple. Ford thought their relationship wasn't surprising at all; noting, "It made sense, and it's cute 'cause I love her in the She & Him band!" The actor is part of a musical duo with Matthew Ward, which was formed in 2006. 
"She's cooler than — no, I'm just kidding. She's equally as cool as Jonathan," Ford added. "I liked that couple, I thought that was so fun!" As for Roth, she said it's about time Scott dated again since he has been single for quite some time. "I think he's gonna be excited 'cause he's kinda been the third wheel for a little while. And he's ready to have his moment. Jonathan, that is," the founder of Built Custom Homes told People.
The couple's relationship apparently started with a simple crush. In April 2020, during an appearance on his brother's podcast, "At Home With Linda and Drew Scott," the HGTV star candidly revealed that he instantly had a crush on Deschanel when they were introduced. Jonathan tried to be low-key about it but a producer informed him that they removed a significant portion of the show because his flirting was so obvious.
Their relationship got serious really quickly
It seemed like the feeling was mutual as Zooey Deschanel and Jonathan Scott reportedly had an instant connection after meeting on James Corden's show. "They were doing carpool karaoke and they had a really fun day. They became friends after and then started talking as friends and realized there was more to it," an insider informed People. A day before the couple became Instagram official, Scott hinted at their relationship to Us Weekly, teasing: "I am seeing someone. I'm a very private person, so I don't typically talk about that."
Less than a year into their relationship, Scott and Deschanel hit a major relationship milestone when they bought a five-bedroom property in Los Angeles for $9.5 million. In a 2022 issue of Drew + Jonathan Reveal (via Country Living), Scott shared, "When we first brought [Zooey's] kids by the property, they dubbed it the Park House. And you know what happens when you name something, whether it's a mangy stray dog or a beautiful home of your dreams? You keep it." 
Soon after, they became proud owners of the property. With great aspirations, the celebrity couple aimed to create some cherished moments within its walls, destined to be passed down through generations. Scott acknowledged that they were looking forward to welcoming their friends and loved ones as guests to their lovely abode.