What Happened To Paparazzi Proposals After Shark Tank?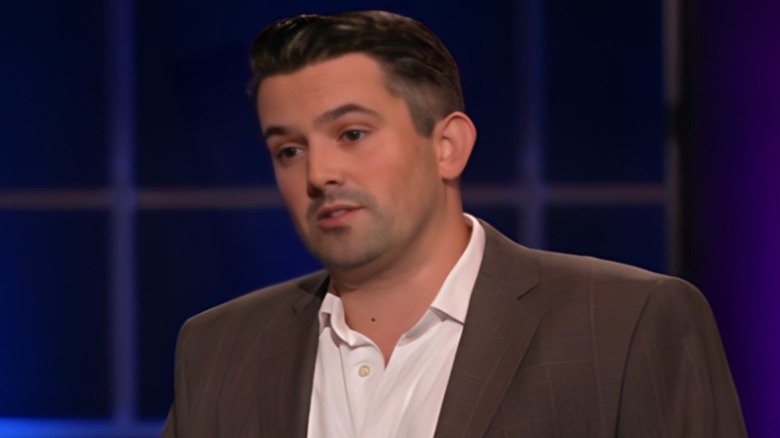 ABC
Paparazzi Proposals is a company founded by former paparazzo James Ambler, and his company is dedicated to secretly photographing people's proposals. Ambler's source of inspiration was close to home, as his experience working as a celebrity photographer and his own proposal to his wife is what motivated him to start the company.
Prior to starting Paparazzi Proposals, Ambler would photograph celebrities of all kinds in London and then in New York City. He's had close encounters with many famous people, and even got a ride from Angelina Jolie once when his bike got a flat tire. However, Ambler had a blood clot at 28 years old. Add that to the recession, and he lost his job. When he was back on his feet, he decided to start Paparazzi Proposals (originally titled Pap the Question).
"I wanted something that was recession proof in photography — death, taxes, and weddings," Ambler told Daily Mail. He would secretly photograph the couple leading up to the proposal, take pictures of the big moment itself, and shoot some photographs afterward. Sometimes he'd video the proposal as well. After seeing some success, Ambler took his business to "Shark Tank" to discuss making a deal with the sharks.
The sharks thought Ambler's company was not worth his valuation
When James Ambler took his business Paparazzi Proposals to "Shark Tank," he asked for a $250,000 investment for 20% equity. He told the sharks how his business works, how much money he's made in sales over the past two years (around $100,000), and how much he thought the company was worth (over a million dollars). Kevin O'Leary did not think the company was really worth that much and stepped back from the deal — for now. Sharks Mark Cuban and Barbara Corcoran (who does not believe in saving money) also dropped out.
Lori Greiner — who was an inventor herself before "Shark Tank" — was interested, but also thought his valuation for the company was too high. She countered Ambler's initial offer by offering the same investment, but for 50% equity. Ambler did not want to give 50% of Paparazzi Proposals away, so O'Leary stepped back in to join forces with Greiner and provide a new deal: $50,000 investment, a $200,000 loan (as needed), and 33% equity.
Shark Robert Herjavec offered his own deal, but pulled it when Ambler wanted Herjavec and Greiner to join forces. Ambler asked Greiner and O'Leary to drop the equity to 30%. They accepted the change and Ambler walked away with a deal. The deal was never finalized, but that was not the end for Paparazzi Proposals.
The current success of Paparazzi Proposals
Although the deal with Lori Greiner and Kevin O'Leary did not come to fruition, James Ambler's Paparazzi Proposals is still in business and doing well. Ambler initially wanted to use a "Shark Tank" investment for marketing and to grow the company, and it did grow — Ambler's trained paparazzi photographers can travel anywhere now, or you can choose from the list of popular cities.
Anyone looking to hire a Paparazzi Proposals photographer can choose from a variety of packages at different price points. All the packages include a consultation with a proposal expert to help plan everything and the photographer to capture it all, and some of the packages are more in-depth than just photography. For example, the Flowers + Candles Heart Proposal includes a heart-shaped display for you and your partner to stand in for the proposal, and Proposal Photography Package + Video includes an edited proposal video along with pictures. According to the Shark Tank Blog, Paparazzi Proposals earns about $13 million annually.
Ambler does not seem to be actively photographing proposals for Paparazzi Proposals anymore. After beating colon cancer, he has shifted his career focus once more. On his photography website, Ambler said, " ... I have been taking pics for 27 years and it has taken me on an amazing journey. I am going back to taking pics that I believe in and I want to share. I hope you enjoy, if you don't, jog on."