What Happened To Bee D'Vine Honey Wine After Shark Tank?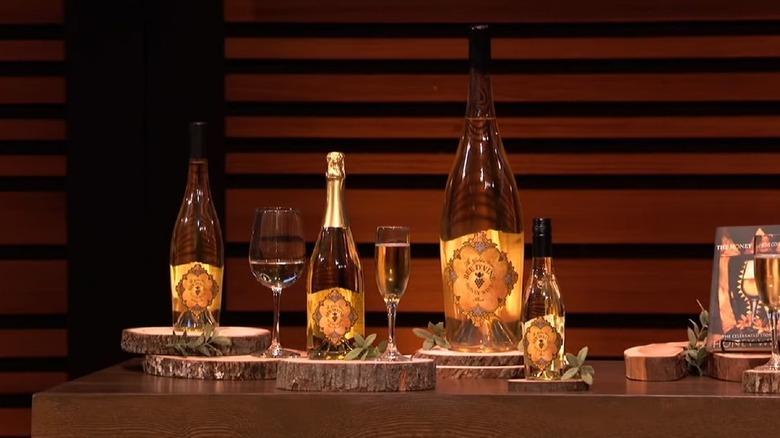 ABC
Marketing themselves as "the most sustainable beverage on Earth," Bee D'Vine Honey Wine is inspired by the national beverage of Ethiopia: t'ej. Though this spirit is definitely unique, there have been several wine businesses that attempted to find success on the 'Tank — and failed. Just take the Wine Doctor, whose "Intelli-Stopper" cork replacement was taken off of shelves just two years after appearing on the show.
Founder Ayele Solomon explained on the Bee D'Vine website that he has always had an interest in farming and environmental conservation. But it wasn't until he traveled to the Kafa rainforest in 2009 that a vision for Bee D'Vine came to him. Trees in the forest produced flowers with nectar, which Solomon knew would be perfect for honey wine. Additionally, putting value on the nectar would encourage locals to harvest from trees, rather than cut them down. Thus Bee D'Vine was born in 2014, and Solomon set up his winery in Napa Valley, California.
The conservationist debuted his unique beverage on season 12 of "Shark Tank" in 2020. In his pitch, he explained that honey wine, or "mead," only relies on spring water and raw honey. Since this wine doesn't contain grapes, there also is no need for the traditional land and resources required for a vineyard. Spending less money in exchange for a quality product? This seems to be a sure shot to entice the Sharks — especially Kevin "Mr. Wonderful" O'Leary, who owns his own winery.
What happened to Bee D'Vine Honey Wine on Shark Tank?
Solomon requested $750,000 from the Shark Tank in exchange for 20% equity in Bee D'Vine. While handing out samples — which they can't resist — he explains that the investment will help him take his beverage to the forefront of the wine business. The Sharks are quick to critique the price of Solomon's honey wine. Most wines sell for $14, Kevin says, whereas Bee D'Vine rings up at almost $40 a bottle. Surprisingly, Kevin is the first to back away from the deal: since he owns O'Leary Fine Wines, he has no interest in maintaining another winery.
However, the other Sharks are very interested in Bee D'Vine. Solomon has made $400,000 in the past six years, which appears promising enough to Mark Cuban, Robert Herjavec, Lori Greiner, and guest investor Daniel Lubetzky. Lori Greiner admits that this is the first white wine she's liked: "It's kind of like a dream come true. And you're saving the bees."
The four Sharks challenge the entrepreneur with a new deal: $750,000 for 40% equity. With this, they offer to support Bee D'Vine with publicity, sales, and recognizability within the market. Solomon agrees to the hearty deal, giving Mark, Robert, Lori, and Daniel each 10% equity in the wine business.
Bee D'Vine Honey Wine after Shark Tank
According to Shark Tank Blog, Solomon's monumental deal with the four Sharks fell through. While details are unknown, Bee D'Vine Honey Wine still continued operating despite the loss. Even though entrepreneurs that appear on "Shark Tank" don't get paid, the publicity has proved to be beneficial for Bee D'Vine. Of the company's success post-"Shark Tank," Solomon told The Sonoma Index-Tribune: "It was a really good bump. The combination of COVID and the holidays, and the fact that the Sharks liked it." The company is valued at $3.7 million as of 2023.
It also appears that Solomon didn't completely take the Sharks' advice on the price of his bottles. Today, a bottle of Bee D'Vine Honey Wine starts at $49, and can run up to $349 for their Brut. However, Bee D'Vine does offer a grape wine chardonnay for $28, catering to somewhat lower price points. They also offer their own wine club, "Club D'Vine."
The winery has a fairly successful following on their social media too. The Bee D'Vine Instagram page has almost 5,000 followers, where they post photos of the winery and its elegant beverages alongside Ethiopian food, staying true to the brand's roots. Solomon also provides behind-the-scenes looks at their harvesting of honey on-site.