Hallmark's Tyler Hynes Describes His Criteria For The Perfect First Date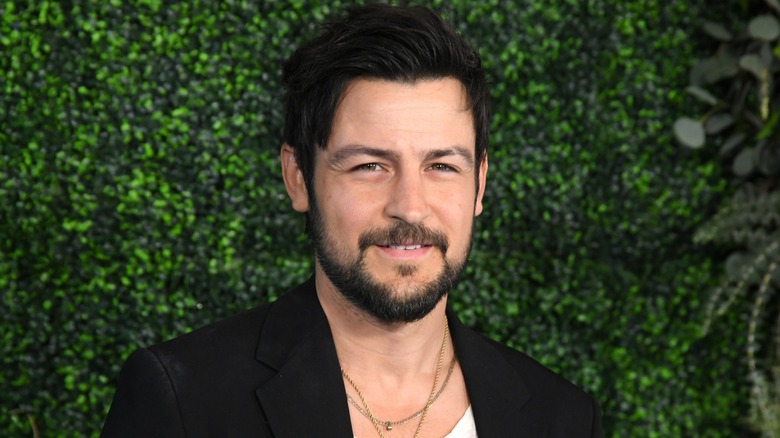 Michael Tullberg/Getty
In a Facebook Live advertising his Hallmark movie "A Picture of Her," Tyler Hynes explained his idea of a perfect date activity. At first, he referenced a motorcycle ride — one of the date ideas his character Jake uses in the film. Hynes continued to add that he doesn't have one specific answer on a favorite date activity.
"I think I like when things go the way they're supposed to," he said. "And if you don't quite know how that evening is gonna go down, I think that's all the more fun and it feels like it becomes something organic to the situation to the person that you're across from. And I think trying to contrive something that feels like an idea of what a date should be is probably not how I would go about it. More so, just sort of listening to the person across from me and knowing who they are . . . I think that would probably be the way I would go about it." 
However, Hynes once again mentioned the motorcycle date, saying how it's, "not a bad thing." 
Hynes praised his co-star and enjoyed working with her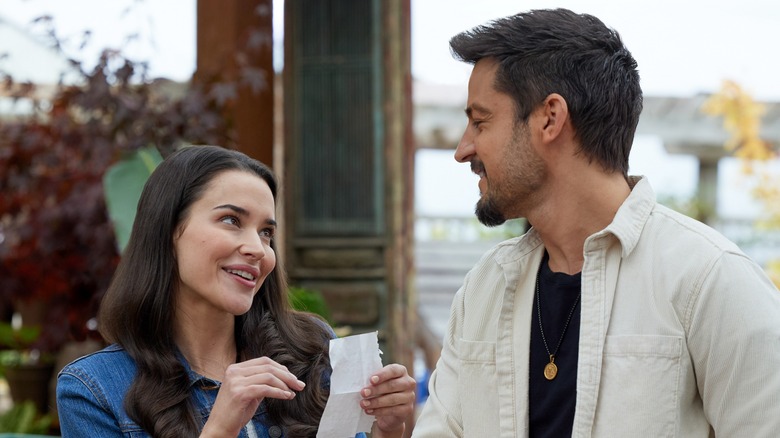 Hallmark/Allister Foster
Tyler Hynes loved working with his co-star Rhiannon Fish on "A Picture of Her." His character Jake is a photographer whose candid photo of Fish's character Beth becomes a magazine cover photo. Beth and Jake begin to fall in love while she is also trying to figure out who took the picture, unaware that it was Jake.
While speaking to Us Weekly about the film, Hynes said Fish's casting was vital to the movie becoming what it did. "This film could have been a different movie had it not been [Fish] in that role," he said. "Seeing it up close and looking at what she's doing in this movie, she is really doing us a service. And I can't say enough about her. She's a really talented human being and just as lovely as you would think she is."
Fish enjoyed working with Hynes as well. On his acting abilities, Fish said, "[Hynes] is wonderful . . . He is just a damn good actor. There are people that when they act, you can't really tell the difference between what is them and what is their character. There is something about him, and I think that's why people like him so much . . . he finds a way to make it very organic and very real" (via Just Jared).
Hynes and Fish have both worked with Hallmark quite a few times before 'A Picture of Her'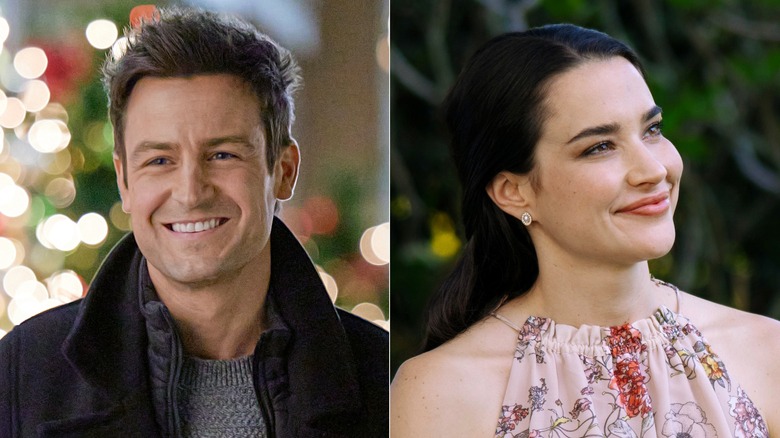 Hallmark/Allister Foster & Courtesy of The Steve Jaggi Company
In an interview with the Hallmark Channel about "A Picture of Her," Tyler Hynes described how Rhiannon Fish's character helps inspire his character Jake. Hynes also said, "This movie at its core is, who you are and where you are in your life is sometimes right where you should be." Fish added, "And I think that that's really exciting."
This is not the first Hallmark movie for either Hynes or Fish. Hynes has also starred in "An Unexpected Christmas" with Bethany Joy Lenz, "Falling for You" with Taylor Cole, and the brother-centric "Three Wise Men and a Baby" with Andrew Walker and Paul Campbell, among other films for the network. Fish has been in a few Hallmark movies in smaller roles, and her first time as a leading lady was in "Journey of My Heart" with Darien Martin. She also starred in "When Love Springs" with James O'Halloran and "Nikki & Nora: Sister Sleuths" with Hunter King, along with a few other roles for Hallmark Movies & Mysteries.