Robert Kennedy Jr.'s Rare Voice Explained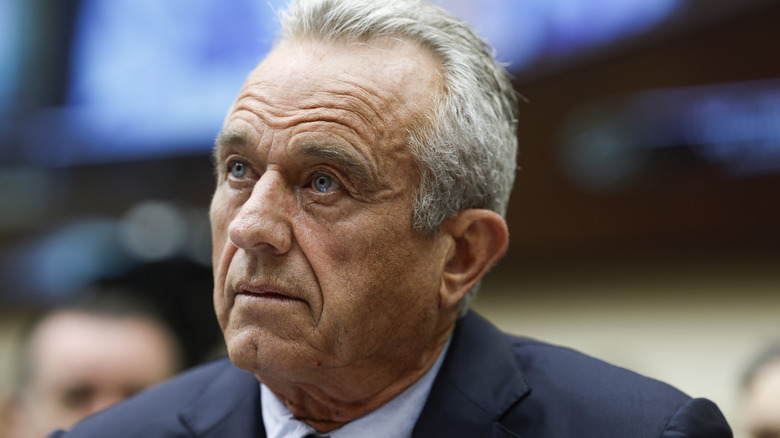 Anna Moneymaker/Getty Images
Politicians spend a significant amount of time talking to the masses, enacting change, and inspiring support through their voice alone — but for Robert F. Kennedy Jr., who threw his hat into the 2024 presidential campaign ring as of April 2023, a rare health condition caused his vocal delivery to be more of a challenge than it would have been in his younger years. 
In an interview with News12 Long Island, the son of the late Robert F. Kennedy and nephew of the late President John F. Kennedy addressed his distinct voice, which tends to sit on his vocal fry and can quiver unexpectedly as though he were overcome with emotion. RFK Jr. recalled having a strong voice until his 40s when his spasmodic dysphonia began.
Spasmodic dysphonia is a disorder of the larynx, or voice box, affecting the larynx's ability to phonate properly. But RFK Jr. isn't letting his disorder stop him from following his political pursuits.
RFK Jr.'s first half of his career was unaffected by the disorder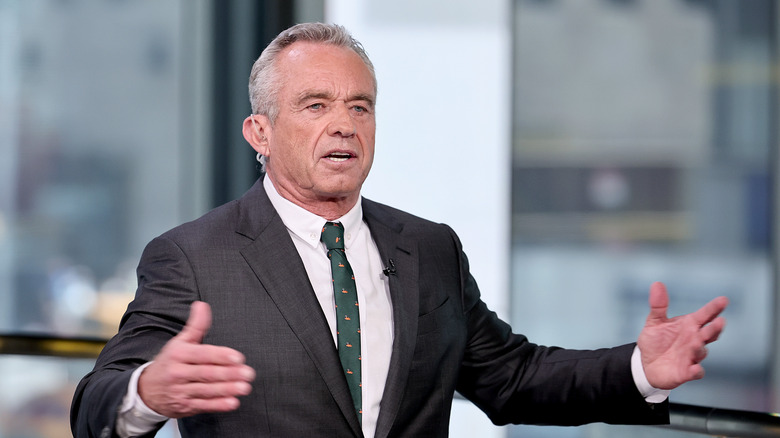 Jamie Mccarthy/Getty Images
While the raspiness of his voice is clearly audible now, RFK Jr. says this wasn't always the case. While speaking with NewsNation, the politician said he once had an "unusually strong voice" and "at that time, I was making a lot of my income doing public speaking. I could speak to large halls without any amplification" (via Youtube). 
However, RFK Jr. continues that in 1996, his voice began to take on the characteristic tremble of the little-known neurological disorder. (The National Institute on Deafness and Other Communication Disorders classifies spasmodic dysphonia as a rare disorder that more commonly affects women.) RFK Jr. explained to NewsNation that it wasn't until he received letters following his public speaking appearances suggesting that he see a laryngeal specialist that he was officially diagnosed. 
The presidential hopeful has been forthcoming about his struggles with the disease, admitting that he feels sorry for those who have to listen to him speak and purposely avoids hearing recordings of his voice. However, he's been incredibly proactive about seeking voice-strengthening therapies and surgeries as he continues his career.
He's diligently sought laryngeal treatments to strengthen his voice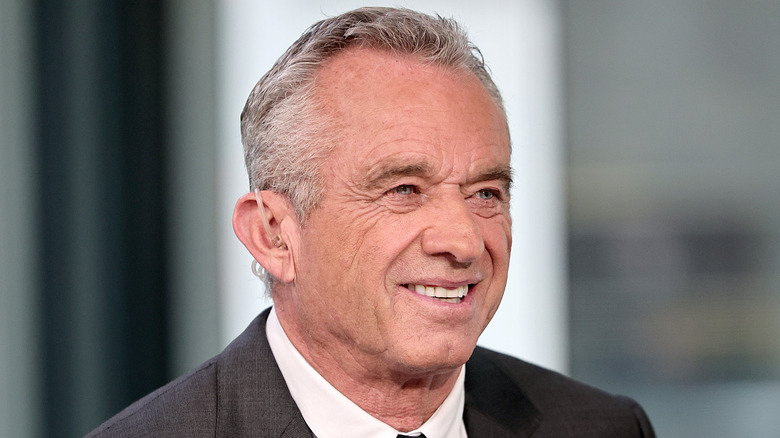 Jamie Mccarthy/Getty Images
According to the NIDCD, there is no singular cause for spasmodic dysphonia, and evidence suggests it can be genetic or caused by abnormalities in the brain. Similarly, there is no singular cure, although there are treatments that can help strengthen the larynx, which RFK Jr. told Oprah he's undergone frequently. 
In his 2007 conversation with Oprah, RFK Jr. briefly described the treatment that injects Botox directly into the larynx every four months, but he said the therapy was largely ineffective. In 2022, the politician underwent Type II thyroplasty at the Kyoto ENT Surgicenter in Japan, where he had a titanium bridge implanted in his vocal folds. RFK Jr. said this has been the most effective treatment thus far, even creating a video endorsement of the surgery and Japanese facility on YouTube. 
RFK Jr.'s voice is distinct, but he wouldn't be the first politician in the public eye to suffer from a speech or voice disorder. President Joe Biden's stutter has long been a topic of conversation during his political career. And while overcoming these hurdles in front of an audience is undoubtedly challenging, it's worth considering the educational and empathetic benefits of the global platform these politicians have created surrounding these lesser-known vocal disorders.