Why The Nephew Of Late President John F. Kennedy Is Making Headlines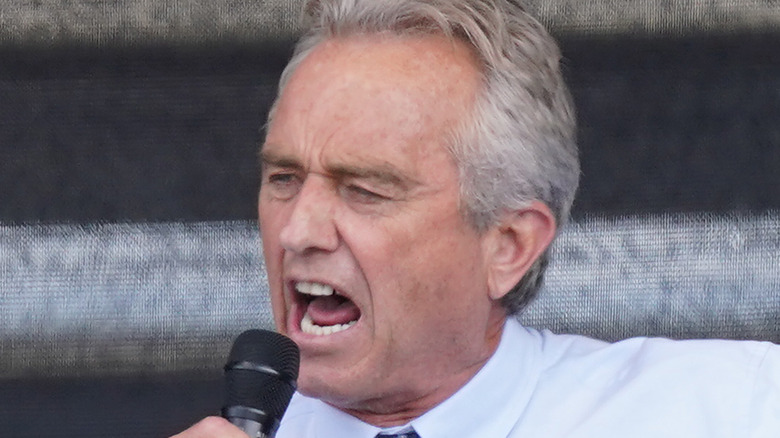 Sean Gallup/Getty Images
At a March 25, 2021 House congressional hearing called "Disinformation Nation: Social Media's Role in Promoting Extremism and Misinformation," the name Kennedy was mentioned several times, and not for reasons that many might have expected (via Vanity Fair). Robert F. Kennedy Jr., son of assassinated presidential hopeful Bobby Kennedy and nephew of the late President John F. Kennedy, both long-known for their democratic stance on political and social issues, was mentioned by U.S. Representatives Anna Eshoo, Brett Guthrie, and Billy Long as being a central figure in what they call the "Disinformation Dozen," a group responsible for spreading misinformation about the COVID vaccine. 
At the time, Representative Eshoo told Vanity Fair of Kennedy's participation in spreading conspiracy theories like the DNA of the vaccinated belonging to some sinister unnamed "they," that she just didn't "get it," meaning Kennedy's stance. She went on to say, "But when someone feels that strongly about it and then has a name with a great legacy, a lot of people pay attention to that."
How Robert Kennedy Jr. is promoting anti-vax theories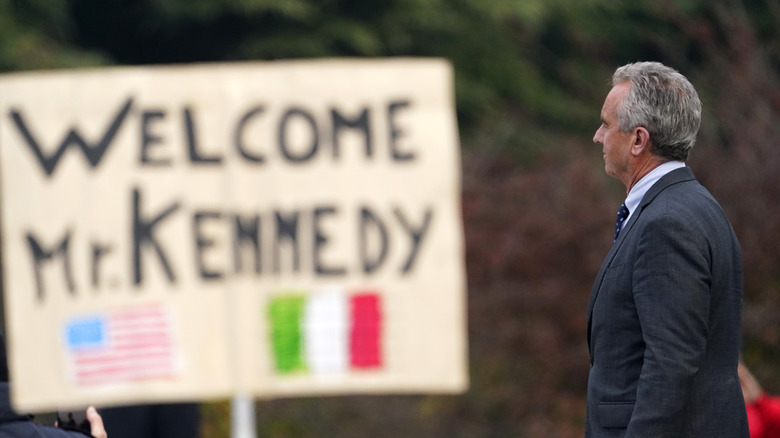 Pier Marco Tacca/Getty Images
Much later in the year, Kennedy spoke at a far-right conference at a Southern California church (via Associated Press). The group, gathered to protect "health and freedom," listened to Kennedy give an anti-vaccine speech in which he lamented that democrats had "drank the Kool-Aid," with regard to vaccines efficacy and safety. He went on to assert that, "It is criminal medical malpractice to give a child one of these vaccines," which is contrary to the general consensus of the country's leading legal, scientific, and public health experts and organizations..
He then went on to promote is new book, pointing out that if only 300 attendees committed to purchasing the book via Amazon that very night, then it would automatically appear on the online store's bestseller list, which would "stick it to Amazon and Jeff Bezos," he said. All profits from the sale of the book, he explained, would be funneled into his charity, Children's Health Defense, an anti-vaccine organization that has raised over six million dollars.
Kerry Kennedy, Robert's sister, made it clear that her brother and his views do not represent those of the rest of the Kennedy family or of their charity. In a tweet earlier this week, she said, "Bobby's lies and fear-mongering yesterday were both sickening and destructive. I strongly condemn him for his hateful rhetoric. He does not represent the views of @RFKHumanRights or our family."