Christy Turlington's Daughter Has Grown Up To Be Gorgeous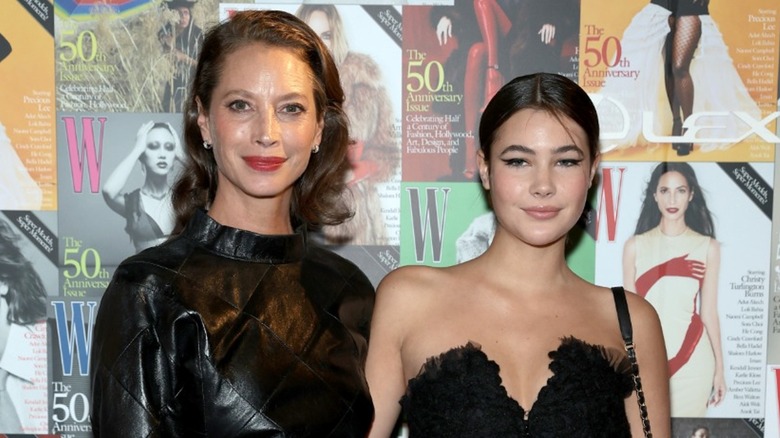 Dimitrios Kambouris/Getty Images
From Kaia Gerber to Lila Moss, our runways and magazine covers are filled with the daughters of models following in their mother's footsteps. That's what happens when you inherit genes from a supermodel. Enter Grace Burns, the daughter of supermodel Christy Turlington and filmmaker Edward Burns, who is all grown up now and making a name for herself.
With the same green eyes, enviably arched browns, dainty features, and chiseled bone structure, Burns is the spitting image of her mother, who was one of the world's first supermodels. Turlington was one of the Magnificent 7, which also included Kate Moss, Cindy Crawford, and Naomi Campbell, a group of models who changed the industry back in the 1990s by showing you can do both print and runway modeling. 
Despite having been born to uber-famous parents, Burns has spent most of her life away from the public eye. Now that she's stepped into the spotlight, we're getting to know more about the New York native while watching her career grow. Here's everything we know about the rising model so far.
Grace Burns made her runway debut at British Vogue X LuisaViaRoma's show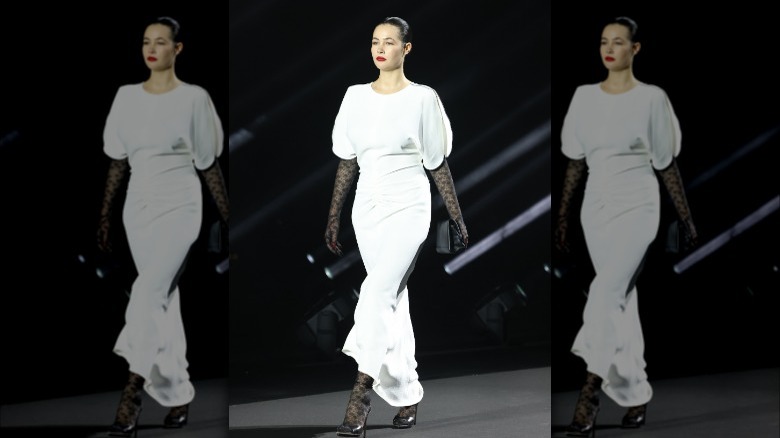 Stefania D/Getty Images
As the daughter of an iconic runway model, it's no surprise Grace Burns has her catwalk down to a T. She gave new meaning to the phrase "she get it from her mama" when she walked her first runway show in Florence at the British Vogue X LuisaViaRoma show. She strutted confidently in an elegant white dress by Victoria Beckham, which featured billowing sleeves and a cinched waist. The look was paired with black lace gloves and tights, peep-toe heels, and a chain clutch. Burns' slick back bun was courtesy of hair stylist Sam McKnight, showing off the bone structure she inherited from her mother. Makeup artist Pat McGrath went with a bold red lip to finish off the edgy look.
Burns took to Instagram to express her excitement and gratitude, saying the experience put the biggest smile on her face. "I feel so grateful to have had this perfection of an experience as my first show and to have been blessed by the hands of @sammcknight1 and @patmcgrathreal," she wrote. "Just thinking about all the people who made this possible and wish I could hug each and every one of you!"
She posed with her mother for a Carolina Herrera campaign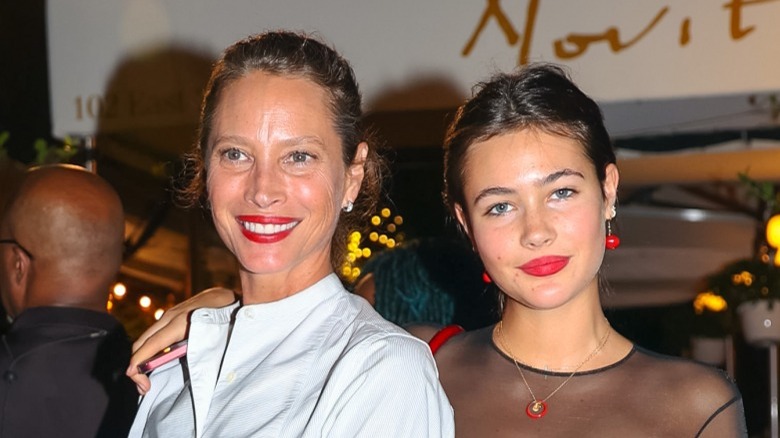 Jose Perez/bauer-griffin
Grace Burns appeared alongside her mother in a shoot for Venezuelan fashion designer Carolina Herrera, which was photographed by the renowned Georgina Millet. Turlington shared pictures from the shoot on her Instagram, writing "Thank you @carolinaherrera for the dreamiest of days riding through beautiful Andalusia with my daughter on horseback. I'm so grateful for the memories, some of them captured here."
One picture shows Burns and Turlington in matching white collared shirts and handkerchiefs tied around their necks. Both have their hair pulled back, showing off the striking resemblance between the two. Another picture shows the mother-daughter duo on horseback in the Spanish countryside, wearing matching khaki pants and riding boots.
Burns also shared pictures from the campaign on her Instagram, showing different looks. In the black-and-white shots, Burns poses in a black cocktail dress next to her mother, who is wearing a black midi skirt and a white collared shirt. They're both displaying Carolina Herrera bags in their hands. While critics are coming down hard on the children of celebrities, even coining the term nepo baby, Burns displays a refreshing acknowledgment of her privilege and gratitude for her position. "Indescribably grateful to have had the privilege and opportunity to be a part of this experience! All the love in the world to every single divine human who made this possible!!!!!!!! Tears of love and love and more love!!!!" she wrote on Instagram.
Burns appeared on her first cover for Pop magazine at 18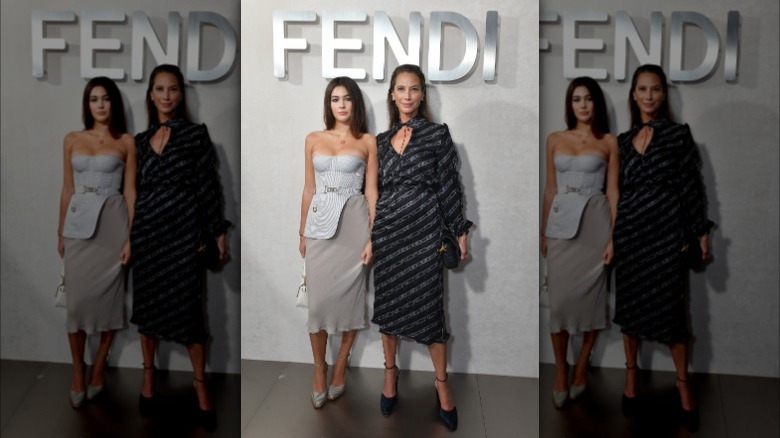 Craig Barritt/Getty Images
Clear your Pinterest boards — there's a new It girl in town. Posing for her first cover for Pop magazine, Grace Burns looked effortlessly cool and laid back in a Graceland trucker hat and red lace Prada dress priced at $6,400. The entire cover has a retro feel, from the muted colors to the large camcorder Burns is holding over her shoulder. The iconic image was courtesy of photographer Clara Balzary, who also has a famous parent — Flea from the Red Hot Chili Peppers.
The rest of the spread (titled "Amazing Grace!") continues with the retro theme. Burns is photographed against backdrops of vintage cars and 99-cent stores, while another shot shows her in a mustard leather jacket holding a retro TV. In another, Burns wears a tiara and red hoodie, encapsulating her complex character: She's the daughter of a supermodel but somehow comes across as a relatable girl next door.
Turlington, who has graced over 500 magazine covers herself, expressed her pride on Instagram while insisting she cannot take the credit for her daughter's success. Burns has since gone on to appear on the covers of Homme Girls and Muse Magazine. If she keeps up this pace, she'll be on her way to catching up with her mother one day.
Christy Turlington made her wait until she was 18 to start modeling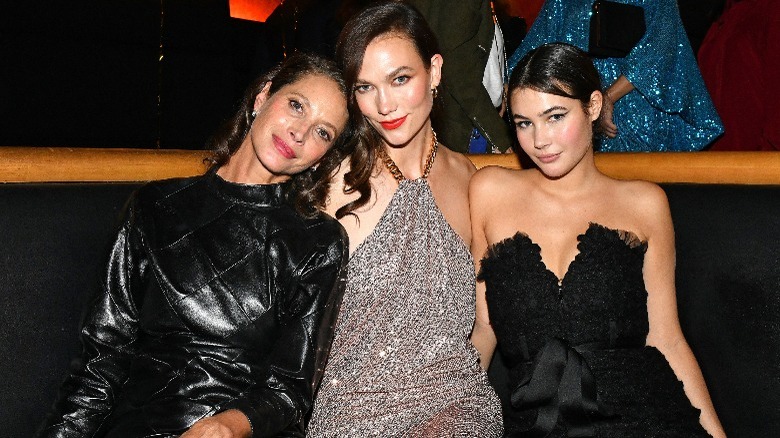 Craig Barritt/Getty Images
In an interview with Homme Girls, Grace Burns revealed that her mother was very strict about her not entering the modeling age until she was 18. "I remember denying the interest to anyone and everyone because I hadn't yet told her. However, I'd longed to be 18 for some time. My first job was last January, after my birthday, after I had gotten into college!" she said. 
Christy Turlington's decision was likely driven by a desire to protect her daughter, given her deep understanding of the challenges and pressures faced by young girls in the modeling industry. From unrealistic beauty standards to exploitation, the modeling world can be incredibly harmful to young women. "The industry is surrounded by predators who thrive on the constant rejection and loneliness so many of us have experienced at some point in our careers," she said in an interview with Women's Wear Daily. "The best way to protect young models is to keep them in school and off sets until they are adults."
Grace Burns is close with Lila Moss
Like mother, like daughter! Just as Christy Turlington and Kate Moss were part of an iconic supermodel group in the 1990s, their daughters seem to have struck up a friendship. The two have been spotted at star-studded events together, and Grace Burns' Instagram is filled with sweet tributes to her BFF with captions like "4 EVER LILA FOR EVER."
Lila Moss is on the rise herself, having been named the face of Marc Jacobs Beauty at age 16 and making her runway debut at Paris Fashion Week for Miu Miu's SS21 show. The duo are also friends with rising model Stella Jones, who is the daughter of Clash guitarist Mick Jones and is signed to the Kate Moss Agency. If there's one thing we've learned from Kendall, Bella, and Gigi, it's that birds of a feather flock together. We won't be surprised if Burns, Moss, and Jones are the next model squad to inundate our feeds.
She's a huge fan of Marc Jacobs, and he of her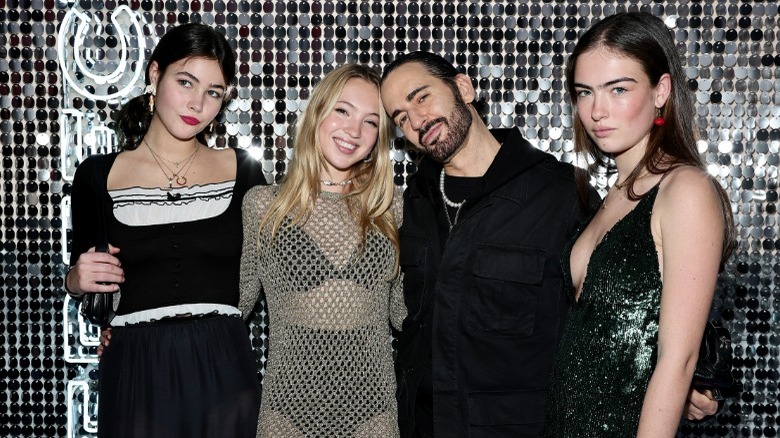 Jamie Mccarthy/Getty Images
Grace Burns revealed that the first fashion show she ever attended was a Marc Jacob show in 2019. She came straight from her freshman year basketball playoffs and had to change in the car. "The whole evening was surreal for me, witnessing the magic of his presentation up close and watching my mom make her return to the runway," she said in her Homme Girls interview. "I remember the darkness of the room, the dramatic string orchestra, and the single spotlight on the runway; my heart was beating a hundred times fast, and I pinched myself the whole way through."
Fast-forward a few years later, and Burns is modeling for Marc Jacobs, promoting his Heaven collection in a spread for Homme Girls. The weird, experimental feel of the photographs is courtesy of Taiwanese visual artist John Yuyi, of whom Burns is a big admirer. She called it a "major fan girl moment" when gushing about the spread on Instagram. Burns was also photographed with Marc Jacobs himself when attending his Perfect Party in 2022 with her best friend Lila Moss. Who doesn't love a full-circle moment?
Burns sells her clothes on Depop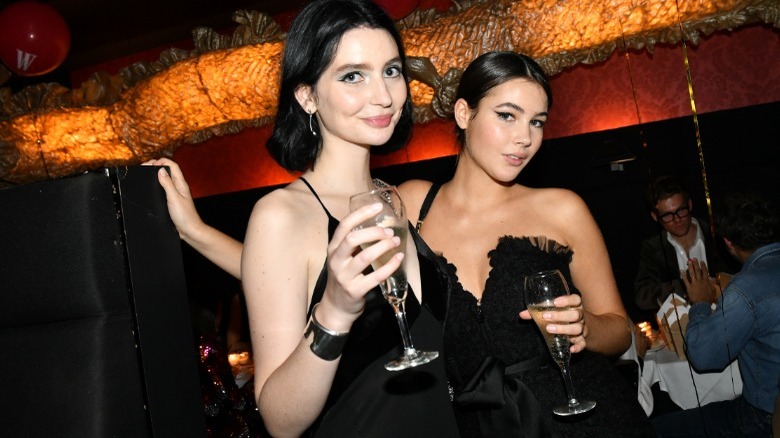 Craig Barritt/Getty Images
You don't have to limit yourself to admiring Grace Burns' street style; you can actually buy some of her pieces yourself. The model sells her clothes on Depop, a digital marketplace where users can buy and sell pre-owned clothing. The platform is particularly popular among Gen Zers like Burns, a group defined by their increasing concern with fashion sustainability and conscious consumerism. It's clear Burns cares about the environment just like her mother, who has supported various charitable organizations including the African Rainforest Conservancy.
Burns' account, which as of this writing shows 130 items sold, provides a glimpse into her edgy Y2K street style, from low-rise mini skirts to plaid sweaters. In fact, we can tell a lot about Burns from the items she's listed. Many of the pieces listed demonstrate her effortlessly cool street style, from men's cargo pants and oversized hoodies to platform sneakers and graphic tanks. A baby tee sporting the words "stoner girlfriend" showcases her rebellious spirit. It's also evident that Burns loves vibrant colors and fun patterns, with psychedelic print dresses and floral crop tops a recurring theme in her wardrobe. Overall Burns' style is an eclectic mix of girly and edgy, relaxed and fun.
Grace Burns rides horses
Grace Burns isn't just a pretty face. An avid horse rider, she took part in the Hampton Classic in New York at just 13 years old. The Hampton Classic features a wide range of equestrian competitions and showcases disciplines like show jumping, hunter divisions, equitation classes, and more. It's one of the most prestigious horse shows in the United States and attracts top riders, trainers, and horses from around the world.
Riding horses is just another way Burns is following in her mother's footsteps. Turlington grew up doing so, and her modeling career actually started when she was discovered at age 13 while riding a horse. While Turlington practiced Western-style riding, Burns practices English style, which is more formal. "[N]ow my daughter rides, so I can live vicariously through her. I'm so excited she loves it, but I miss walking out the door, getting on a horse, and just going," she said in an interview with Elle.
She cares about social justice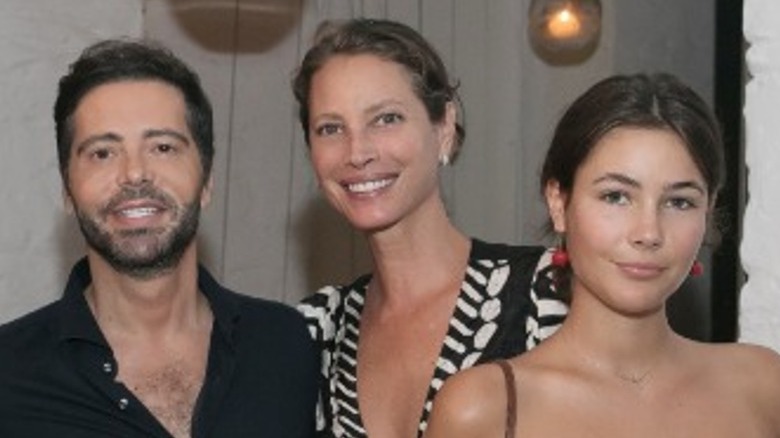 Handout/Getty Images
Christy Turlington's own life-threatening pregnancy complications motivated her to found a nonprofit called Every Mother Counts, which focuses on providing quality healthcare and reducing maternal mortality rates around the world. It's clear Grace Burns was inspired by her mother's dedication to the cause, as she chose to do her eighth-grade graduation project on maternal and baby health. According to Turlington, she herself never pushed Burns to care about certain causes and is proud Burns made her own decisions. "When you don't tell your kids what to do, when you don't say, 'You should do this, and you should be thankful for this,' they get it themselves." Christy explained in an interview with InStyle.
Now grown up, Burns continues to advocate for social justice. She highlights a number of charitable organizations on her photography website, including the Maasai Women Development Organization and The Foundation for Tomorrow, which empower women and children in Tanzania. "For any image associated with a nonprofit organization, I will be donating 50% of the proceeds from sales directly to that initiative and include ways to donate/learn more," she wrote on Instagram.
Burns is an aspiring photographer
Grace Burns may be making a name for herself in front of the camera, but she also has dreams to make it behind the camera. An aspiring photographer, she launched her website BY GRACE, where she publishes and sells collections of her photography and writing. She also donates 50% of the proceeds to charitable causes featured on her website.
According to her website, she uses a variety of cameras, including a Rolliflex, Nikon Pronea S, Contax Tvs, and Minox B. "I feel a desire to capture moments without disrupting their existence before me; I wouldn't want to immortalize the present. I feel that time must pass us by; we are ever-changing," she wrote in her letter from the editor. It looks like having model friends comes in handy — the cover image for Volume 2 of her magazine is a black-and-white shot of her friend Stella Jones leaning over a balcony against a backdrop of the New York skyline, her long hair blowing in the wind. 
She loves literature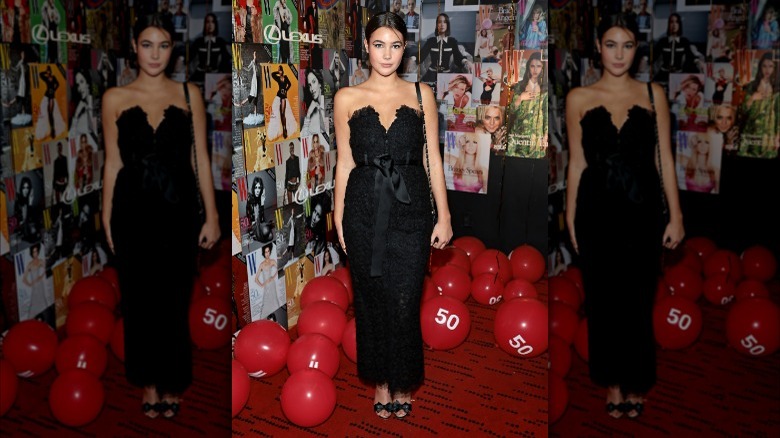 Dimitrios Kambouris/Getty Images
For Grace Burns, there's no such thing as light reading. She shared her Goodreads link on Instagram, and her shelf is quite impressive, featuring titles like Oscar Wilde's "The Picture of Dorian Gray" and Paulo Coelho's "The Alchemist." "Literature has shaped and guided so many aspects of my life," she told Homme Girls. 
When creating her magazine, her mother gave her "On Photography" by Susan Sontag. "Sontag inspires transparency and questions the difference between images and reality. Her words resonated with me deeply, for I've always found photographs more real than reality itself," she said. 
Another book she loves is Leonard Cohen's "Flame," describing it as "an ode to intuition and the freedom to declare it, for better or for worse. Reading this book displaced me from my reality; to occupy the mind of someone so unlike myself, to reside inside another's desire, evoked a sense of spontaneity, universality, and anonymity I try to bring about day to day."