How Chip And Joanna Gaines' Son Drake Got His Name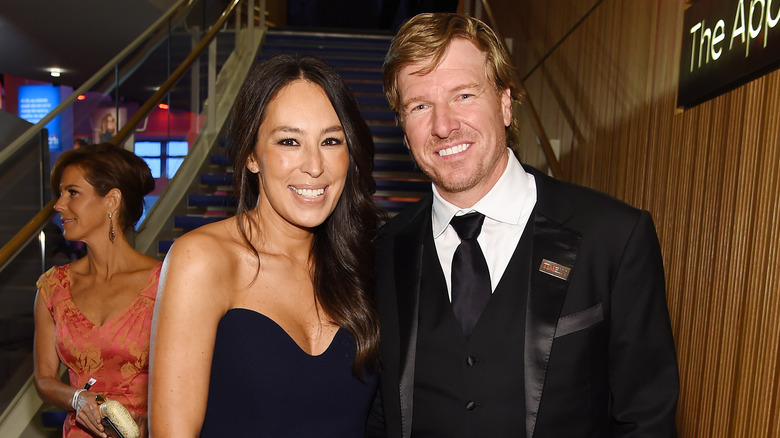 Larry Busacca/Getty Images
Throughout their marriage, Chip and Joanna Gaines have made a lot of dreams come true. From their hit Emmy-nominated HGTV show, "Fixer Upper" to multiple published books to a coffee shop to a paint and wallpaper line, the Gaines family has created an empire for themselves. But, their greatest creations of all are their children. 
It's obvious to viewers that Chip and Joanna put a lot of emphasis on their home life, particularly their kids. The children of the Gaines family consist of two girls, Emmie and Ella, and three boys, Crew, Duke, and Drake. With such a full house and a handful of businesses to run, it's hard to imagine that this family gets any downtime together at all. But this superhero duo seems to make it work, and the proof is on their Instagrams.
With family at the forefront of their lives, Chip and Joanna have a hard time not discussing them in interviews, and fans couldn't be more pleased to hear the in and outs of their personal lives. In an interview on "The Tonight Show Starring Jimmy Fallon," the pair revealed the inspiration for their oldest child, Drake's, name.
How Drake got his name
During an appearance on "The Tonight Show Starring Jimmy Fallon," in February 2023, Joanna and Chip Gaines discussed their sentimental ties with New York City. After getting married in Waco, Texas in 2003, Chip and Joanna spent time in New York City for their honeymoon. Since then Joanna shared that they've had "a lot of anniversary trips" there.
Chip went on to explain why they chose New York City for their honeymoon: "Jo has always loved this city. It's always meant a lot to her ... She interned, back in the day, under Dan Rather, which was a cool honor for us and our community. She was like, legendary." Jimmy Fallon then asked the couple to confirm the rumor that one of their children was named after The Big Apple. 
Joanna responded that their son Drake was named after The Drake Hotel, which is where they honeymooned and also where they stayed on their first anniversary. The couple explained that at the time it was an iconic landmark, but that it is no longer there.
The whole Gaines gang
The Gaines family embraces each of their children as individuals and allows them to be a part of the family businesses while nurturing their interests. In an interview with People, Joanna spoke about her children's involvement on set: "They love being here. I always try to involve them with what we're doing at work." Joanna shared another sweet business moment that melded with family time on Instagram, the post showed little Ella putting together a dessert in Mason jars and it was captioned by Joanna, saying: "Her new summer business is selling baked goods at the office when she goes to work with me. Tonight we stayed up late and she made Aunt Opal's banana pudding and the chocolate chip cookies from my cookbook. She's going to make a heck of a businesswoman."
Duke, on the other hand, isn't too into the whole "take your kid to work day," as seen in a clip on Chip's Instagram where he state's that "nothing is cool [here]." However, fans learned from Chip and Joanna Gaines in a 2019 interview with People that Duke is more interested in the food aspect of their business rather than the demo. And, Emmie and Crew are always busy cooking and baking together according to Joanna's Instagram.
Despite the fact that Chip and Joanna think that putting their kids on TV was a dumb idea, there is no hiding the fact that it has also helped to awaken the children's entrepreneurial aspirations.