Taylor Cole Explains What Made Her Want To Become A Hallmark Star
While Taylor Cole has a long list of acting credits in mainstream TV, ranging from a supporting role in the short-lived "Summerland" series to a recurring appearance in the CW's "The Originals," she's been making a name for herself on the Hallmark channel since 2016. The actor debuted on the network with "Appetite for Love" and has gone on to star in over 10 made-for-TV movies, including titles such as "A Ruby Herring Mystery" and "Christmas in Homestead."
Fans of Cole may be wondering what prompted the actor's foray into the feel-good world of Hallmark movies, but the simple truth is that it wasn't something she planned. In fact, the romance star revealed that she actually didn't know anything about the network when she was initially approached to work with them.
So, while the "My Summer Prince" actor may not have set out with the title of "Hallmark Star" in mind, she's definitely cemented her place on the network since 2016. Here's what Taylor Cole has said about wanting to make Hallmark her acting home.
Taylor Cole fell in love with Hallmark stories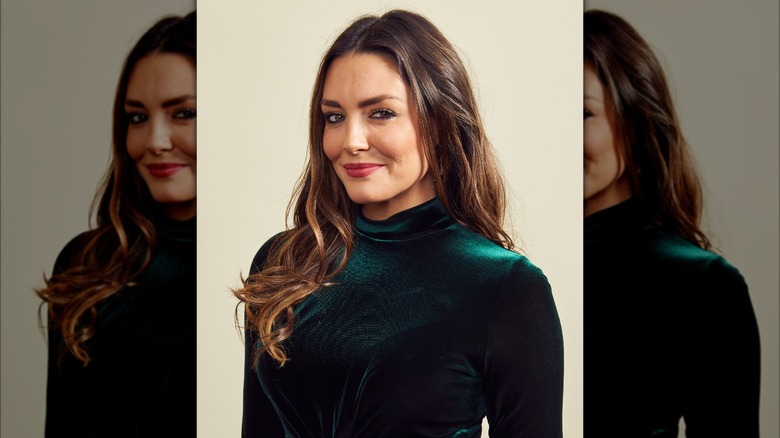 Emily Assiran/Getty Images
Taylor Cole wasn't familiar with the Hallmark Channel when she first had the opportunity to work with the network, confessing to Monsters & Critics that she'd never even seen one of their feel-good movies before. However, as soon as she read her first script she knew it was something special.
"When I first signed up [for] Hallmark, I didn't know anything about Hallmark. I didn't know that they existed, I didn't know what they were about. I had no idea about any of it," she shared with the Love and Lattes podcast. "So, I read my first script and I was like, 'This is absolutely adorable. Sign me up, I can't wait to do it.'"
From there, the heartwarming and family-oriented nature of the network's movies is what kept Cole attached to the network, which she explained in an interview with Monsters & Critics: "I also love that there is the real need for these beautiful stories with happy endings and family-friendly content ... This is what drew me to it, and made me stick around. I am so grateful for every job that I've gotten to get me here, but honestly, Hallmark is food for my soul."
The people at Hallmark also inspired Cole
In addition to falling in love with the storytelling and style of Hallmark movies, Taylor Cole highlighted her co-workers and cast as a major draw of the channel, telling Monsters & Critics, "As soon as I made the first one, I realized what an amazing group of people are involved with Hallmark and what a great fan base Hallmark has."
Since then, the "Christmas Festival of Ice" actor has spoken highly of many of her co-stars, which have ranged from network notables like Stephen Huszar to fan favorites such as Ryan Paevey, but her initial experience alongside the Hallmark Channel's Andrew Walker has also stuck out to her. As a refresher, Walker has appeared in more than 20 Hallmark movies, with "Three Wise Men and a Baby" and "Sweet Autumn" being some of his most popular, and starred alongside Cole in "Appetite for Love."
"Andrew's the best. We're still friends today. He was the perfect starting board for, you know, the Hallmark world because he knows the ins and outs," Cole shared with the Hallmarkies Podcast. "He really laid down how it all works out and, you know, we're shooting really fast and this is the schedule. Just getting thrown into [the process], it was very helpful to have it be with Andrew."