Kate Middleton Ditched Her Headband Collection For This Elegant Accessory, One Expert Says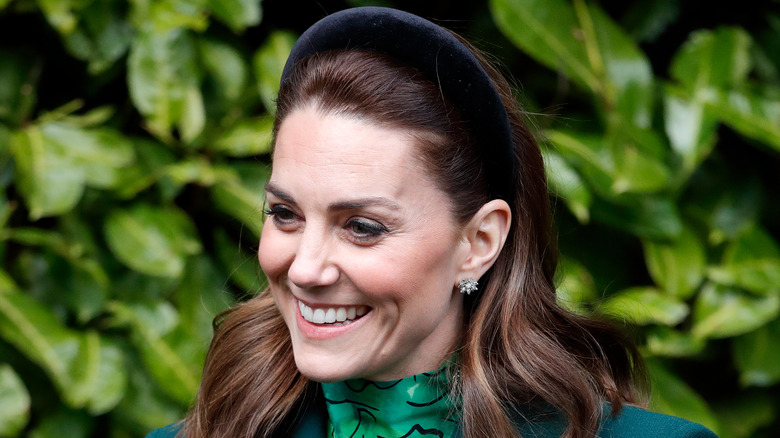 Max Mumby/indigo/Getty Images
Since the death of Queen Elizabeth II back in September, quite a few things have changed for Kate Middleton, from her royal title to the way she carries herself. "Kate's body language has changed since she became Princess of Wales, but perhaps not in the way that people might have expected. The pressure could have caused some signs of anxiety and even imposter syndrome, but instead her confidence signals have been on an upward trajectory recently," expert Judi James told Express in November, adding that Kate seems "confident" in her new role.
In addition, the mother of three has also started shifting some of her style choices to become a bit more traditional — at least, that's how it seems — and there's one specific accessory that appears to be fading fast Kate's wardrobe: her headbands. Over the years, Kate has been quite fond of headbands, but one royal expert notes that the future queen has been opting for different headpieces as of late. "They seem to have been dropped as a key accessory," royal style expert Miranda Holder told Hello! "Headbands are a lovely way to finish off an outfit, adding height, color, and a sense of formality to a range of occasions and they really suited Kate, but these days, the popular accessory (which still looks great on Princesses Beatrice and Eugenie) doesn't fit with Kate's more sophisticated and regal style aesthetic," she continued, going on to highlight Kate's latest trend.
Kate Middlton has been wearing hats more frequently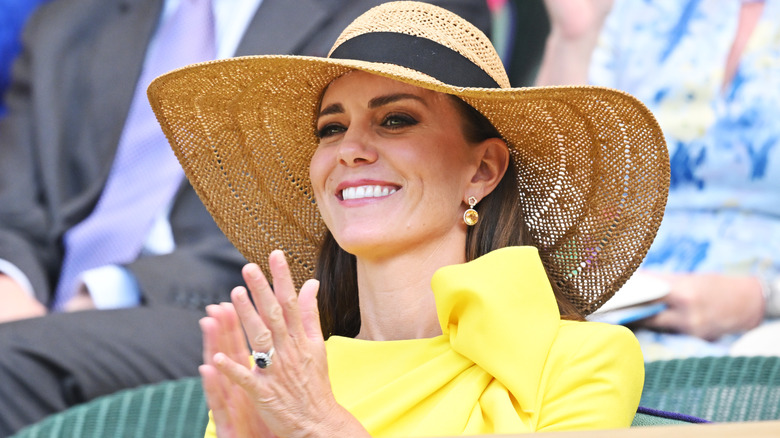 Karwai Tang/Getty Images
Miranda Holder believes that Kate Middleton's decision to ditch headbands is by design. "The feminine, girlish headband with its connotations of romance and innocence no longer feels right," she told Hello! Holder also said that the Princess of Wales is opting for "formed hats and headpieces" instead. Indeed, we've noticed that Kate has been opting for hats over headbands — and not only when she's at a royal event where a head covering would be expected. 
Interestingly, it seems as though the hat trend has been in play for quite a few months now. For example, when the princess was at Wimbledon in 2022, she wore a large floppy hat over her brunette tresses — a great way to keep the sun off her face and out of her eyes, but also a style choice. Interestingly, the hat actually broke the rules set forth for the Royal Box at the All England Club. "Ladies are asked not to wear hats, as they tend to obscure the vision of those seated behind them," reads the Wimbledon website. Oops.