What Kate Middleton's Relationship With Her Brother James Is Like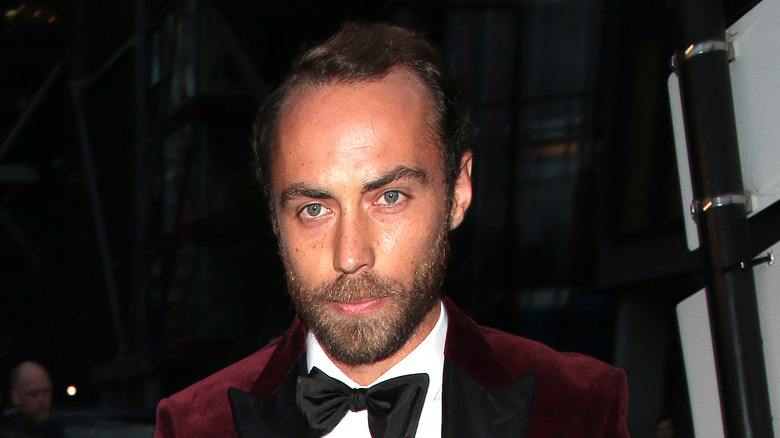 Ricky Vigil M/Getty Images
When Kate Middleton started dating Prince William, in 2001, she was given the royal family-approved nickname "Kate Middle Class" by the British press, with some sources reporting that she and her siblings, Pippa and James Middleton, came from a long line of coal miners. In reality, the Middletons are actually from an upper-crust background (the tabloids have a habit of exaggerating certain things). Kate's father, Michael Francis Middleton, is distantly related to the British aristocracy and the Lupton political dynasty. 
Her mother, Carole Middleton, has royal lineage (although part of her family did have a background in mining). Kate, Pippa, and their younger brother all went to top-tier schools including St. Andrews, which was where Kate eventually met Prince William. Although the Princess of Wales and James operate in different worlds now, they still enjoy a close relationship. James even thanked his sister (and Prince William) for helping him through his struggles with depression. 
"I think what's fantastic is that they're in a position where they are talking about their own mental health," James proudly told "Good Morning Britain," referencing his sister's work in mental health advocacy (via People). Although he struggled with his own diagnosis, the Prince and Princess of Wales opened doors for him. In fact, James said, "It gave me the confidence to sort of speak out. I have more to thank for them and the sort of focus they've put towards it." 
James Middleton has loved watching his sister 'blossom'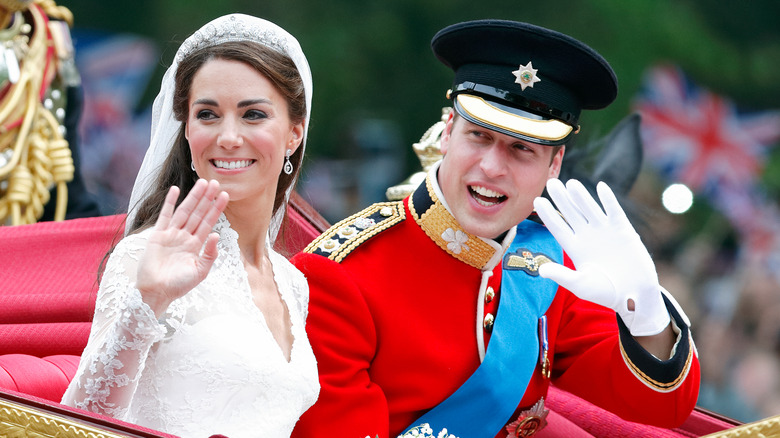 Max Mumby/indigo/Getty Images
To James Middleton, Catherine, the Princess of Wales is his sister above all else. ​"I'm extremely proud and I'm always taken aback by how much she does do, and that continues to stay at the forefront of my mind," he gushed to "Good Morning Britain," per the Daily Mail. As the future queen's brother added, he's loved watching his older sister "blossom" as she takes on more responsibilities in the royal family, especially since he's familiar with all her little quirks. 
Unfortunately, he didn't expand on the eccentricities he was referring to, but it's clear they have a special sibling bond. At Kate Middleton's wedding to Prince William, James memorized and then recited a passage from Romans 12 in front of a worldwide audience of over 160 million people (via YouTube). He was only 23 at the time, so it must have been a pretty nerve-wracking task. 
A decade later, William and Kate traveled to the south of France to watch James and his now-wife, Alizée Thevenet, tie the knot. In fact, if you look closely at his Instagram, you can spot the Princess of Wales dancing in the background of a post-ceremony pic. Family bonding at its best. 
Kate is also very close with her sister Pippa Middleton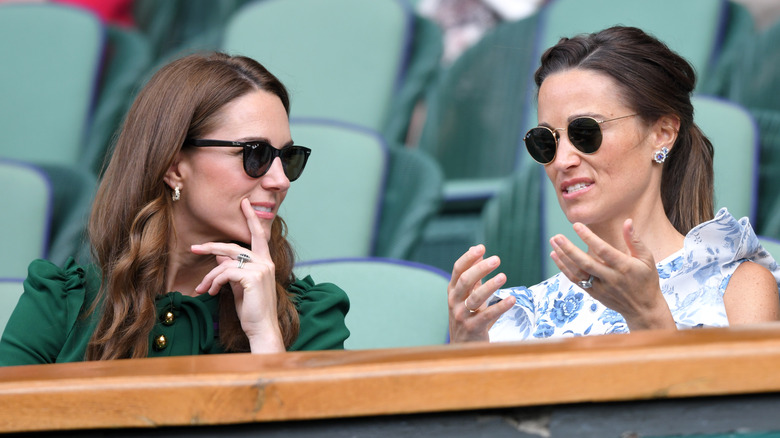 Karwai Tang/Getty Images
Kate Middleton also has a strong bond with her younger sister, Pippa Middleton, who memorably turned heads as the Maid of Honor at her 2011 royal wedding. In 2017, Kate returned the favor at Pippa's own wedding to James Matthews. "I mean, obviously she has pressures that she's taken on and things. But we spend a lot of time together. We still do a lot together as a family ... We have a very normal, sisterly relationship," Pippa informed "Today," adding, "We're very close. And, you know, we support each other and get each other's opinions and things." 
In the early 2000s, the Middleton sisters were known for enjoying nights out together in London. James, who was a teenager at the time, apparently did not get an invite. All in all, Pippa can still call up Kate for some late-night "girl talk." In 2019, the year before Prince Harry and Meghan Markle dramatically exited the royal family, Kate, Pippa, and Meghan sat side-by-side at Wimbledon. When the Princess of Wales is busy with her royal duties, Pippa and her brother James will even engage in some light-hearted sibling rivalry, challenging each other to a tennis match.