Madonna's Parenting Tactics Come Into Question Surrounding Lourdes' Clothes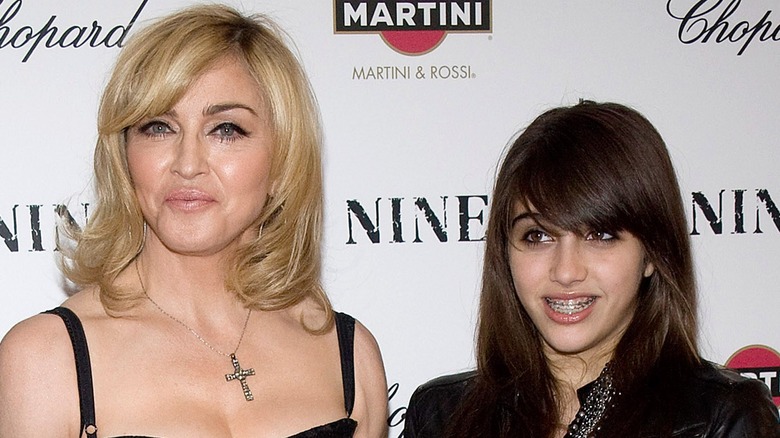 Everett Collection/Shutterstock
Critics are so quick to pin names on and shame the habits of celebrities. And, the bigger the star, the more people that watch their every move. Madonna, an iconic singer, songwriter, and actor who is commonly known as the "Queen of Pop," is not a stranger to criticism as she's been in the spotlight since the early '80s.
From the most inappropriate outfits worn by Madonna to her controversial macrobiotic diet to her aging body and methods of reclaiming her youth, she has been attacked for everything under the sun. That's why it's no surprise that the media has dissected her parenting skills and methods from the time her first child, Lourdes Leon, was born on October 14, 1996. 
Since then Madonna has had five other children, four of which were adopted. One of the most bizarre stories that the media reported on, concerning Madonna's parenting skills, was the time she made her oldest daughter, Lourdes Leon, wear the same outfit every single day. 
The reason Lourdes Leon wore the same outfit every day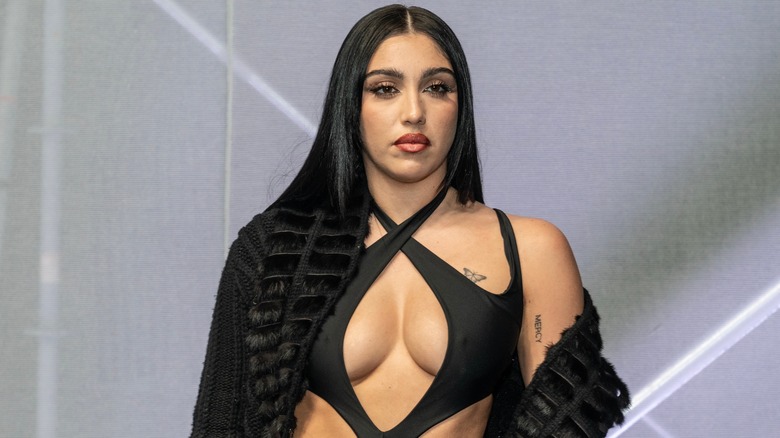 lev radin/Shutterstock
Lourdes Leon, who's now years out of Madonna's house and on her own, currently lives with her boyfriend in Bushwick, a neighborhood in Brooklyn. She works as a fashion model, dancer, and singer, taking after her mother's talents. However, Leon wasn't always under her own rules and she admitted to Interview magazine that her mother was especially strict. 
According to Leon, Madonna "is such a control freak, and she has controlled me my whole life." The outspoken model added, "I needed to be completely independent from her as soon as I graduated high school." Making her daughter wear the same outfit over and over again every single day is just one example of Madonna's strict micromanaging parenting methods. 
According to USA Today, when Newsweek asked Madonna to elaborate, she explained that when Leon left dirty clothes on the floor, "We take all of her clothes and put them in a bag, and she has to earn all of her clothes back by being tidy ... She wears the same outfit every day to school until she learns her lesson." Although Madonna's method may be unconventional, it was a surefire way to teach her kids to clean up after themselves. 
This is what Madonna is like as a mom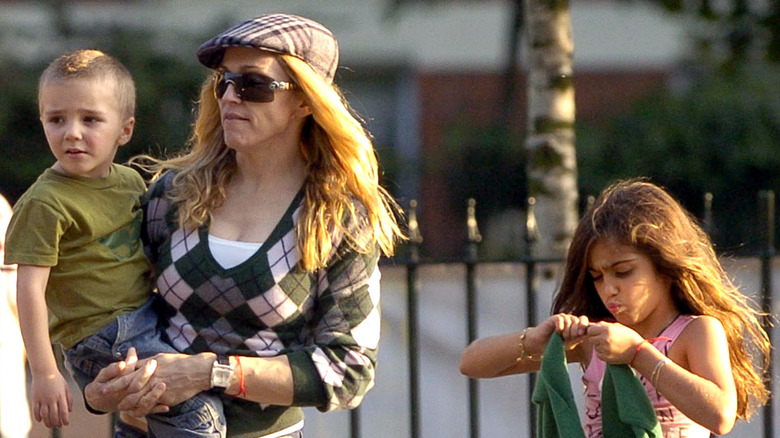 Antony Jones/Getty Images
Repetitive outfits only scratch the surface when it comes to discipline in Madonna's household. The pop star's children were reportedly forbidden to watch television, read magazines, eat ice cream, and drink milk. And although Madonna knows she's a disciplinary parent, the "Material Girl" has frequently discussed the humanity of parenting and how it can look different for everyone, pointing out in a 2023 interview with Vanity Fair (via The Independent), "No one gives you a manual [on motherhood] ... You have to learn from your mistakes. It is a profession that requires a lot of time. And it is exhausting because there is never rest."
And although her methods may seem a little bizarre to some, Madonna's household rules show a softer side to the singer. According to People, she shared a photo in March 2023 on her Instagram Story of her five non-negotiable household rules. The chalkboard Madonna held in the picture states that the rules are: "1. Smile, 2. Be Happy, 3. Listen to others, 4. Speak Kindness, 5. Be Happy with what you have." The mix of strict rules and a positive vibe must be working though as even her son Rocco acknowledged on "The Ellen Degeneres Show," "She's a good mother. Yes. That's all I have to say. She's very strict but in a good way," (via USA Today).