Aesha Scott Thinks This Is Why Below Deck Stars Keep Dating Each Other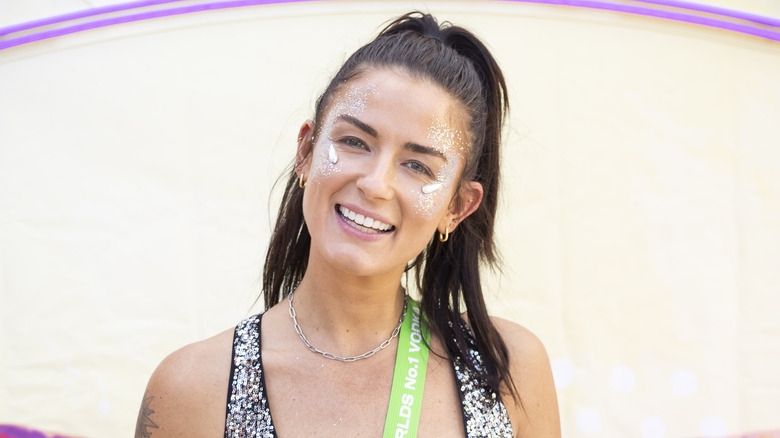 Matt Jelonek/Getty Images
The cast of "Below Deck Down Under" Season 2 is facing something more intense than a love triangle. In the trailer for the season, Chief Stew Aesha Scott said, "So Harry likes Margot, who likes Luke, and Laura likes Adam, but also wants Luke. It's a love pentagon."
In an interview with Us Weekly, Scott elaborated on why romance is in the air on the "Below Deck" ships. "There's this weird thing — it's a weird phenomenon — when you're cut off from the world for weeks and weeks at a time," she said. "You don't really see outside of your boat walls at all." Scott continued to say that someone who you would initially consider only a three out of 10 for attractiveness becomes, after a few weeks, "a raging 10 with a massive ding-dong, you know. It's like you see everything completely differently. It's so weird. Then almost as instantly you step off the boat and you look at them and you're like, 'Oh, God, what have I done?'"
Both Scott and Captain Jason said that as long as all the relationships are consensual and don't affect the crew members' ability to work, they are fine with crew members dating each other.
Scott has a long-distance boyfriend who lives in America
Aesha Scott, who happens to be a "Below Deck Down Under" fan favorite, has no need for love pentagons, hexagons, or any other shape on the Northern Sun. She and her boyfriend, Scott Dobson, have been dating for more than three years. They went to the same school in New Zealand and reconnected when he learned she was living in the States too and decided to message her on Instagram. His sister's friend informed him of Scott's "Below Deck Mediterranean" appearance because he is not much of a TV watcher due to his cross-country traveling lifestyle. Scott saw Dobson had the same kind of adventurous spirit she did by looking at his Instagram posts and accepted his offer to connect.
Scott spoke with the BravoTV website in July 2023 and said that Dobson was currently living in Colorado while she was visiting family in New Zealand and working in Australia. She added, "We spend a lot of time apart, but [we're] stronger than ever. We're just saving at the moment to buy property in New Zealand this summer."
Scott used to date a co-star on 'Below Deck Mediterranean'
In an interview with Decider, Aesha Scott spoke more about the "love pentagon" on the Northern Sun. She said, "This season, I was just amazed at how horny everyone was. It was really fun for me to watch from the sidelines because I am in a relationship. I absolutely love my boyfriend, [Scott Dobson]. It was nice to focus on the job and watch everything unfold. It was so entertaining . . . I think the viewers are going to have a really fun time following this whole pentagon playing out."
Before reconnecting with Dobson, Scott had a ship romance of her own on "Below Deck Mediterranean." She dated deckhand Jack Stirrup during Season 4 of the show but ended their relationship due to his infidelity. However, the duo stayed friends for a while after he came to France to apologize.
Scott and Captain Jason were on "Watch What Happens Live" on July 24, 2023, and during the After Show interview a fan asked Scott what her relationship with Stirrup is like now. Scott explained that they were friends for a while, but she cut him off completely when she started dating Dobson. When host Andy Cohen asked if Scott and Dobson were still together, Scott enthusiastically said, "Absolutely! I love that man."