The Truth About The Fan Favorite Coming Back For Below Deck Down Under
Any "Below Deck" fan will tell you that there's the cast of the show and then there's their favorite cast member. There is a very big difference between the two. Aesha Scott was a favorite on "Below Deck Med," Season 4 for many people. Between her quirky personality, raunchy jokes, and ability to not take life too seriously, Scott was quickly dubbed fan-favorite. Fans might know her as the strong second hand stew, but now she's getting a shot at chief stew in Peacock's new spin-off series "Below Deck Down Under." 
For those of you that don't know the difference, it's pretty much an on-sea job promotion. Instead of just taking orders from someone and helping the boat run smoothly, she will be making the boat run smoothly herself. She will be in charge of her entire staff, making sure the job gets done and that there's adequate communication between the galley as well. It's a big undertaking, but one that fans are excited to see.
When fans last saw Scott, she was telling the "Below Deck Med" cameras that she was done with yachting for a while. Since then, she found her land-legs, traveling through most of the United States, according to her Instagram. But as Screen Rant notes, she eventually renewed her STCW (Standards of Training, Certification, and Watchkeeping for Seafarers), which is her yachting certification needed to take on the "Below Deck" role. 
This is Aesha's first time as an on-screen chief stew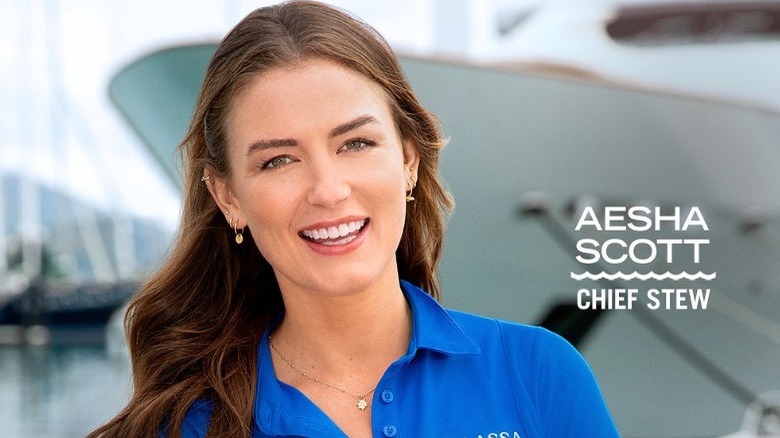 Even without seeing her CV, it's clear that the chief stew position belongs to Aesha Scott. Fans saw her completely master second stew on "Below Deck Med" seasons 4 and 5. She set tables with ease, was whiz in the laundry room, and essentially was the glue stick that held the teams morale together in times as well. Heck, during Season 5 of the show, Scott quite literally saved the day when she stepped in after the crew lost both a stew and a chief stew in the same season.
This is a big moment for "Below Deck" fans, but you won't be able to watch the show on Bravo like the other series. The spin-off show, which as the name aptly alludes to, is set in Australia and will premiere on Peacock's subscription service. This isn't the first series that was scooped up by the streaming service, either. Peacock also houses Below Deck Med and allows members to watch an episode a week early, while you have to wait to watch with Bravo. 
If this isn't a sign to add another streaming service to your card, then we don't know what is. While there's no telling what will happen during this season, fans are pretty much guaranteed that they will be entertained by Scott.