What Hallmark's Erin Krakow Misses Most About Growing Up In The South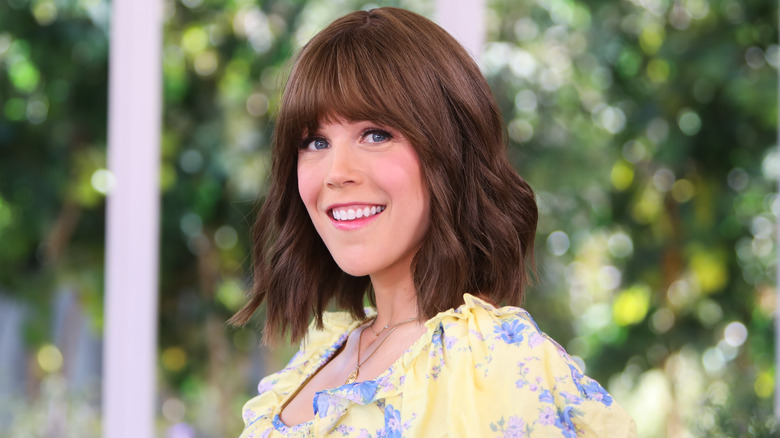 Paul Archuleta/Getty Images
Erin Krakow is most known for her time on the Hallmark television series "When Calls the Heart." Fans may also recognize her from her role in Lifetime's television series, "Army Wives," and a handful of Hallmark television movies, including "Engaging Father Christmas," "Marrying Father Christmas, "Sense, Sensibility & Snowmen," and "It Was Always You." In fact, Krakow has become one of Hallmark's top stars over the last decade, and she's still going strong. 
Krakow's most recent Hallmark movie, "The Wedding Cottage," premiered earlier this year on April 15. And it's clear from her Instagram that she had a great time on set. However, even though the actor has had career success and enjoys filming, there are still some downfalls to the job.
In a recent interview with Southern Living, Krakow discusses one of the hardest parts of her career: being away from her family and missing her hometown in the South.
Why Krakow misses the South
Despite living in California, Erin Krakow misses her hometown in the Miami metropolitan area, Wellington, Florida. In an interview with Southern Living, Krakow confesses, "I really miss my family. It's hard to be so far away from them. I wish that the travel was a little bit easier. But we see each other as often as we can." 
Besides being away from family, qualities of her hometown that brought her peace are what Krakow is missing, "Where I grew up, I really miss the beaches there. They're so good. I mean, I really love going to the beach, bringing a book, and just taking a nap in the sand and listening to the ocean. It is one of the most peaceful places for me, and I miss that." 
Although she didn't get to film in Wellington, Krakow did get a chance to travel farther south than usual when she was on set in "Army Wives," which was filmed in Charleston, South Carolina. She spoke of the experience, saying, "It's a beautiful city with great, great people who are so welcoming and kind." So even though it wasn't home, it was definitely a step closer to her roots.
Krakow's life now
Even though she's dreaming about her time in the South, Erin Krakow has a pretty good life in Los Angeles, California. In fact, she unexpectedly expanded her family in January 2023 by adopting a rescue pup with her "When Calls the Heart" co-star and rumored boyfriend, Ben Rosenbaum. They named the little guy Willoughby.
Although Krakow and Rosenbaum haven't confirmed their relationship, their recent adoption has fans curious. While scrolling through Rosenbaum's Instagram, you can see Krakow commenting with hearts. Of course, since nothing has been confirmed, fans continue to stalk the actors' social media accounts, hoping they finally "admit" their commitment to each other.
As Krakow's personal life reportedly heats up, her career is as on fire as ever. Thankfully, Krakow never gets bored with "When Calls the Heart," which is great news as Hallmark recently greenlit Season 11. This is perfect timing, with Season 10 premiering on July 30, 2023. Filming will keep both Krakow and Rosenbaum busy with work, but thankfully they have little Willoughby to come home to.