The Real Meaning Behind Sinéad O'Connor's Hit Nothing Compares 2 U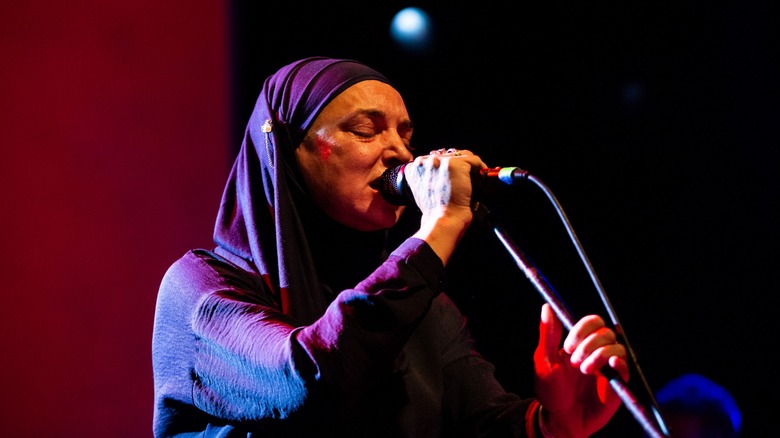 Roberto Finizio/Getty
Irish singer Sinéad O'Connor (also known as Shuhada' Sadaqat) passed away on July 26, 2023, just a year and a half after the heartbreaking death of her son and her own hospitalization. One of her most popular songs is her cover of Prince's "Nothing Compares 2 U" from 1990. The original version of the song was by St. Paul Peterson and Susannah Melvoin of The Family, a band formed by Prince. He also played on and wrote much of the album. The Family released their version of "Nothing Compares 2 U" on their one and only 1985 album, but O'Connor's version is what shot the song to stardom.
The song's lyrics evoke feelings of heartbreak and loneliness as the narrator sings of lost love, hooking listeners in with its opening lines: "It's been seven hours and fifteen days since you took your love away. I go out every night and sleep all day since you took your love away." The narrator continues to lament how they can do anything or go anywhere now, but whatever they do will not take away their sadness at being left by their lover.
In the song's second verse, the narrator reiterates their loneliness and asks their ex-lover for an explanation as to what pushed them away: "Tell me, baby, where did I go wrong?" The narrator adds that they could try and find a new man, "But they'd only remind me of you." They're so affected by this loss, they don't feel like they can move on.
The lyrics allude to a more literal kind of loss as well
Sinéad O'Connor felt like listeners of "Nothing Compares 2 U" could relate the song to different kinds of loss, not just the loss of a romantic partner. Susan Rogers, a recording engineer for Prince, even believed the lyrics were not about an ex-lover at all but about Sandy Scipioni, Prince's housekeeper who quit her job after her father passed away.
Although there is no proof of Scipioni's departure in the lyrics, there is a reference to the loss of a parent. The narrator sings in the bridge, "All the flowers that you planted, mama, in the backyard all died when you went away." O'Connor cries in her music video for the song, and she told BBC that to muster up that kind of emotional response when singing, she always thought of the same thing: "I always think of my mother ... which is why I had the little tear in the video. My mother died when I was 17 and it wasn't long after that that I was making the video."
"Nothing Compares 2 U" ends with the narrator asking for another chance, which could allude to asking their partner to try again or to wishing for the impossible — for a deceased loved one to return. Then, the outro repeats, "Nothing compares, nothing compares to you" three times to drive the point home. 
Many people referenced the song after Prince's death in 2016, and they will likely do the same for O'Connor.