Sinead O'Connor Was Never The Same After The Tragic Death Of Her Son
John Sciulli/Getty Images
On July 26, The Irish Times reported that Irish singer Sinead O'Connor had died at the age of 56. Two years before her passing, however, O'Connor was hit with some devastating news when she learned that her son had died by suicide. Before his death, Shane Lunny had been on suicide watch at Tallaght Hospital in Dublin, Ireland, but was reported missing, according to Irish Central. The following day, he was found dead. "My beautiful son, Nevi'im Nesta Ali Shane O'Connor, the very light of my life, decided to end his earthly struggle today and is now with God. May he rest in peace and may no one follow his example. My baby. I love you so much. Please be at peace," O'Connor tweeted at the time. Shane was just 17-years-old. 
The days that followed would be some of the hardest of O'Connor's life and, about one week later, Shane was laid to rest at Newlands Cross Cemetery in West Dublin, the Daily Mail reported. After the memorial service, O'Connor took to social media to share her thoughts. "We just said goodbye to our beautiful angel, Shaney. Very lovely Hindu ceremony. Shane will have loved it," she wrote, adding that she buried him with some cigarettes. In the time since, things haven't gotten easier for O'Connor, who described herself as an "undead night creature" days before her own death.
If you or anyone you know is having suicidal thoughts, please call the National Suicide Prevention Lifeline​ by dialing​ 988.
Sinead O'Connor tweeted about her son days before she died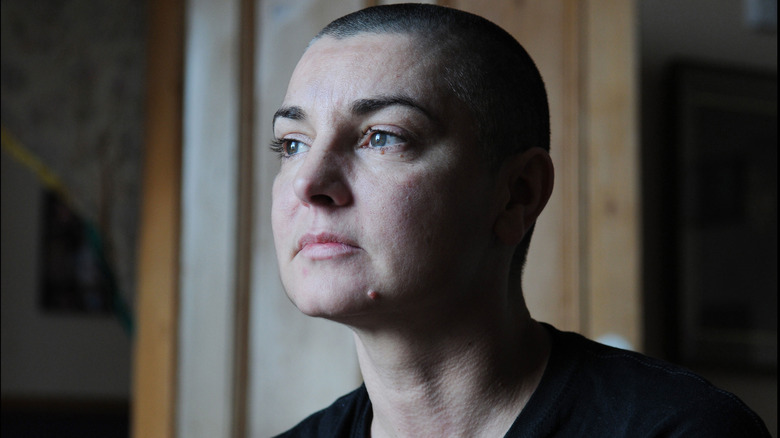 David Corio/Getty Images
Sinead O'Connor had been mourning the loss of her son, Shane Lunny, since he died. Although she didn't consistently share her thoughts and feelings on social media, she did post a response to a tweet that asked for people to express how life is going by way of emoji. On July 17, O'Connor tweeted a string of crying face emoji along with the hashtag "#lostmy17yrOldSonToSuicidein2022." She also included an old photo of her and Shane hugging. "Been living as undead night creature since. He was the love of my life, the lamp of my soul. We were one soul in two halves. He was the only person who ever loved me unconditionally. I am lost in the bardo without him," she wrote.
Many Twitter users commented on the post at the time, letting O'Connor know that she wasn't alone throughout this dark period of her life. Following her death, additional comments on the post have shown up, many Twitter users leaving their condolences for another life taken too soon — hers. "I hope you know how loved you were," one person tweeted. "I'm so sorry to hear that you have gone to be with Shane. May you find peace together and in the next life to come," another Twitter user wrote.
Sinead O'Connor has struggled with mental health issues for years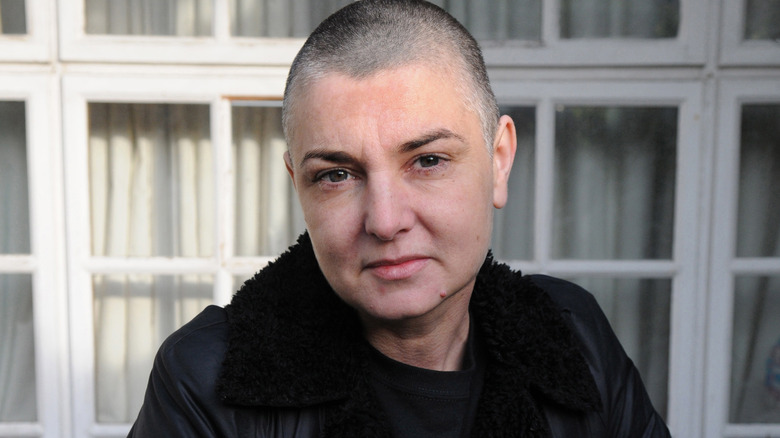 David Corio/Getty Images
Sinead O'Connor did her best to prioritize her mental health over the years after being diagnosed with bipolar disorder, complex post-traumatic stress disorder, and borderline personality disorder, according to People magazine. Her feelings of sadness only increased after losing her son, so much so that she needed to step away from performing. In 2022, O'Connor released a statement announcing her decision to cancel any and all upcoming shows for the year "due to continuing grief over the tragic loss of her beloved son Shane" (per NME).
"This has not been an easy decision for Sinead but a decision she has had to make for her own health and well being at this time. We would like to extend our thanks and appreciation to Sinead's worldwide agency ICM who have handled this with the utmost respect and dignity and have worked tirelessly," the statement read, in part. 
O'Connor's cause of death has not been revealed. She is survived by her three kids, Jake Reynolds, Roison Waters, and Yeshua Bonadio.