Meet Irish Singer Sinead O'Connor's 4 Children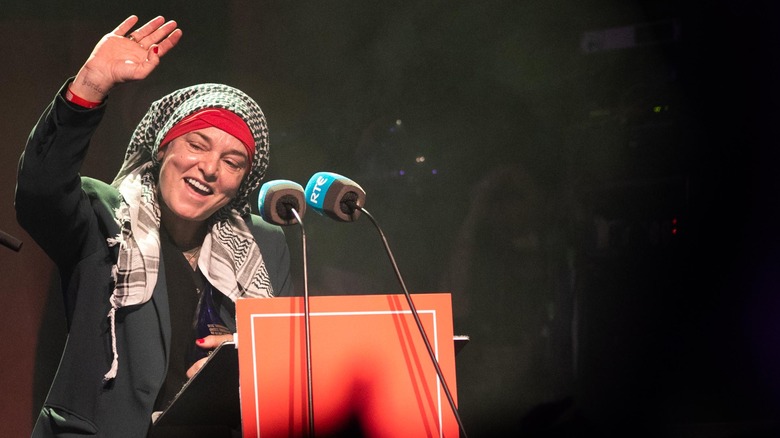 Kieran Frost/Getty Images
We may receive a commission on purchases made from links.
Trigger warning: The following article mentions suicide and battles with mental health.
Irish Singer Sinéad O'Connor passed away on July 26, 2023, after a years-long battle with her mental health. She was 56. The "Nothing Compares 2 U" vocalist, who converted to Islam and changed her name to Shuhada' in 2018, left behind three living children — her son, Shane, died in 2022 at the age of 17. "My beautiful son, Nevi'im Nesta Ali Shane O'Connor, the very light of my life, decided to end his earthly struggle today and is now with God," the singer announced on Twitter at the time, per the New York Post. "May he rest in peace and may no one follow his example," she added. Shane, who bore a striking resemblance to his mother and publicly accompanied her to get a second COVID vaccination months before his death, also struggled with depression.
The singer and outspoken political advocate was married four times — her last marriage to therapist Barry Herridge lasted just over 2 weeks... In 1987, she tied the knot with record producer John Reynolds — he even collaborated with her on her first album, "The Lion and the Cobra." They had one son, Jake, and split up in 1991. Sinéad also had a daughter, Roisin, with boyfriend John Waters, and a son, Yeshua Bonadio with Frank Bonadio. Shane O'Connor was born to O'Connor and Donal Lunny, per PBS.
If you or someone you know is struggling or in crisis, help is available. Call or text 988 or chat 988lifeline.org
Sinéad O'Connor's oldest son has a son of his own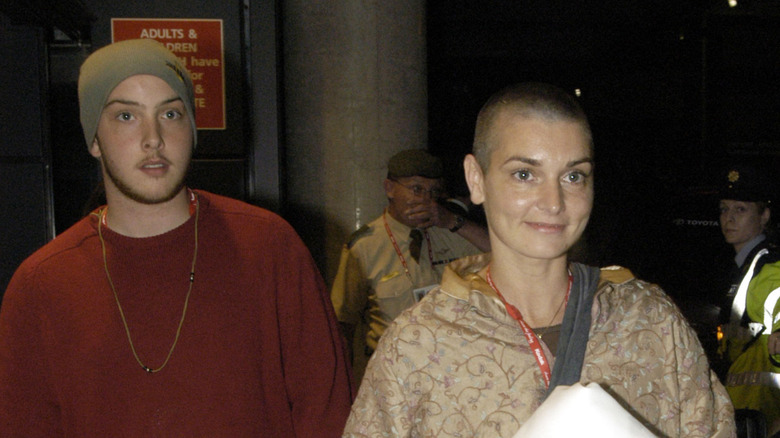 Getty Images/Getty Images
Jake Reynolds, Sinéad O'Connor's firstborn with John Reynolds, was born in 1987. In 2015, he had a son of his own with his girlfriend, Lia. "OMG! Am literally hours away from the greatest dream of my life coming true! #Granny!" his proud mother posted on Facebook, per International Business Times. As the singer explained, she always wanted to be a grandmother.
Unfortunately, Jake and his world-famous mom didn't always enjoy the easiest of relationships. They had a conflict that became very public in 2016 when O'Connor went missing and posted a rant apparently directed at her son on Facebook (via NBC Chicago). The post came two hours after she was last seen. She was found safe one day after she was reported missing from a Chicago suburb. Jake Reynolds has managed to stay more or less out of the spotlight. According to InTouch Weekly, he also works as a musician. 
If you or someone you know needs help with mental health, please contact the Crisis Text Line by texting HOME to 741741, call the National Alliance on Mental Illness helpline at 1-800-950-NAMI (6264), or visit the National Institute of Mental Health website.
Sinéad O'Connor performed with her daughter, Roisin Waters
Like her older half-brother Jake, Roisin Waters is a talented musician. In fact, she once performed alongside her mother on Icelandic TV. They sang backup on the song "GMF," harmonizing with fellow songwriter John Grant, per YouTube. O'Connor wrote on Twitter that her daughter also filled out an application for her to take part in "First Dates," a British reality show (via Daily Mail). Despite plenty of public excitement, the cameo didn't pan out.
Born in 2006, O'Connor's youngest son, Yeshua Bonadio, has managed to keep a pretty low profile.
O'Connor wrote in her 2021 memoir, "Rememberings," that she had no plans to become famous, but had a deeper motive behind her talent. "Everyone wants a pop star, see? But I am a protest singer. I just had stuff to get off my chest. I had no desire for fame" (via Us Weekly). Regardless, she will go down in history as one of our era's best songwriters and, of course, a loving mother.