King Charles' Snazzy Outfit At Sandringham Flower Show Proves He Still Has Style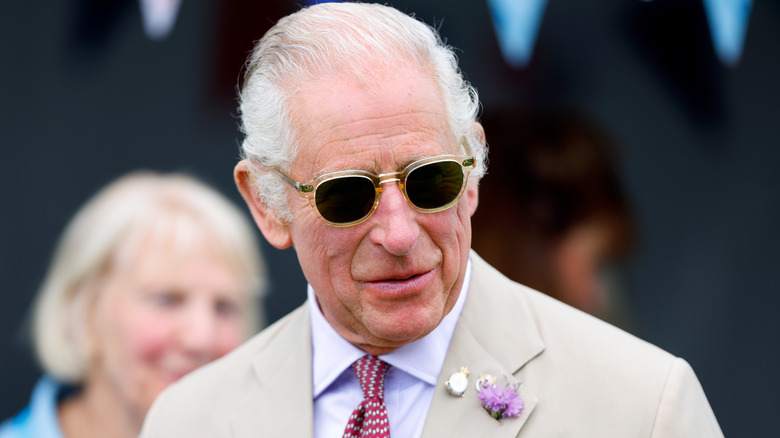 Max Mumby/indigo/Getty Images
Everyone has their own opinion of which royal has the best style. Fans of The List cast their votes for William and Catherine, the Prince and Princess of Wales, but other family members aren't exactly slouches in the sartorial department. King Charles III proved that point nicely during his July 26 visit to the Sandringham Flower Show. The 140-year-old event originally began as a showcase for the Sandringham gardeners but today, it resembles more of an American county fair, complete with entertainment, product booths, and competitions for the best produce and baked goods. 
Arriving in a horse-drawn carriage alongside Queen Camilla, the king was the picture of cool, despite the midsummer heat. His perfectly fitted beige suit featured a single-breasted blazer, and Charles wisely set off the neutral shade with a few pops of color: Namely, a maroon tie, a cream-and-maroon pocket square, and a beige straw hat with a patterned maroon band. A bright blue flower in his lapel — possibly a cornflower — made for a stunning contrast. The king was also spotted sporting a pair of sunglasses with rounded frames that definitely didn't scream "grandpa shades."
The queen consort, meanwhile, stuck to her tried-and-true fashion profile. Always fond of shirtdresses in the summer weather, Camilla chose one with a green floral pattern, elbow-length sleeves, a waist tie, and a below-the-knee hem. Her go-to beige pumps had a sensible heel to allow for comfortable walking around the grounds. She also got a kick out of the pie contest, which featured an entry shaped to look like the king — complete with a crown and protruding ears.
Charles has long been a style master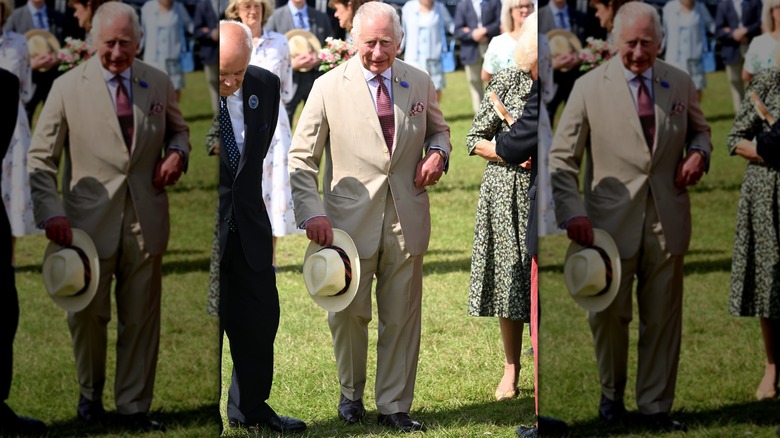 Karwai Tang/Getty
Alas, being the heir to the British throne means one's style choices are somewhat limited. You won't see William, Prince of Wales, stepping out in a muscle shirt and Crocs, for instance, and any hope Prince George may have of getting a nose piercing or a Skrillex-style haircut will be quickly squashed. Despite that little technicality, it's still possible for a high-ranking royal to stand out from the crowd. Esquire recently took a look back at King Charles III's fashion choices over the years, pointing out his secret to success. 
Rather than trying to follow trends, the king knows what he likes — tailored suits, narrow ties, cashmere sweaters, tab collars — and reportedly has multiples of the same outfits crafted for him by the finest British tailors (considering his rumored preference for changing clothes several times a day, he needs lots of extras). Charles is also said to favor timeless accessories that cost a (ahem) king's ransom, but which last for ages. The king has even joked that his personal style cycles in and out of fashion "every 25 years." 
This conservative attitude has kept him from landing on lists of the most inappropriate royal outfits (no ripped jeans here!). Charles did, however, buck tradition on one important occasion. For his May 2023 coronation, the king opted to forego the breeches and silk stockings worn by new monarchs for centuries. Instead, he donned dark trousers and a silk overshirt under the traditional Robe of State.