Michael Strahan's Girlfriend, Kayla Quick, Has A History Of Legal Trouble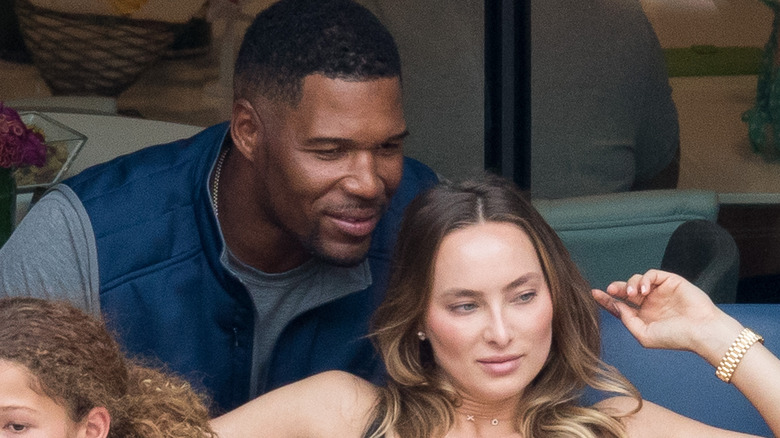 Bbd/Getty Images
Former NFL player Michael Strahan has had a fairly rocky love life.  He married his first wife, Wanda Hutchins, in 1992, welcoming two children with her, Tanita and Michael Jr., before calling it quits in 1996. Three years later, in 1999, Strahan married his second wife, Jean Muggli. Together, the couple had twin daughters Sophia and Isabella, but they later decided to end their marriage in 2006. The following year, he began dating model Nicole Murphy, the ex-wife of actor Eddie Murphy. The couple got engaged and seemed to be going strong for about seven years until they decided it was best to go their separate ways in 2014.  Since those three failed long-term relationships, Strahan has adopted a more private approach, especially when it comes to the current woman in his life, Kayla Quick.
On the surface, the couple appears to be an unlikely pair. For starters, there is a significant age difference between them, with Strahan being 17 years Quick's senior. There is also the issue of Quick's criminal past, which doesn't exactly align with Strahan's good-guy persona. Nevertheless, after meeting in 2015 at a Florida bar where Quick was employed, they quickly hit it off and appear to have been in a happy relationship together ever since. 
Quick went to jail as a teenager
After Quick was spotted on a luxury vacation with "Good Morning America" host Michael Strahan in 2018, her questionable past was quickly thrust into the spotlight. Her alleged ex-boyfriend Justin Hundley spoke with RadarOnline, revealing that when they were just 18, both were arrested for robbing Quick's grandmother's home in Port Charlotte, Florida. The two made off with $6,000 worth of jewelry in the heist. The outcome of that case is unknown.
However, that wasn't her first brush with the law. Years earlier, when she was only 14, she was arrested for disorderly conduct. The incident stemmed from a physical altercation. However, since she was a minor at the time, the details of the case are limited and remain sealed. Another source who spoke with the outlet was concerned that Strahan may not be aware of Quick's life before she landed a wealthy boyfriend.
"It remains to be seen how much Michael really knows about his girlfriend's past!" the insider told RadarOnline. Thankfully, despite her previous issues, it doesn't appear that Quick has had any run-ins with the law once she was out of her teens.
Quick now runs her own wellness brand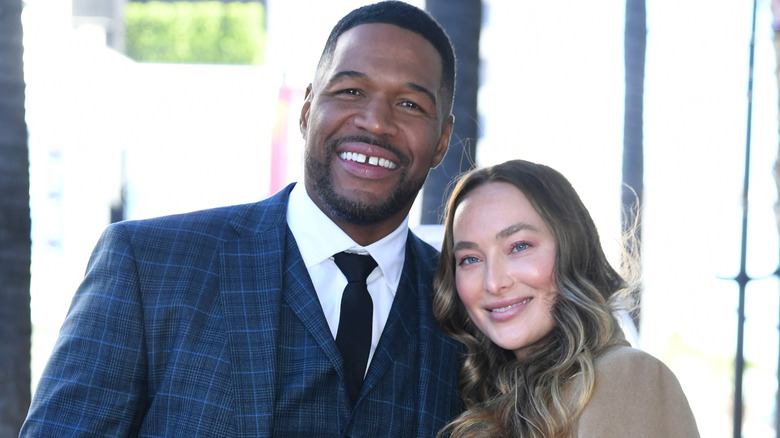 Jc Olivera/Getty Images
Quick is now the founder and CEO of her own wellness brand, Fizzness, which sells powdered energy drinks created with natural ingredients. Quick is well-qualified to run the company, having gone to culinary school in New York City, followed by the Institute for Integrative Nutrition. It was during her studies that she met her business partner and co-founder, Jamie Giardino. When speaking with The Purist Online, Quick explained that both she and Giardino shared similar interests and knew they'd work well together.
"We had both exited previous careers and startups and wanted to pursue our passions and create something to share. Jamie and I practice the same wellness principles and have been organically influencing, in real life, our tips and tricks for the past 15 years," Quick explained to the outlet.
Fizzness is still in its infancy, with the official website not listing much other than the company logo and link to its Instagram page. Their single social media account is also pretty blank at the moment. Quick could be taking time off to enjoy her romance with Strahan, or the company could be gearing up for a proper launch. Either way, she seems passionate about the brand and its potential.