Kody Brown Blamed Christine After Failing To Fix His Relationship With Meri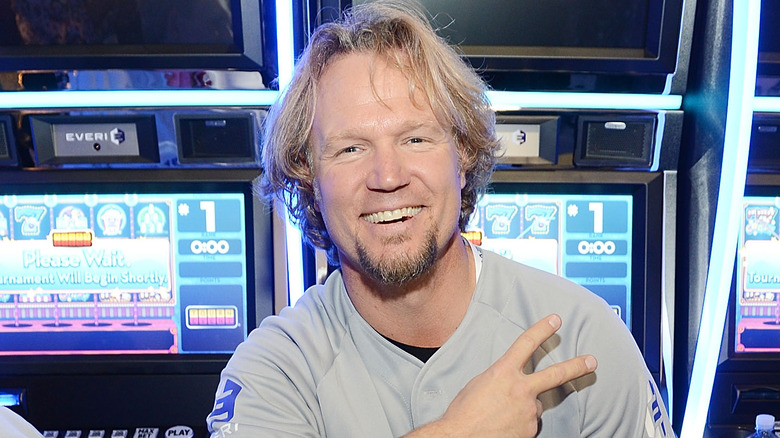 Denise Truscello/Getty Images
When "Sister Wives" star Kody Brown realized that his wife Christine was leaving him, he began to lash out. His accusations revolved around how Christine contributed to the demise of their relationship but it also branched out toward his other wives. At one point, he accused Christine of being responsible for him and Meri not mending their relationship.
His anger reached a boiling point when Christine met with him and the rest of the wives to announce that she was not only leaving Kody but moving to Utah. That's when he lost his temper and screamed at Christine. "Man, just the knife in the kidneys over all these years! The sacrifices I've made to love you. Wasted!"  he yelled in an episode of "Sister Wives."
Oddly enough, he also chastised Christine for not being accountable. "The accountability is what I've been asking for here and you are running away rather than being accountable," he said. "You're like, 'I'm divorced. I'm leaving. I'm done with you.'" He even went on to blame Christine for his failed relationship with Meri.
Kody said Christine was upset that he wanted to get back with Meri
In the Season 17 ending tell-all, Kody Brown told host Sukanya Krishnan that Christine was trying to play a game. When Krishnan asked why, Kody blurted out, "Because she is a game player." 
He claimed Christine has tried to manipulate him and the family for years in an attempt to get her own way. He said one game she played was that when he was considering reconciling with Meri, Christine had a fit. "Christine lost her s*** that day," he said. The patriarch explained that they were all at a family party and Christine left abruptly while yelling to one of her children that she was in a loveless marriage. 
He maintained that Christine's anger stemmed from the fact that he was thinking of getting back with Meri. When Krishnan pressed him about why that bothered him, he said, "There's something wrong in the relationship between Meri and Christine." It's a peculiar statement considering that if he truly wanted to reconcile with a wife, a so-called outburst from another wife shouldn't have prevented him from doing so.
Kody confused Meri, too
Though no love has been lost between Christine and Meri, even Meri felt that Kody was being hypocritical when he purported that what Christine had done by telling him she was leaving him was so wrong. He felt that she didn't consult with him, and instead just told him after she made up her mind.
"It just doesn't make sense to me that he would be so frustrated with Christine and be like, 'She just made this decision. We didn't consult, we didn't talk, she just made the decision,'" said Meri in the "Sister Wives" tell-all. Meri couldn't understand how he felt entitled to not only end his marriage to Meri but not even inform her about it. "Then he says, 'No, I don't consider myself married to Meri,'" she said. "Like, he just made the decision. I've never heard him say that to me."
Meri and Kody announced in January 2023 that they parted ways. In a joint statement on Instagram, they wrote, "After more than a decade of working on our relationship in our own unique ways, we have made the decision to permanently terminate our marriage relationship."