Bethenny Frankel's Latest Prince Harry And Meghan Markle Rant On TikTok Is Her Most Scorching Yet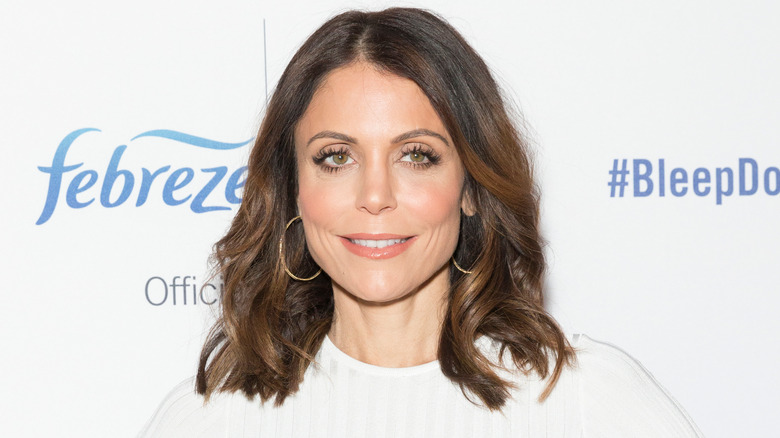 lev radin/Shutterstock
Bethenny Frankel is going after Prince Harry and Meghan Markle – again. The former "Real Housewives" star has taken to TikTok to share her latest thoughts on the Duke and Duchess of Sussex, and — spoiler alert — she's still not a fan. Frankel has been highly critical of the couple since they stepped down as senior members of the royal family and moved to the States in search of a more private life, one that they could live on their own terms. However, Frankel has given them the hairy eyeball for years. "How could someone botch something so badly?" Frankel wondered. "I almost feel badly, like, I think I do feel badly because I can't imagine having so much at your fingertips and letting it all slip away because of living inside your own head and thinking every single thing that you do and say and want is so fascinating that you should be accepting awards at podiums around the world. Why?" she added.
Frankel's comments come more than one month after Harry and Meghan's deal with Spotify came to an abrupt end and more than one week after their Netflix docuseries, "Harry & Meghan," was snubbed by Emmy voters. Frankel even made mention of the couple's claims that they were involved in a "near fatal" paparazzi car chase in Manhattan — and her opinions didn't stop there.
Bethenny Frankel has some advice for Prince Harry and Meghan Markle
In her TikTok, Bethenny Frankel suggested that Prince Harry and Meghan Markle should "go away for a long time." Harry and Meghan have found themselves making headlines more often than not since their decision to move to Montecito, California, and Frankel frankly can't understand it. Dozens of comments have amassed on the video, which is titled "The biggest BOTCH JOB ever," and most people seem to agree that Harry and Meghan should take a step back and live a private life with their kids, which is what everyone thought they wanted.
And while Harry may have done one thing right, judging by his wild success with his memoir, "Spare," Frankel wasn't a huge fan of that. "He could have named it 'Share' or 'Overshare.' ... Someone is under review at whatever company put that book out right now. That's not a good name for a book for that person," she said on an episode of the "Just B with Bethenny Frankel" podcast in November. Two months prior, Frankel let loose on Meghan specifically, on another episode of her podcast, calling her "sanctimonious" and "self-important," according to Entertainment Tonight. Perhaps Frankel will invite Meghan on her podcast to further discuss. We'll wait.