Insider Says Collin And Hannah Gosselin Have Sealed Their Fate With Estranged Siblings
Vice's "Dark Side of The 2000s" series has stirred up plenty of drama in the Gosselin family, the former stars of "Jon & Kate Plus 8." The TLC series followed Jon and Kate as they juggled life with their sextuplets, Hannah, Alexis, Aaden, Collin, Leah, and Joel, and their twin daughters, Cara and Maddy. When the pair divorced in 2009, Kate received full custody of the children. However, Collin and Hannah have lived with Jon since 2018 and have claimed that this is due to their mother severely mistreating Collin.
With that said, a source told Us Weekly that the docuseries has affected the already fraught relationship between Collin and Hannah and the other siblings. The source explained, "The kids who live with Kate haven't had much contact with Collin and his sister Hannah since they went to live with Jon [Gosselin]." They added, "It's safe to say they won't now after this doc."
The source also said, "[The other Gosselin siblings] don't want the attention or the fame" and that they find the situation embarrassing. According to The U.S Sun, Hannah appears to be occasionally in touch with her siblings. On the other hand, Collin has not talked to the rest of his siblings since 2016 and says that this is his mother's doing, per Page Six.
Kate Gosselin speaks out on her son's accusations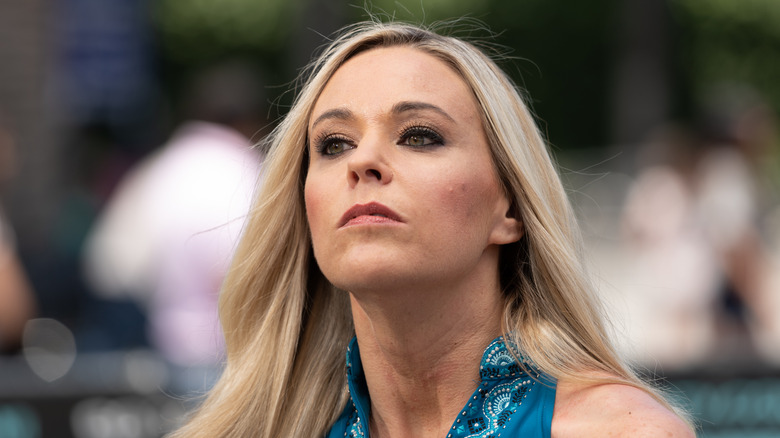 Noel Vasquez/Getty Images
In 2018, Jon Gosselin obtained custody of Collin and Hannah Gosselin. Hannah told Entertainment Tonight in 2022 that she chose to live with Jon because of "unfair treatment in my mom's house" and noted that she did not want to live away from her siblings but that it had to be done. Collin and Hannah delved deeper into this topic In "Dark Side of The 2000s". People reported that Hannah said Kate Gosselin treated Collin differently than the other children. According to Us Weekly, when Collin began speaking out at age 12 about what he referred to as abuse, Kate institutionalized him.
He also noted that he feels his mother damaged the relationship with his other siblings, saying, "I think my mom kind of drove a social barrier between us" (via Page Six). Before adding, "She told them the story one way, and, obviously, I see the story a different way." Despite this estrangement, Collin has expressed his desire to have a relationship with his siblings.
Kate released a statement shortly after the release of "Dark Side of The 2000s," explaining that she institutionalized Collin because he is mentally ill. She said, "His brothers and sisters and I have not been directly involved in his life due to his history of unpredictable behavior and violent tendencies towards us." As a result, Jon defended Collin against Kate, calling her statement untrue and further abusive.
If you or someone you know may be the victim of child abuse, please contact the Childhelp National Child Abuse Hotline at 1-800-4-A-Child (1-800-422-4453) or contact their live chat services.