Hallmark's Lacey Chabert Explains The Other Love Story In The Wedding Veil Trilogy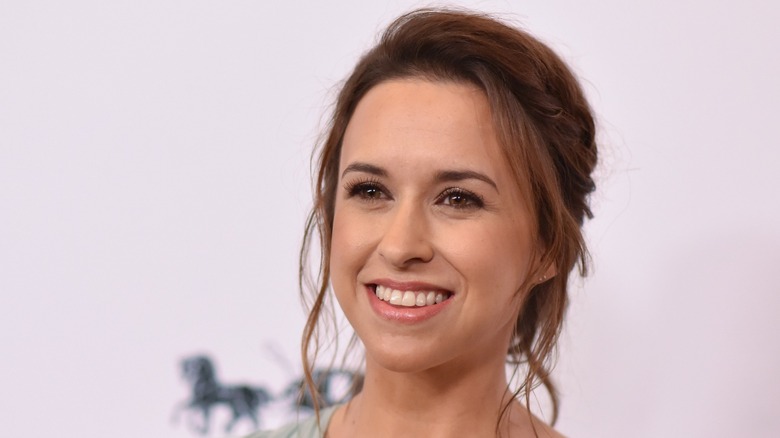 DFree/Shutterstock
Hallmark's "The Wedding Veil" movie series features two trilogies starring Lacey Chabert, Alison Sweeney, and Autumn Reeser. They play three friends who, with the power of a supposedly magical wedding veil, find true love. Chabert knows what makes her "Wedding Veil" movies resonate with women: the strong female friendship between the three main characters.
In January 2023, before the second trilogy premiered, Chabert — who acted in and executive produced each film in the series — sat down with Entertainment Tonight and discussed how exciting it was to do a new trilogy. Hallmark movies traditionally end with a kiss, so viewers only get a glimpse at the relationship between the protagonists. With three new movies, more of "The Wedding Veil" relationships and marriages get to be shown.
Chabert also explained how the film series explores more than just romantic love. "It's like we have the beautiful romantic storyline," she said, "but we also have this relationship and love story in and of itself between these three women and how they've always been there for each other, and they continue to be as they navigate life."
Chabert felt supported by her co-stars
The on-screen friendship between the women in "The Wedding Veil" also extends somewhat off-screen. In a live stream with the actors from "The Wedding Veil Journey" — Autumn Reeser, Alison Sweeney, Lacey Chabert, and Victor Webster — Chabert shared how nice it is to be in a Hallmark movie alongside fellow women actors who understand what it's like to star in a Hallmark romance movie. Chabert felt supported by her co-stars, adding, "And I've enjoyed sharing so many supportive conversations with you guys, and I've learned so much from you and watching you work, and it was always my dream for so many years on the network to be able to have a movie that I could share with, with you ... all of it has just been so special."
Chabert also spoke with Forbes about "The Wedding Veil" movies and said how she, Reeser, and Sweeney work well together: "We have a lot in common and yet, we also are different and really complement each other. ... I have felt so supported and loved by both of them. Getting to spend time together and ... getting to share a real adventure together has been really special. It's not something that happens every day."
Sweeney felt like she, Chabert, and Reeser had a strong bond
Alison Sweeney, who can't pick just one favorite Hallmark co-star, was excited when she, Lacey Chabert, and Autumn Reeser were called for another "The Wedding Veil" trilogy. "[Chabert] came up with this great idea," Sweeney told MediaVillage, "and I never imagined that it would have the future that it did. I really believed the fans would like it because sometimes you have that feeling when reading a script and are like, 'I would watch this!' Then you hope the fans will feel the same way."
Sweeney also told the outlet she felt like her friendship with co-stars Reeser and Chabert strengthened while filming the new trilogy. "There's such trust that we have with each other and confidence," Sweeney said. "We all have this lovely ebb and flow where we can support each other in the way we work and be there for each other."
Sweeney even mentioned how they all have ideas for new movies should another trilogy in "The Wedding Veil" series get picked up by Hallmark.