The Hallmark Movies Katrina Bowden Has Starred In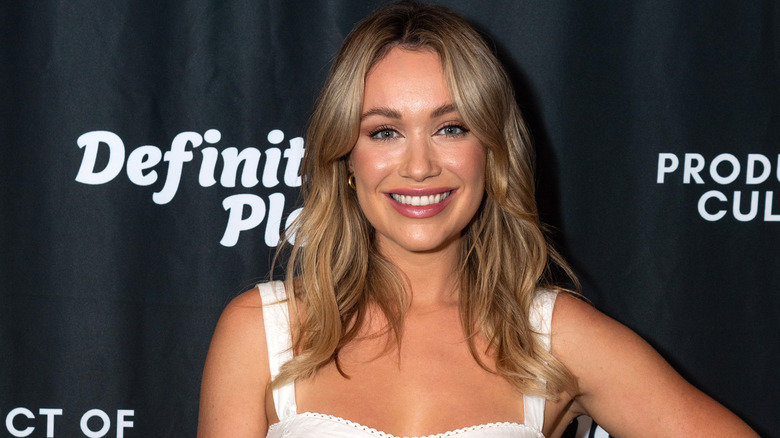 Amanda Edwards/Getty Images
Katrina Bowden is an American actor known for a variety of television roles including Cerie on NBC's "30 Rock," Fortune on TNT's "Public Morals," and Flo Fulton on CBS's soap opera, "The Bold and the Beautiful." However, if you're not a soap opera fan, but her face still looks familiar, chances are you've seen Bowden's appearances in the films, "Scary Movie 5," "American Reunion," or "Tucker and Dale vs Evil."
Bowden has also done some work in quite a few television movies including Lifetime's "Reckless Behavior: Caught on Tape," and "I Killed My BFF," both of which are mystery dramas and stretch her as an actor. From her array of performances, it's clear that her range is vast and lovers of all genres can recognize Bowden. 
But, if you're someone who loves to snuggle up to a wholesome Hallmark movie during the holidays, you probably recognize her from two sweet romance movies: "Love on the Slopes" and "The Most Colorful Time of the Year." And if you haven't seen them yet, this is why you should.
Katrina Bowden finds love on the slopes
If you haven't seen the 2018 Hallmark television movie, "Love on the Slopes" then you're totally missing out. It should be one of the most underrated Hallmark Christmas movies to add to your must-watch list this upcoming season. It stars Katrina Bowden (of course), Thomas Beaudoin, and Anthony Konechny. Since it's a Hallmark Christmas film, you can automatically assume that someone will discover the real meaning of Christmas and that there will be a love triangle. To be fair, the love triangle doesn't always happen in Hallmark flicks, but in the case of "Love on the Slopes," it does.
This holiday and soon-to-be Hallmark classic follows Bowden's character, Alex, who lives in New York City and works as a copy editor. Alex is sent out of her element to Ridgeline Resort, a made-up resort in Colorado, to curate a story for a writing competition. Being out of her comfort zone, she feels she's failing at everything Colorado has to offer, specifically in the realm of extreme sports. Despite her boyfriend — played by Konechny — back home in New York City, Alex makes a connection with Beaudoin's character, Cole, and he becomes her guide as she bravely confronts extreme sports head-on. 
Another love triangle in Most Colorful Time of the Year
Similar to the plot of "Love on the Slopes," "The Most Colorful Time of the Year" also features a love triangle, and Katrina Bowden's character, Michelle, does bring "color" — or Christmas spirit disguised — into the life of Christopher Russell's character, Ryan. This too, should be one of the best Hallmark movies to watch this Christmas because of its silly yet heartwarming storyline. 
The plot follows Michelle, a single mother and optometrist who's caring for her daughter Bailey solo after a break-up with her ex, Mark — though he's still trying to win her back. Bailey's teacher is Ryan, and Michelle comes to the school to give the kids eye exams. Ryan is colorblind but doesn't tell anyone, but Michelle has a sixth sense and keeps trying to test him to prove the fact. Furthermore, Ryan doesn't allow Christmas lights in the classroom because he finds them distracting, which creates a bah-humbug moment that Michelle can't help but fix by giving him color-changing glasses that allow him to see Christmas lights and sunsets in a whole new way. It becomes quite a colorful Christmas for the couple.