A Look At Martha Stewart And Donald Trump's Longtime Feud
Jamie Mccarthy/Getty Images
Martha Stewart has impressed us with some of her more surprising relationships. Who could have predicted that the early '90s queen of housekeeping tips like how to keep your oven clean would later bond with none other than West Coast rapper Snoop Dogg? However, there is someone, in particular, the OG homemaker isn't friendly with – Donald Trump.
It all began in late 2005 when the domestic darling Stewart was brought on to host a spin-off of "The Apprentice," Trump's business-based reality television show. Unfortunately, Stewart's hosting skills weren't as sensational as The Donald's, and the once successful program flopped. Not long after "The Apprentice: Martha Stewart" was canceled after a single season, Trump began blaming Stewart for his show's ratings decrease. Meanwhile, Stewart pointed the finger at Trump, telling Newsweek, "Having two Apprentices was as unfair to him as it was unfair to me." She maintained that Trump had agreed to let her "fire him" on camera so that her version would be the only one on the air.
In a scathing letter sent to Stewart and later retold to Newsweek, Trump disagreed, saying, "Your performance was terrible; I knew it would fail as soon as I first saw it." The former president even scrutinized Stewart's daughter, Alexis, who appeared with her on the program. Prior to the squabble over the show, Trump and Stewart were reported to have a friendly relationship. Stewart even said as much, noting, "The letter is so mean-spirited and reckless that I almost can't believe my long-time friend Donald Trump wrote it."
The feud eventually died down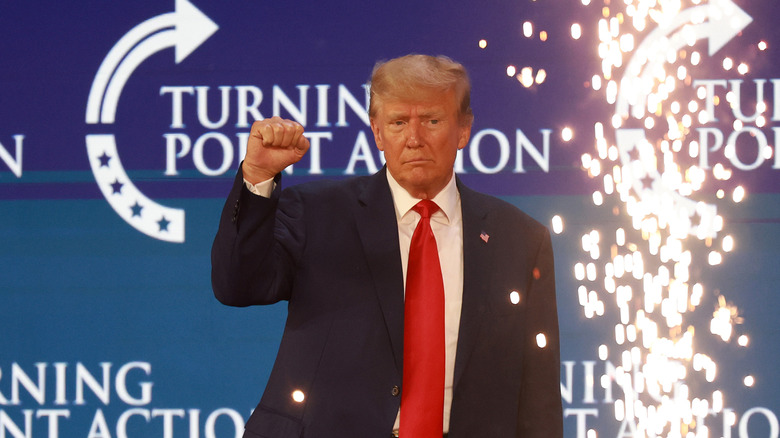 Joe Raedle/Getty Images
The feud seemed to fizzle, at least publicly, until the notorious businessman made a run for president in 2016. Martha Stewart was an outspoken supporter of Hilary Clinton, who opposed Donald Trump in the 2016 candidacy. It was also a prime opportunity for her to let the world know she still wasn't chummy with her former friend.
In a now-deleted Twitter picture, Stewart was snapped between two large portraits at Frieze Art Fair at Randall's Island Park in New York City in 2017, according to E! News. On one side of her was good pal Snoop Dogg, who she held up a "peace sign" for; on the other was Donald Trump, to whom she flipped the bird. An onlooker named Newlin Tillotson quickly grabbed the picture and posted it with the caption, "Was taking a pic of Trump and Snoop Dogg at Frieze and Martha Stewart walks up like this #america."
Stewart's pot-stirring surprised many who thought the former friends had smoothed things over. Especially after Stewart claimed to the Chicago Tribune that she sent a letter to Trump after his presidential win stating, "I sent my congratulations to the Trump family, and I think they have an opportunity — let's see how they do with it. I'm excited." Excited for the opportunity to see him fail, maybe...
Where do things stand today?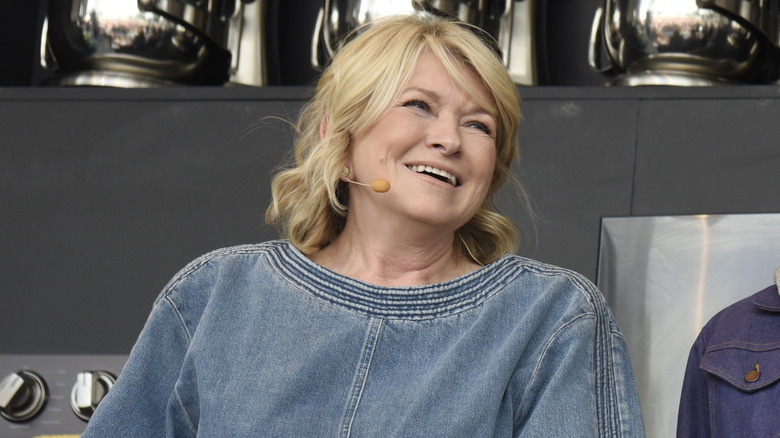 Tim Mosenfelder/Getty Images
It has been a little while since either of the television celebrities made a statement regarding their relationship. The last notable interaction came in 2018 when Donald Trump was reportedly considering pardoning Martha Stewart for her 2004 conviction regarding her insider trading scandal. She was formally accused of conspiracy and obstruction of justice. However, Trump told The New York Times, "Martha Stewart was harshly and unfairly treated; she used to be my biggest fan in the world ... before I became a politician."
Trump floated the idea of pardoning the domestic diva not long after firing FBI director James Comey who was instrumental in building the case against Stewart in 2003. Some believed this could have spurred his forgiveness of his once-friend. The pardon never happened under the Trump administration. On "Radio Andy," Stewart still maintained in 2020 that she was supposed to fire The Donald on her version of "The Apprentice" and fully take over the show. She continued, "I just think that Donald is not presidential material."
We think it's safe to say that although the feud between former president Trump and the female co-star of "Martha & Snoop's Potluck Dinner Party" isn't as fiery as it once was, it's definitely far from over.