The Real Meaning Behind Olivia Rodrigo's Vampire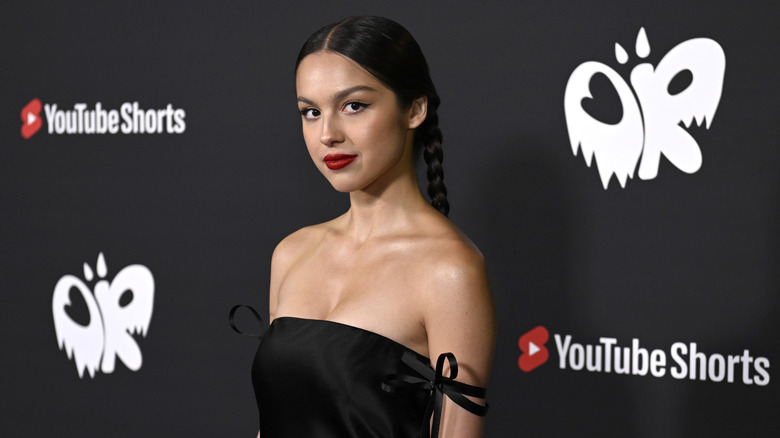 Timothy Norris/Getty Images
By now, pretty much everyone knows the rumored story behind Olivia Rodrigo's first album, "SOUR." She dated her "High School Musical: The Musical: The Series" co-star, Joshua Bassett. They listened to a lot of Billy Joel, harmonized, and shared strawberry ice cream before he left her for "that blonde girl," allegedly "Girl Meets World" actor Sabrina Carpenter. Although much of the story is still speculative, both Bassett and Carpenter (seemingly) responded with their own songs. 
"Maybe you didn't mean it / Maybe blonde was the only rhyme," sang the older Disney star in her hit single, "Skin." Meanwhile, Bassett wrote "Crisis," addressing all the hate he got after "Sour" started topping charts in 2021. It's all very musical and very messy. Now, Rodrigo's song "Vampire," the first release from her sophomore album, "Guts," seems to address another highly-personal story from the singer-songwriter's life. In the emotional piano ballad, she sings about a "bloodsucker," an older man that took advantage of her and "made [her] look so naive." 
Although the "Driver's License" singer hasn't publicly revealed who the lyrics are about, fans have pointed to two possibilities: Adam Faze and DJ Zack Bia, both men in their 20s that she dated while she was 18 and 19, respectively. On an episode of their podcast, "Cancelled," hosts Tana Mongeau and Brooke Schofield claimed with some degree of certainty that it's about their friend, Bia, citing clues in the music video (via TikTok).
Internet sleuths are brining out the receipts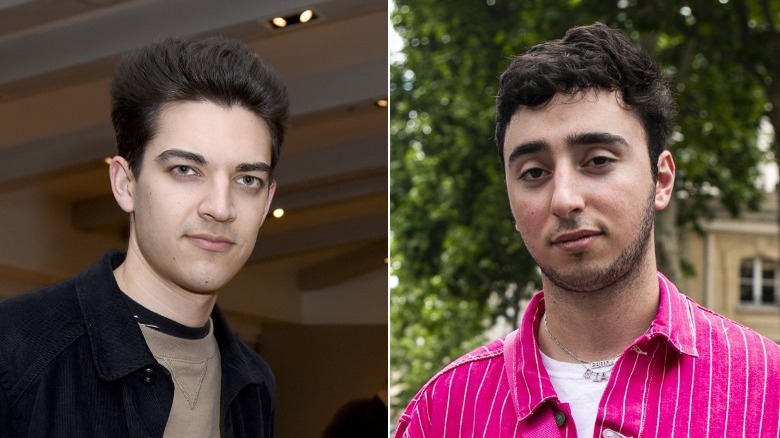 Vivien Killilea & Claudio Lavenia/Getty
After Olivia Rodrigo and her co-star, Joshua Bassett, broke up, she started dating producer Adam Faze. They made things official in late June 2021 at the "Space Jam 2" premiere, exactly two years before Rodrigo released "Vampire." Coincidence? Given the six-year age gap (Rodrigo was 18 and Faze 24 at the time) and their six-ish-month-long relationship, some fans are convinced the titular bloodsucker is none other than Faze. "[T]hats crazy that olivia rodrigo and adam faze were 'confirmed' official on june 29th 2 years ago at the space jam event at universal and she released vampire today on JUNE 29TH," tweeted one of the internet's numerous part-time detectives. 
However, according to an anonymous friend, "The song isn't about Adam Faze," as they told People. There's another option, of course. In early 2022, Rodrigo started going out with DJ Zack Bia, dating him until August, when an insider confirmed to Life & Style, "They were casually dating but haven't spent time together in a while," adding, "There were no issues. They both have different work schedules and different friend groups." 
As a result, one fan  speculated on Twitter: "Gotta be [Zack Bia] because he's notorious for dating famous girls and also works in the la party scene hence only coming out at night and being a vampire." Another agreed, "Definitely Zack Bia," adding that they dated for around six months, which would align with the lyric "Six months of torture."  
Olivia Rodrigo has discussed the therapeutic benefits of songwriting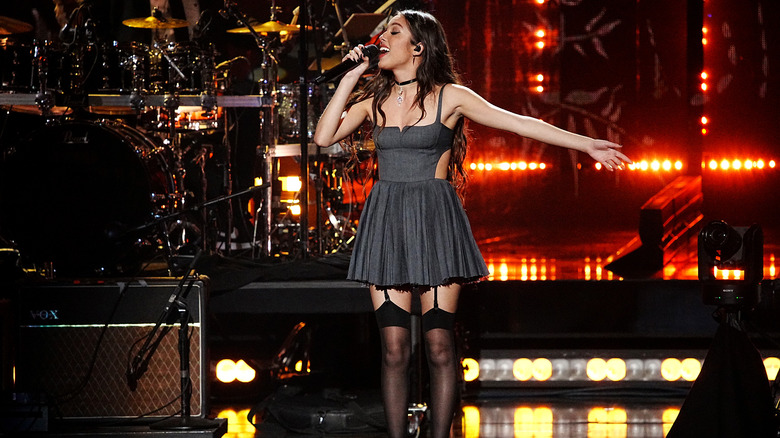 Jeff Kravitz/Getty Images
More so than anything, Olivia Rodrigo sees songwriting as a chance to express her emotions. "Whenever I'm feeling upset, I go to the piano. I go to the piano before I call a friend," she told Nylon, adding that she considers herself a "super specific songwriter." Rodrigo continued, "I think the most impactful songs are specific. Broad storytelling just isn't fun in any art medium ... And lots of the time, people will fill in the blanks with details from their own life. If they don't want to, they can fill it in with details of my life." 
In other words, whether you listen to "Vampire" with Rodrigo's dating history in mind is up to you — you can also connect it to your own memories of lost innocence. "As long as the song means something to you, it's all good," the former Disney star pointed out. Of course, Rodrigo is just one in a long line of pop stars who've written about their vulnerable younger years in the music industry. 
Demi Lovato's song "29" (allegedly) references their six-year relationship with Wilmer Valderrama, who is 12 years Lovato's senior. Taylor Swift wrote "All Too Well" about her tumultuous time with actor Jake Gyllenhaal — he was 29 and she was 20 when they started dating. Although Rodrigo's story is not uncommon, that doesn't make "Vampire" any less meaningful. We'll sing along to a ballad about bloodsuckers any day.