Jill Biden's Ex-Husband Fires Off Harsh Claims Against The First Family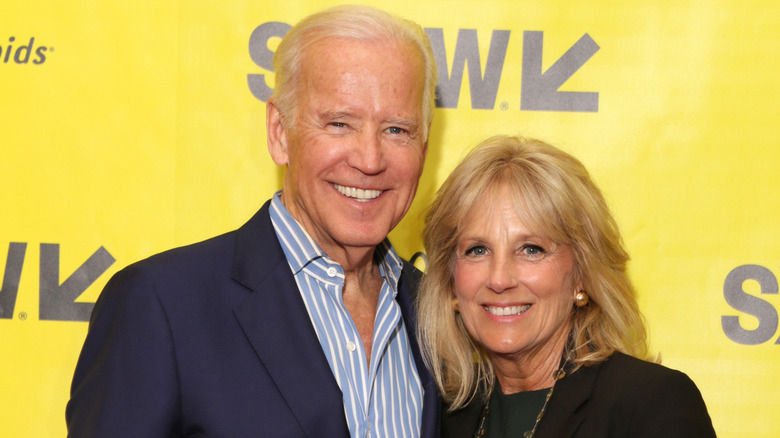 Mindy Best/Getty Images
First lady Jill Biden was a young college student in 1969 when she met University of Delaware football player Bill Stevenson. They walked down the aisle just six months later — it was young love. "Jill, I met on the beach in Ocean City, New Jersey, in August of 1969. Sure, I fell in love with her." Stevenson told Inside Edition. By 1974, Jill's first marriage was in shambles. She and Stevenson divorced by 1975. "I believed so much in the institution of marriage," the first lady revealed to Harper's Bazaar in 2022, adding, "When the marriage fell apart, I fell hard because of that."
In the decades since his split from Jill, Stevenson hasn't hesitated to critique the first family. In a 2023 interview with the conservative site Newsmax, the former football player claimed the so-called "Biden crime family" has been targeting him for years. "I got on the wrong side of the Biden family, and they have literally come after me for 35 years in a row," he shared, comparing his situation to Donald Trump's. Joe Biden's brother, Frank, allegedly approached Stevenson with a threat after he divorced Jill. "And [Frank] goes, 'Give her the house, or you're going to have serious problems,'" Stevenson said. "I looked at Frankie, and I said, 'Are you threatening me?' and, needless to say, about two months later, my brother and I were indicted for that tax charge for $8,200."
This isn't the only allegation Bill Stevenson has thrown at the Bidens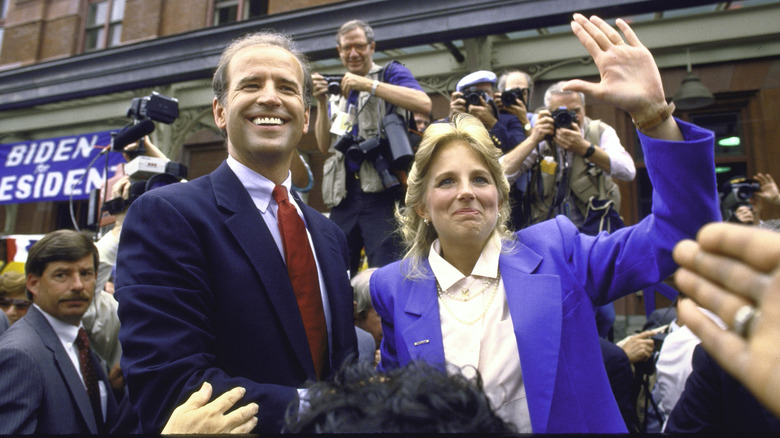 Cynthia Johnson/Getty Images
According to Bill Stevenson, Joe Biden is responsible for the federal fraud charge directed his way. What's more, Stevenson claims the president also had an affair with his now ex-wife. According to the Trump-supporter, he introduced the future first couple in 1972, "right before the [Senate] election," per the Daily Mail. He hosted a fundraiser for the politician at his popular Newark event venue, The Stone Balloon. Stevenson says he started suspecting something was going on between Joe and Jill in 1974. "It's years ago, but guess what — it's so current right now. Because [President Joe Biden] is picking on people about character," said Stevenson, claiming there are "no hard feelings."
Dr. Jill Biden's team has dismissed these allegations. "These claims are fictitious, seemingly to sell and promote a book. The relationship of Joe and Jill Biden is well documented," a spokesperson reported, per Inside Edition. According to the first lady, she connected with her second husband on a blind date in 1975. "I was a senior [in college], and I had been dating guys in jeans and clogs and T-shirts. He came to the door, and he had a sport coat and loafers, and I thought, 'God, this is never going to work, not in a million years,'" she joked with Vogue in a 2016 interview. Despite their 10-year age gap — and Jill Biden's outspoken ex-husband — the pair made it work. They've been happily married for almost half a century.
Stevenson accused Joe of stealing more than just Jill from him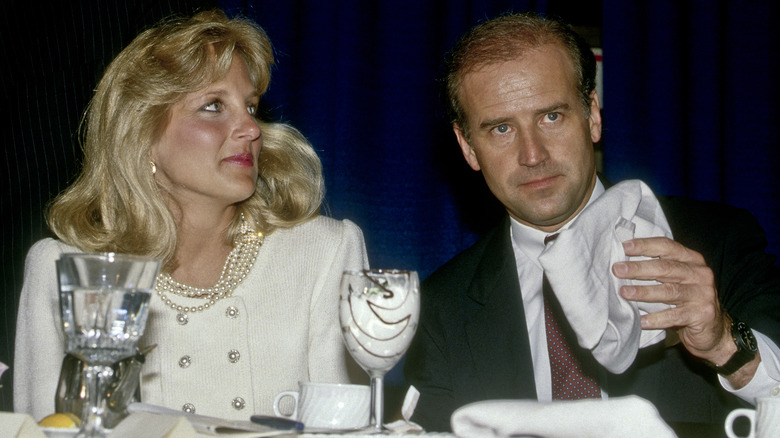 mark reinstein/Shutterstock
Despite Jill Biden's team saying otherwise, her ex-husband, Bill Stevenson, has not backed down on his accusations that the first lady cheated on him. Stevenson claims that the betrayal hurt even worse because he and Joe Biden were actually friends at the time of the supposed affair, throwing a question mark behind the president's claims that he and Jill originally met through a blind date.
In an interview with the Daily Mail, Stevenson stated that he and Jill, whom he was married to at the time, were working with Biden on his run for senator in Delaware. "Jill and I sat in the Bidens' kitchen. We worked on his campaign," Stevenson reminisced. "I gave $10,900 to his first campaign — in cash." A friend of theirs told Stevenson that Joe and Jill were "getting a little too close" after witnessing Jill babysitting Hunter and Beau, Stevenson revealed.
But Jill isn't the only part of Stevenson's life that he says was stolen by the POTUS. He also claims that in 1972, Joe recycled a funny anecdote from Stevenson's childhood, repeating the joke to their other friends just minutes after Stevenson originally told it ... and right in front of the original storyteller. Stevenson told the New York Post: "I just stared at him in shock. He just acted like it was his own story. I just told myself, 'This must be what politicians are like.'"