Joe And Jill Biden's Relationship Timeline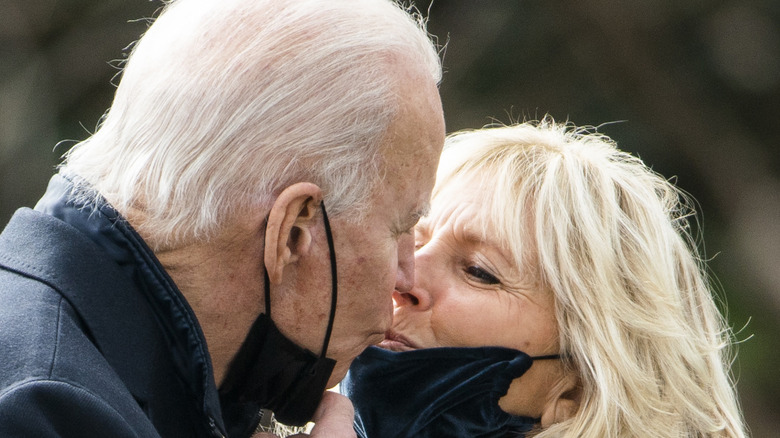 Bloomberg/Getty Images
President Joe Biden and First Lady Dr. Jill Biden will celebrate their 44th wedding anniversary on June 17. While they were on the campaign trail Joe frequently introduced himself as "Jill's husband" and Jill made headlines when she fought off protesters who stormed the stage during her husband's Super Tuesday speech (via The Washington Post).
When Joe Biden met Jill Taylor Jacobs in 1975, he had recently suffered a horrific loss — his wife and daughter died in a car accident in 1972 (via Insider). Their two young sons, Hunter and Beau, survived. Jill was 24 when she met her future husband. At the time she was a senior in college and had recently finalized a divorce from her first husband.
In a 2016 interview with Vogue, Jill recalled their first date. "I was a senior, and I had been dating guys in jeans and clogs and T-shirts, he came to the door and he had a sport coat and loafers, and I thought, 'God, this is never going to work, not in a million years.' He was nine years older than I am!" she said. "But we went out to see 'A Man and a Woman' at the movie theater in Philadelphia, and we really hit it off. When we came home ... he shook my hand good night ... I went upstairs and called my mother at 1 a.m. and said, 'Mom, I finally met a gentleman.'"
Joe Biden proposed five times before Jill said yes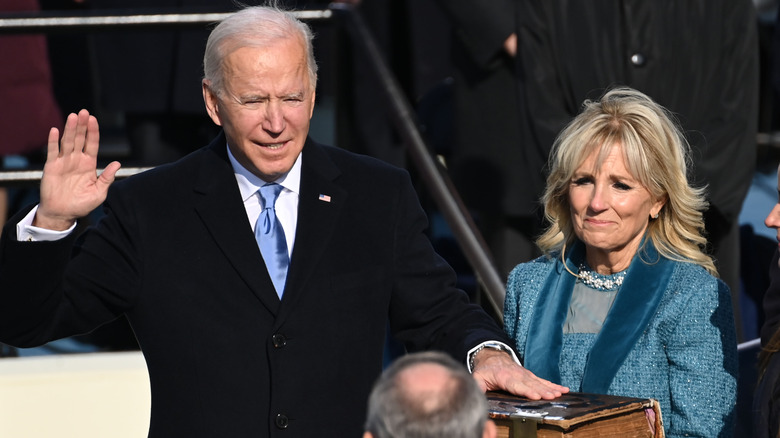 Pool/Getty Images
It took five proposals before Jill said yes — but she had an understandable reason. During her interview with Vogue, she explained she had "fallen in love with the boys" and needed to feel 100% confident that the marriage would work. "[T]hey had lost their mom, and I couldn't have them lose another mother," she said.
The boys loved her, too; in fact, Joe says that when Hunter and Beau were ages 6 and 7, they brought up the idea that the family should marry Jill (via The Knot).
The Bidens married on June 17, 1977, in a small ceremony with about 40 guests. Beau and Hunter stood by their sides at the altar and accompanied them on their honeymoon (per Vogue). In 1981, Joe and Jill's daughter, Ashley, was born.
The pair have been by each other's sides for the highest highs and the lowest lows. When Jill earned her PhD in 2007, Joe was the one to hand her the diploma, per Insider. In 2015, Beau died from brain cancer and the pair navigated the heartbreaking experience together.
When Joe won the presidency in 2020, he spoke of Jill in his victory speech. "For America's educators, this is a great day: You're going to have one of your own in the White House, and Jill is going to make a great first lady," he said. In January, she held the family's Bible as Joe was sworn in as president.