The Duchess Of Kent: 10 Facts About A Royal Who Was Never A Fan Of The Spotlight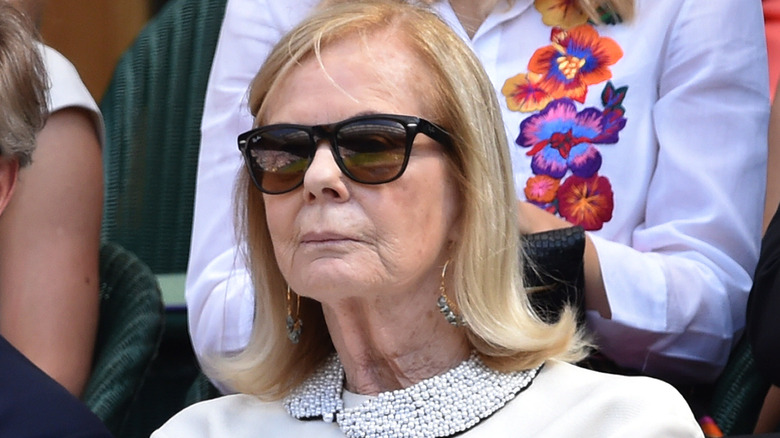 Karwai Tang/Getty Images
When you're born a royal, you're not exactly given the choice as to whether you want to stay out of the spotlight or not. Depending on where you are in the pecking order, your life might be on display in tabloids across the world. Senior members of the family have it worse than the likes of Zara Tindall, who has managed to live a relatively normal life. On the flip side of this, if you marry into the family, then you're expected to sacrifice the normalcy you once knew to undertake a life of public service. It's all part of the gig — but what happens when the spouse decides they don't want to play ball? 
Katharine, Duchess of Kent, may have married Queen Elizabeth II's cousin, Prince Edward, Duke of Kent, but when it came to being a royal wife she reinvented the wheel, tearing up the rulebook to make her own path. Katharine has managed to shun the spotlight to follow her own passions for the past few decades. 
Although she isn't one of the most prominent royals by a long stretch, Katharine's tale proves that it's possible to be part of the formidable House of Windsor while still flying under the radar and living out your own dreams. It can't have been easy, so how did she do it, and did she rattle any cages along the way? Let's find out. 
Katharine, Duchess of Kent married Queen Elizabeth II's cousin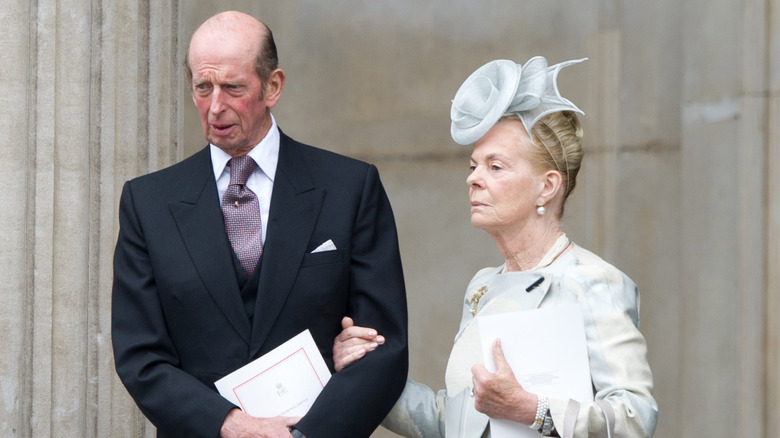 Adam Jacobs/Getty Images
Katharine, Duchess of Kent became part of the royal inner circle when she married Prince Edward, Queen Elizabeth II's cousin, in 1961. Marrying a royal is enough to buoy anyone's position in high society, but Edward wasn't just your run-of-the-mill cousin to the queen. His royal lineage is incredibly strong because he has royal blood on both his mother's and his father's side, not just from Britain but from all across Europe.  
Edward's father was none other than Prince George, who was the son of King George V. Two of his father's brothers were kings, with King Edward VIII famously abdicating the throne to marry divorcée Wallis Simpson in 1936, making his younger brother George the next monarch and shifting the entire line of succession completely. That bloodline is impressive by itself, but so is that of Edward's mother, Princess Marina of Greece and Denmark. 
Princess Marina's mother was Princess Elena, who married Prince Nicholas of Greece and Denmark, but she was already the daughter of royalty herself prior to her marriage because she was the daughter of Grand Duke Vladimir Alexandrovich of Russia. It's certainly a tangled web, but it goes to show just how much these institutions are part of Katharine's marital family history — and why her future decision to give it all up was so surprising. 
The Duke and Duchess of Kent's wedding broke tradition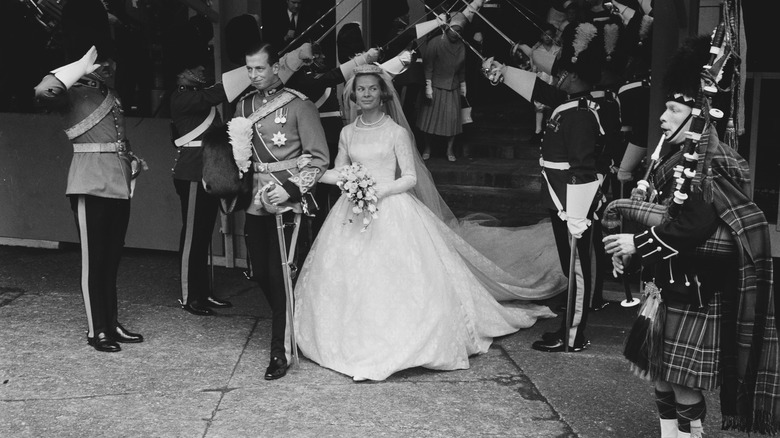 Evening Standard/Getty Images
Royal weddings have been a cause for celebration for centuries. Not only are they important cultural events that can alter the course of history, but they are also usually full of pomp and circumstance. Many royals choose to get married at the biggest churches in London, such as Westminster Abbey or St. Paul's Cathedral, but when Katharine, Duchess of Kent, and Prince Edward, Duke of Kent, tied the knot in the swinging '60s, they did away with that tradition. 
Instead of getting married in Britain's capital, Katharine opted to have her nuptials up north in Yorkshire, where she was born. Her venue of choice was York Minster, a stunning seventh-century building that is certainly grand enough for a duke and duchess, even if it's rarely used for such occasions. The location likely held particular significance for the couple because their romance had also blossomed in Yorkshire during Edward's time in the military.
The wedding itself was the epitome of '60s chic, with Katharine wearing a stunning white dress designed by John Cavanagh. Of course, a royal wedding outfit wouldn't be complete without a tiara to top it off. Katharine's piece was borrowed from her mother-in-law, Princess Marina, and previously belonged to Queen Mary. As for her hair, the duchess wore it in a short bob style that was very popular in that era, thanks to the likes of Jackie Kennedy and other original influencers. 
She lives at Kensington Palace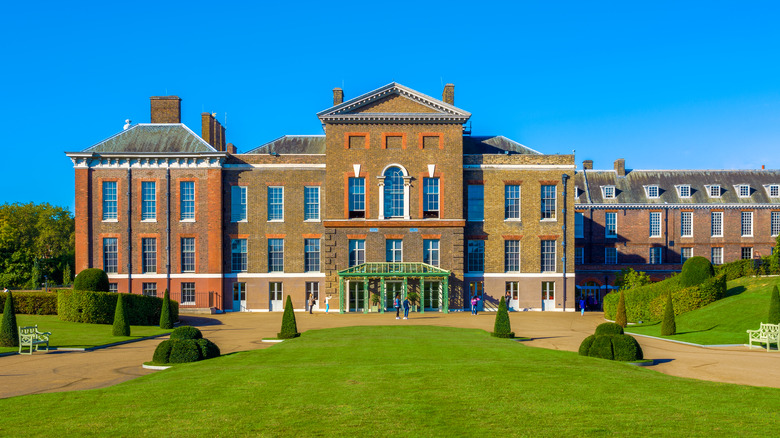 Victorhuang/Getty Images
It's easy to assume that only the most senior royals get to live in Britain's palaces, but that isn't the case. After all, every member of the family needs to be secure, so living in an ordinary terraced house in a London suburb wouldn't do. And let's face it, the Windsors aren't short on space. Multiple royals past and present have called Kensington Palace home. It was the birthplace of Queen Victoria, Princess Catherine and Prince William maintain an apartment there, and it continued to be Princess Diana's home after her divorce from King Charles III. 
Katharine, Duchess of Kent, and Prince Edward, Duke of Kent, also live on the grounds — though their choice of abode isn't a sprawling apartment, but a modest property called Wren House. While nowhere near as grand as some other properties owned by the Crown, Wren House is still big enough for the duke and duchess to accommodate their grown-up children if they ever come to stay. Boasting five bedrooms, the cottage-style property is grand enough to be notable while also maintaining a sense of normalcy. 
As for history, the house isn't short on that, either. Before it became a home for members of the House of Windsor, it was actually staff accommodation. One imagines that the interior has probably changed a lot since then, but the Kents like to keep their home away from prying eyes, so we may never know for sure! 
Katharine, Duchess of Kent comes from an aristocratic background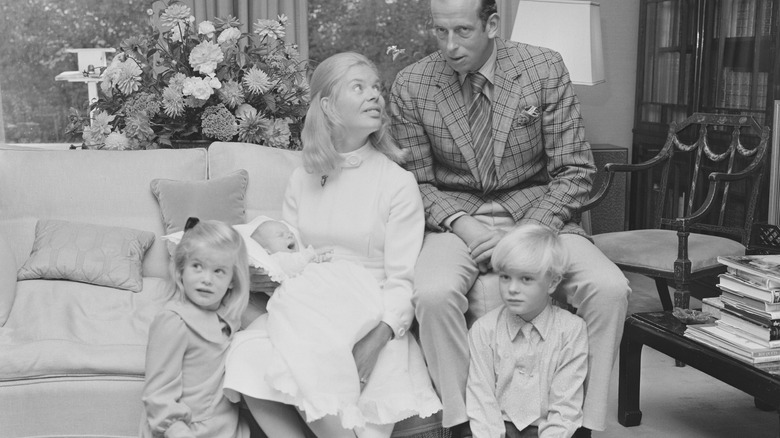 Evening Standard/Getty Images
Katharine, the Duchess of Kent may have a royal husband, but she didn't come from a normal background, either. While she wasn't born a royal, Katharine grew up in high society because her father was Sir William Worsley, 4th Baronet. As such, her childhood was inarguably charmed because she grew up at Hovingham Hall, a sprawling estate in Yorkshire's gloriously green countryside. 
Though Katharine may have left Hovingham Hall long ago, her family still owns the impressive property. Currently, her nephew (also named Sir William Worsley) is overseeing the management of the historical wonder, having taken over from his father. And sitting on 3,000 acres of land as it does, this is certainly not a task for the faint of heart. It isn't just the hall itself that needs to be maintained and looked after but also the multiple residences that sit on the property, making the day-to-day running of Hovingham Hall a gargantuan task. 
At the time of his inheritance in 2013, Worsley made it clear that the estate would remain a family treasure, telling Gazette & Herald: "We have been landowners for 1,000 years, and I see my role as being one of stewardship. The estate is a focus for the family and the community. It is not mine to sell but to keep going as a family estate." Katharine may not be part of Hovingham's future, but she is certainly an integral part of its past. 
She made history by converting to Catholicism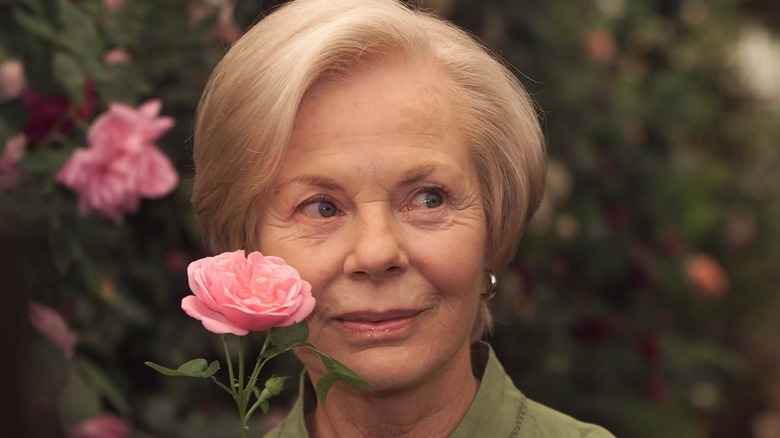 Colin Davey/Getty Images
In Britain, the monarch is named the "Defender of the Faith and Supreme Governor of the Church of England," and kings and queens have taken their duties with the church very seriously for centuries. Prior to a change in the law in 2015, the future monarch could not marry a Catholic, which may come as a surprise. However, the monarch themselves must adhere to the Church of England religion, and the royal family is also expected to follow the same Christian values — which is why it was surprising when Katharine, Duchess of Kent, decided to march to the beat of her own drum and convert to Catholicism in 1994.
While such a change may be more accepted now, at the time, Katharine was the first Catholic member of the royal family in three centuries. Her change of heart came later in life (the duchess was 60 at the time), prompting many news outlets to report on it. While the declaration may have seemed controversial to some Christians, Catholics praised her to the hilt, with Cristina Odone, editor of the Catholic Herald telling the Independent: "I am beginning to believe that there really is a conversion of England underway, and unseen powers are at work here."
Cardinal Basil Hume, who performed the ceremony, said in a statement, "The Duchess of Kent's decision to become a Roman Catholic is a purely personal one."
The Duchess of Kent stepped away from royal life to teach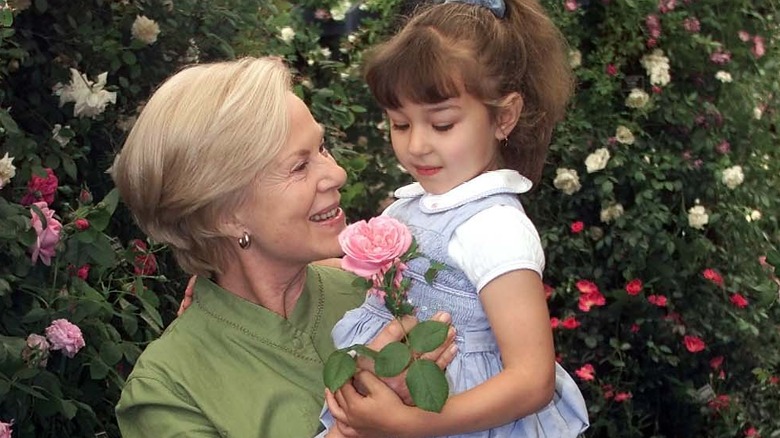 Colin Davey/Getty Images
It isn't easy for a royal to give it all up and forge their own path. When Prince Harry and Meghan, Duchess of Sussex decided to step back from their royal duties in 2020, it created a media firestorm. However, Katharine, Duchess of Kent was in a much better position to change her life for multiple reasons. For starters, the year was 2002 and social media had yet to become the ravenous beast it is today. She was also a less senior royal, making her choice to do away with the HRH title slightly less taboo. It wasn't totally easy for her, either, with some media outlets suggesting that the move was less out of personal choice and more because she was having a mental health crisis.
Amazingly, Katharine didn't just retire to live a quiet life. She taught at a primary school in Hull for over a decade, flying under the radar. As Katharine told the Telegraph, "Only the head knew who I was. The parents didn't know and the pupils didn't know. No one ever noticed. There was no publicity about it at all — it just seemed to work." 
The duchess taught music to the youngsters, commuting like any regular worker on the train from London to Hull once a week. What did Queen Elizabeth II make of it all? "The Queen said: 'Yes, go and do it,' so I did."
She loves Eminem (yes, really)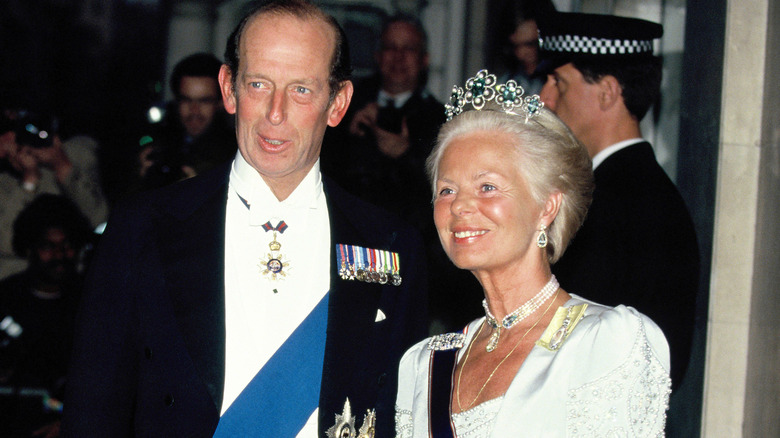 Georges De Keerle/Getty Images
When one thinks of the type of music royals listen to, it's a little bit hard to think of them listening to anything other than classical, highbrow music. After all, it's usually the only sort of music we hear at big royal events like coronations and funerals. It's easy to forget, but at their core, royals are humans too, with different tastes and preferences just like the rest of us. It's rare we get a real insight into what the royals have on their playlists, but that said, Katharine, Duchess of Kent, certainly surprised many (if not everyone) when she let her music taste be known during her interview with the Telegraph in 2022. 
When asked who she was listening to by the reporter, Katharine admitted that she liked rap music and was particularly fond of American maestros Eminem and Ice Cube. However, when asked if she liked Kanye West or Stormzy, she was a solid "No." The duchess finished the subject by saying: "My husband likes music but very serious music. I'll listen to anything. I even like beatboxing."
At the grand age of 90, the thought of Katharine bopping along to "Lose Yourself" is enough to make anybody smile with glee. If you can't listen to what you want at that age, then when can you?
The Duchess of Kent founded a charity that focuses on music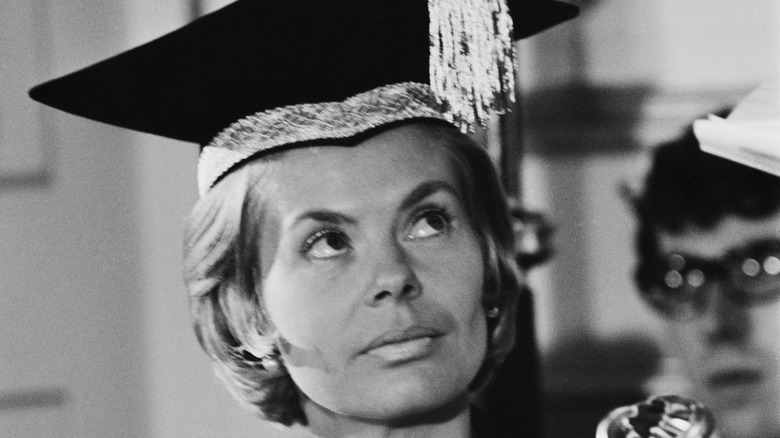 Terry Fincher/Getty Images
Katharine, Duchess of Kent has had a passion for music her entire life, choosing to study it academically. She has held the positions of president of the Royal Northern College of Music and director of the National Foundation for Youth Music in the past, in addition to her teaching. She even studied the art at one of Britain's most prestigious schools, Queen's College in Oxford. However, when she married Prince Edward, Duke of Kent, music took a back seat as she began life as a working royal. Perhaps one of her most interesting musical accomplishments came in 2004 when she founded the charity Future Talent.
It was while working as a primary school teacher in Hull after retiring from royal life that the idea for Future Talent came about. According to the charity's website, "[Katharine] saw firsthand how low parental expectations, financial instability, and limited guidance combined with lack of opportunities for the musically gifted child in state education meant that countless young people were missing out on a career in music. Something had to be done!"
All these years later, the initiative is still going strong, helping to "break down barriers, create opportunities, and harness the power of music to transform lives across the U.K."
She didn't attend King Charles III's coronation nor Queen Elizabeth II's funeral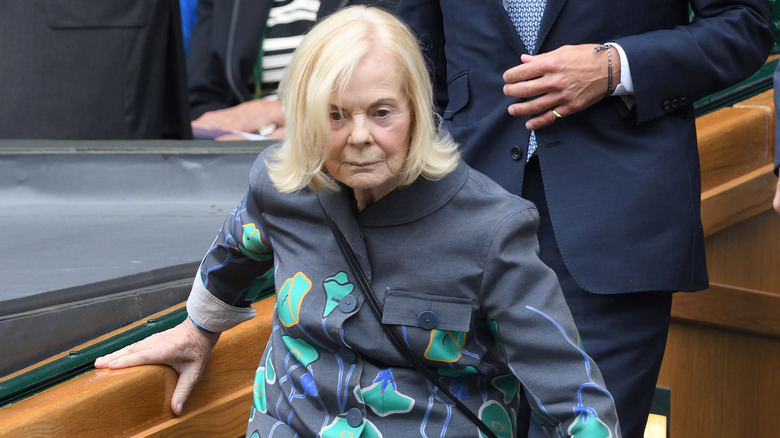 Karwai Tang/Getty Images
When you get to the grand old age of 90, it's only natural that you may not be quite as inclined to leave the house. Even so, some may think that Katharine, Duchess of Kent, should have made an exception and attended the funeral of Queen Elizabeth II in 2022. Katharine has always spoken highly of the queen, recalling her support for her decision to teach in an obscure primary school, but though her husband was there to represent the Kents for the monarch's final journey, Katharine was notably absent. Interestingly, Prince Edward, Duke of Kent, also walked behind the coffin of Elizabeth's father, King George VI.
She has not made the reason she didn't attend public, nor has she for the reason she didn't go to King Charles III's coronation. But when you get to that age, you're under no obligations from anyone. Katharine did manage to enjoy a rare jaunt to St. James' Palace in June 2023 when a portrait of herself was unveiled. It was something of a family affair, with her daughter, Lady Helen Taylor, doing the honors while Katharine's husband, the Duke of Kent, was there by her side to celebrate their 62nd wedding anniversary.
Katharine, Duchess of Kent isn't shy when it comes to fashion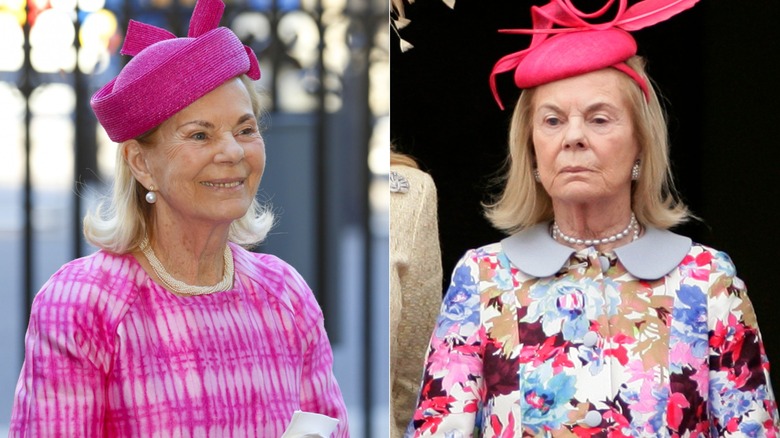 Max Mumby/indigo & Max Mumby/indigo/Getty
Royal fashion is among royalists' most discussed topics. The media is constantly running stories about Princess Catherine's best fashion moments, or which designer Meghan, Duchess of Sussex is wearing. Some royals prefer to play this safe, but Katharine, Duchess of Kent, isn't one of them. Prince Edward's wife loves to play around with color and has been spotted wearing daring outfits on more than one occasion. If you'll be seen by thousands of people, you may as well have fun with it. 
Some may argue that older royals should go down a more demure route, but that isn't Katharine's style. In the past, her best looks have ranged from bright pink patterns and bold florals (see above) to floor-length pink polka dot gowns and vivid blue coatdresses. It seems like Katharine took a leaf out of Queen Elizabeth II's lavish outfits style book by favoring colorful apparel over muted colors. 
Even though the duchess is rarely seen in public these days, when she does step out, she still exhibits the same flare she always has since entering the public eye back in the swinging '60s. Katharine may have shied away from the spotlight, but she still knows how to turn heads, no matter the event.