Joe Biden Finally Acknowledges Granddaughter Navy After Apparent Snub Made Waves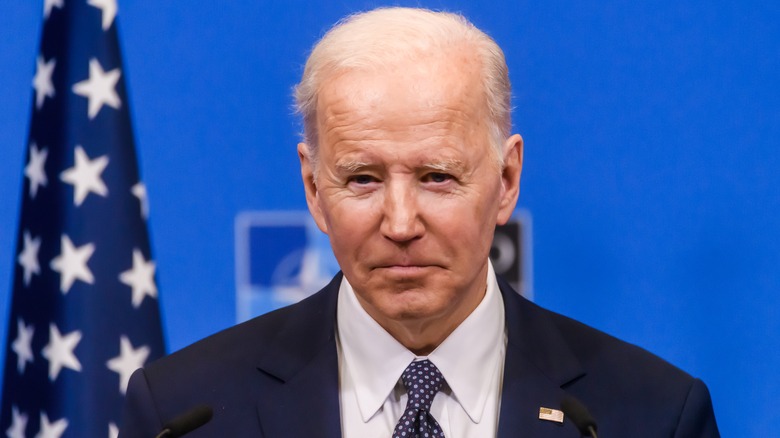 Gints Ivuskans/Shutterstock
President Joe Biden's son Hunter Biden has been the subject of much drama and speculation over the years. In 2021, Hunter publicly shared heartbreaking details of his addiction battle. Along with his personal problems, Hunter and his business dealings have been under federal investigation, and by 2023, the investigation wrapped up with charges for two misdemeanor counts of failing to pay his taxes and a felony count for gun possession with the latter charge stemming from Hunter owning a gun while knowing he was a drug user. But that isn't the only time that he's been in legal trouble.
Hunter was sued in 2019 by Lunden Roberts from Arkansas over proof of paternity and child support for her daughter Navy Roberts. And despite his denials at the time, later that year, it was confirmed that Hunter was in fact Navy's father.
That would make President Joe Biden grandfather to Navy, but he hasn't publicly talked about having a seventh grandchild — until now. Joe released a statement about Navy, which read: "Our son Hunter and Navy's mother, Lunden, are working together to foster a relationship that is in the best interests of their daughter, preserving her privacy as much as possible going forward," per People.
If you or anyone you know needs help with addiction issues, help is available. Visit the Substance Abuse and Mental Health Services Administration website or contact SAMHSA's National Helpline at 1-800-662-HELP (4357).
Joe Biden's family-man image was under threat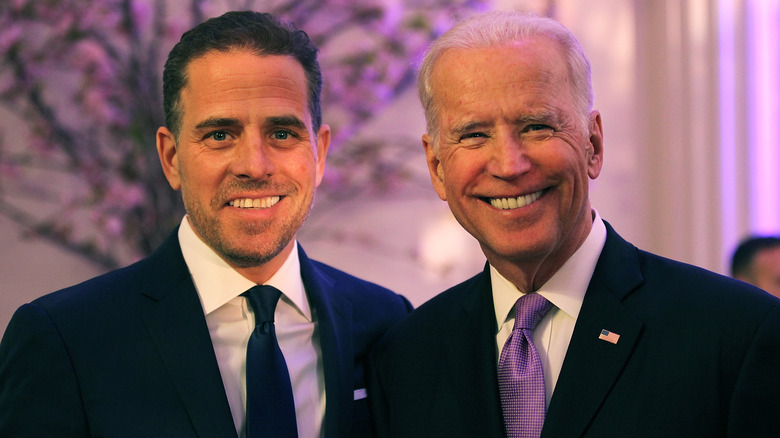 Teresa Kroeger/Getty Images
President Joe Biden is hoping the situation surrounding his son Hunter Biden and his granddaughter Navy Roberts remains private. "This is not a political issue, it's a family matter. Jill and I only want what is best for all of our grandchildren, including Navy," Joe said in his statement to People. This confirmation of Navy as his granddaughter is an apparent turnaround; in July 2023, The New York Times reported that aides for the president had previously been told to say that Joe and Jill Biden had just six grandchildren, leaving out Navy.
Joe not publicly acknowledging Navy as his grandchild definitely irritated some, like Meghan McCain who claimed that Joe had reached a new low by not admitting Navy was his granddaughter. Being a family man has been a part of Joe's image — Hunter revealed that Joe calls his family from the White House every night — and not openly talking about Navy was proving problematic in maintaining that family-man image.
It might be that Joe was waiting until the legal issues had been worked out between Hunter and Navy's mother Lunden Roberts. At the end of June 2023, that seems to have been finalized with Hunter agreeing on a child support amount and Lunden agreeing to not change Navy's last name to Biden. Hunter will also be giving Lunden some of his paintings to sell to support Navy — Hunter's paintings have sold for up to half a million dollars.