Why Ivanka Trump Rarely Spoke Out Against Her Father While He Was President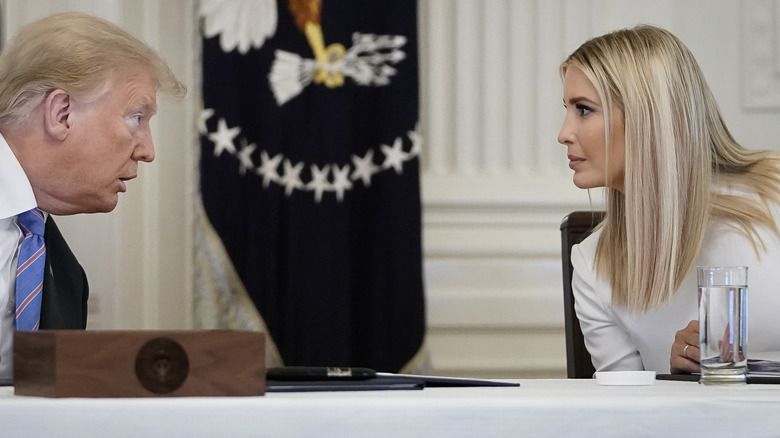 Drew Angerer/Getty Images
The world knew her as a real estate mogul's daughter, a fashion brand, a model, and a reality show judge, but no one knew Ivanka Trump would ever hold a high-level position in the White House. Yet in 2017, then-president Donald Trump (aka Dad) brought her into his administration as his assistant. Ivanka clearly wasn't in it for the money. Even though she had shuttered her jewelry and apparel brand — no doubt a big loss of revenue — when she took the job, she opted not to receive what could have been a six-figure salary. Her husband, Jared Kushner, had also accepted an unpaid senior advisor position shortly before she did.
Reporting the news of Ivanka's new federal job, The New York Times noted, "The announcement on Wednesday amounts to the formal recognition of the value Mr. Trump places on the judgment and loyalty of both his daughter and his son-in-law" — emphasis on "loyalty." As Trump has proved on numerous occasions, he has no time or patience for anyone who fails to have his back 24/7. While other members of his one-term administration came and went, Ivanka's position stayed secure. Yes, being the president's daughter had a part in it, but Ivanka also took care not to appear critical of her father. On the rare occasions she publicly disagreed with him, such as admitting the president's controversial border family-separation policy was a "low point" for him, it made the news (via CBS News). But despite the criticism Ivanka got for it, she opted for the diplomatic route.
Ivanka Trump wanted to be a good teammate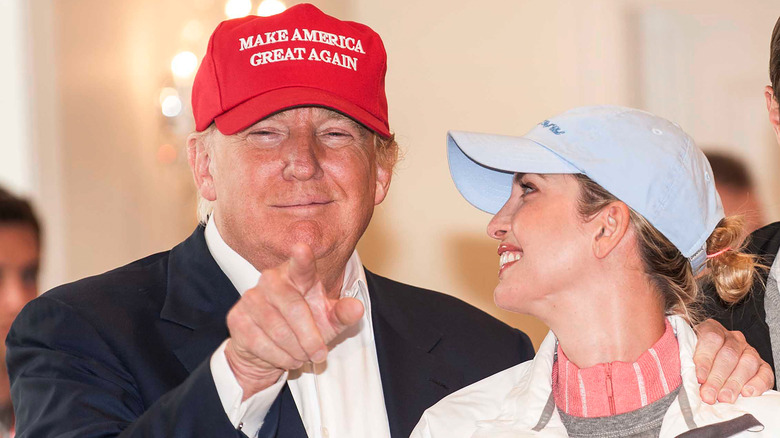 Christian David Cooksey/Shutterstock
Daughters have been at odds with their fathers since the first Cro-Magnon man told his teen daughter her bearskin tunic was too short. So it is with Donald and Ivanka Trump. The former president and first daughter weren't always in total agreement during their White House years, but Ivanka preferred not to air her dissenting opinions in public. In a 2017 interview with Gayle King for CBS News, she explained, "I would say not to conflate lack of public denouncement with silence. ... [W]here I disagree with my father, he knows it. And I express myself with total candor." Yet when King asked Ivanka for an example of an issue on which she didn't see eye-to-eye with the president, she refused to get into specifics.
Speaking to The Financial Times that same year, Ivanka clapped back even harder (via Yahoo!). It was "unrealistic," she said, to think the president would "abandon his core values" on her say-so just because she was his daughter and advisor. More importantly, however, she felt it would be just shy of traitorous to appear at odds with her dad. "To voice dissent publicly would mean I'm not part of the team," she said. "When you're part of a team, you're part of a team." The former first daughter added that while the administration's staffers might not agree with one another, they still were determined to maintain a united front for the sake of the president and the country. 
Ivanka Trump won't be joining the 2024 campaign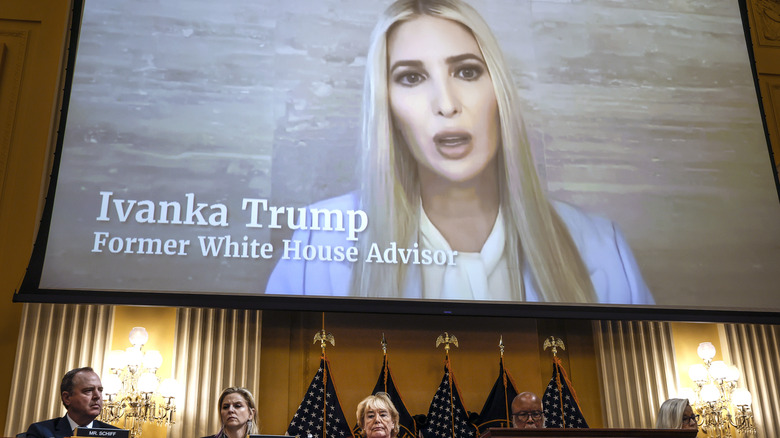 Chip Somodevilla/Getty Images
Once her father's term of office was over, Ivanka Trump was more than happy to return to the private sector. She and her husband Jared Kushner promptly moved out of their D.C. digs and put down roots in Florida, where they live with their children, Arabella, Joseph, and Theo. The family travels frequently, and they pursue such favorite hobbies as horseback riding and surfing. Ivanka surprised fans in July when she posted a video of herself learning how to fly a helicopter. 
Having spent nearly three years in relative privacy, the former first daughter has no interest in going back to White House life. When Donald Trump announced he would be pursuing the Republican nomination in 2024, Ivanka made it clear where she stands on joining her dad's presidential campaign. In an interview with Fox News Digital, she declared, "While I will always love and support my father, going forward I will do so outside the political arena."
Donald Trump may prefer it that way. He was less than pleased with Ivanka's 2022 testimony to the Jan. 6 investigation committee, in which she admitted to agreeing with Attorney General William Barr that the 2020 election results were valid. "Ivanka Trump was not involved in looking at, or studying, Election results. She had long since checked out," Trump tweeted in response (via The Guardian). This was one occasion in which he probably wished his daughter had kept mum about her opinion.